KAICIID Fellows 2023 Programme Kicks Off With Trainings in Nairobi, Strasbourg, And Tunis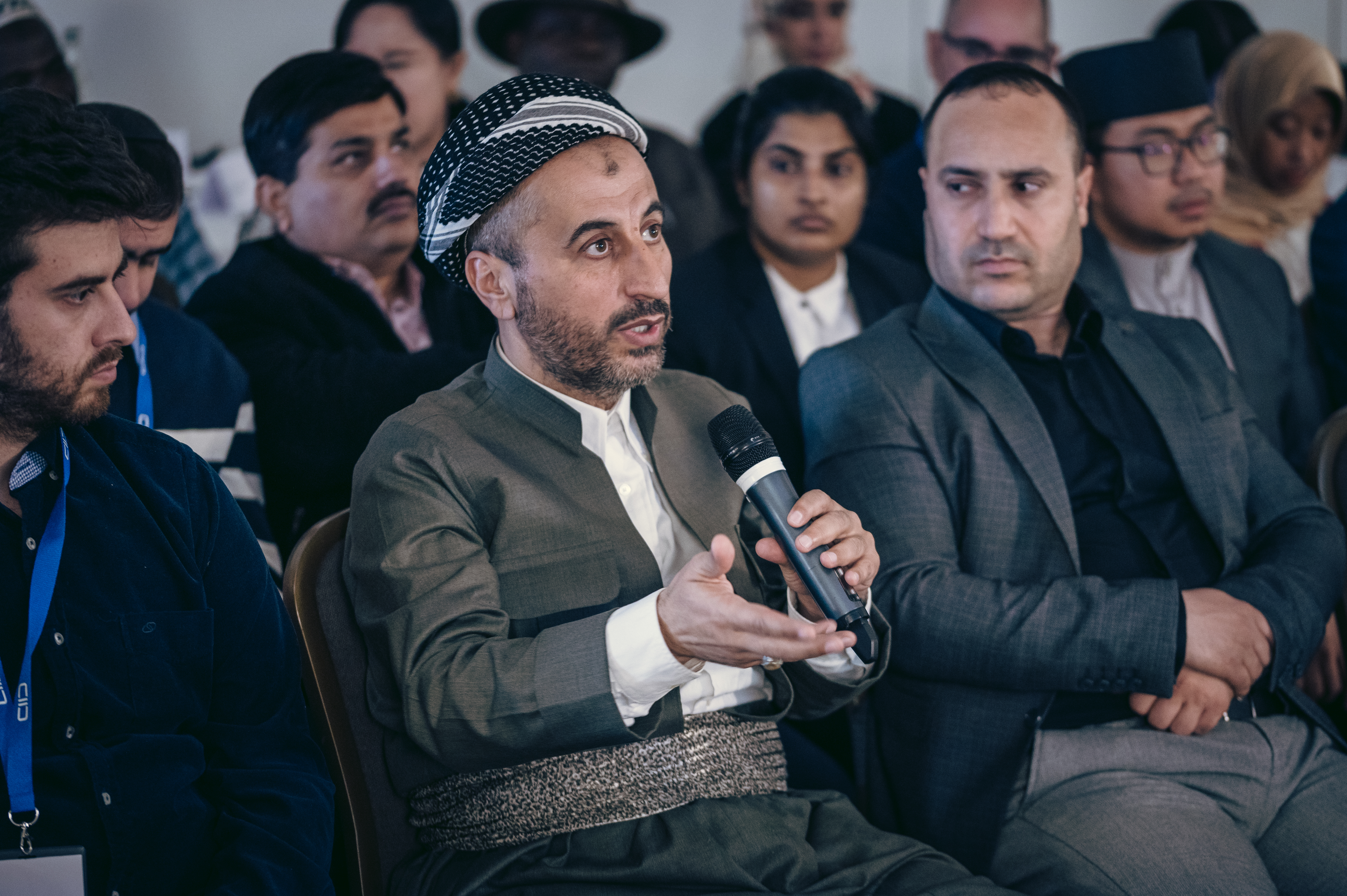 The 2023 edition of KAICIID's Fellows Programme took a major stride forward with three training courses held recently in Nairobi, (Kenya), Strasbourg (France), and Tunis, (Tunisia). 
This year's edition of the Fellows Programme has 70 Fellows from 44 countries, representing six different religions, including Islam, Buddhism, Christianity, Hinduism, and Judaism.
Over the year, each Fellow will participate in three in-person training sessions, including a residential stint in KAICIID's new headquarters in Lisbon, Portugal by end of 2023. The programme also includes interactive online courses and monthly sessions. At the training sessions in Nairobi, Strasbourg, and Tunis, Fellows were introduced to concepts including interreligious dialogue and peacebuilding to resolve conflicts. 
Training sessions: African, International, and Arab region cohorts
The first training of the KAICIID Fellows African cohort took place this year in Nairobi, Kenya, in January, featuring 22 Fellows from 13 African countries, including Burundi, Ethiopia, and South Africa. 
As part of the training, Fellows attended a panel discussion on "Learning from local Stakeholders" with the participation of Dr Mustafa Ali from Arigatou International, Sheikh Ibrahim Lethome from the Center for Sustainable Conflict Resolution, and Mercy Wambui Muigai from Impact Communities. Panelists shared with Fellows their insights on local stakeholders' role in promoting intercultural dialogue and peacebuilding.
In addition, a meeting was held with Rev. Dr. Fidon Mwombeki from All Africa Conference of Churches. The conversation focused on the challenges facing Africa today, including conflicts fuelled by religious differences, and how interfaith initiatives can help address these issues. Participants explored the role of religious leaders in promoting interfaith dialogue and understanding, as well as the importance of engaging young people in these efforts.
Furthermore, the Inter-Religious Council of Kenya and KAICIID Fellows and staff held a discussion at the Hindu Council of Kenya on the need to have dialogue as a way of promoting and understanding different cultures, faiths, and beliefs.
Image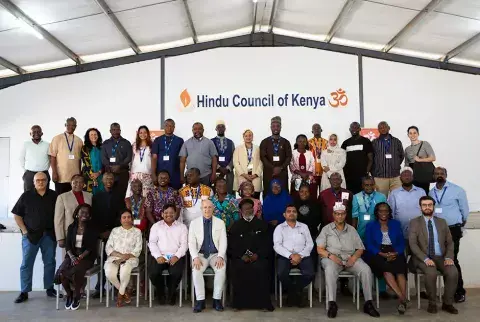 The training for the international cohort took place in February in Strasbourg, France, featuring 21 Fellows from 18 countries around the world, including Argentina, Belgium, Iraq, Myanmar, and Pakistan.
The Fellows had a unique opportunity to visit the European Parliament in Strasbourg, where they gained insights into the EU's decision-making processes and held a virtual meeting with Jan Olbrycht, MEP European Parliament and co-Chair of the Working Group on ''Intercultural and Religious Dialogue.
KAICIID staff and Fellows also met with Alexandre Guessel, the Council of Europe Special Representative of the Secretary-General on antisemitic, anti-Muslim, and other forms of religious intolerance and hate crimes. This meeting focused on the work currently being done to tackle the rising problem of hate speech, hate crimes, and religious intolerance in Europe.
Image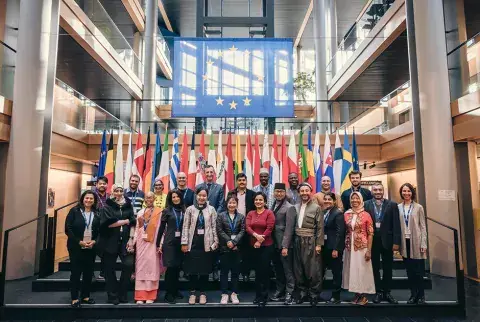 The first training of the Arab cohort Fellows took place in Tunis, Tunisia in March and saw 27 Fellows attend from 10 different countries from the Arab Region, they were all religious leaders, scholars and practitioners coming from  Egypt, Syria, Morocco, Lebanon, Jordan, Tunisia,  Saudi Arabia, Iraq, Sudan and Palestine.
The training included a variety of activities, workshops and focused on IRD and ICD, peace building and promoting social cohesion.
Apart from the regular training sessions, Fellows had the opportunity to visit the Ez-Zitouna University the only accredited academic institute in Tunisia in teaching religious sciences, where they met both the president Dr. Abdel Latif Bouazizi and vice president Dr. Elias Quesem to learn about the University's legacy and philosophy on dialogue and diversity . Moreover, they had a meeting with university representatives to put forward ideas for initiatives to promote dialogue between followers of different religions and cultures at the institutional level.
 
Unique qualities of the Fellows
Dr. Kyfork Aghobjian, Fellows Senior Programme Manager at KAICIID, spoke about some of the unique qualities of 2023 Fellows, compared to groups from previous years.
"Each cohort is completely unique in terms of its members, internal group dynamics, perceived priorities, and level of engagement. This year we have a better gender representative compared to previous years. For example, 50% of the international cohort for the first time is female." 
He added that Fellows may also have learned valuable lessons during the COVID-19 pandemic: "It is possible that this year's Fellows may bring unique experiences or perspectives that reflect the current global context. For example, they may have experience working on issues related to the COVID-19 pandemic, digital literacy, social justice, or climate change, which could inform their approach to promoting peace and dialogue."
Impact of the Fellows Programme
KAICIID Fellows who took part in the training sessions have spoken about why they applied for the fellowship and their experiences while attending one of the three training seminars. "My academic interest in interfaith dialogue and comparative religions has made me aware of the wonderful work that KAICIID is doing in general," said Houda Lahkim Bennani, an Arab region 2023 Fellow and Ph.D. Researcher at the Morocco Faculty of Fundamentals of Religion. 
"The fellowship program has provided me with an opportunity to practice what I have always believed in, and it will also allow me to be more active and more influential in my community."
Image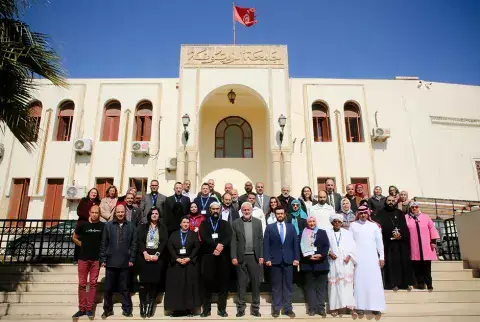 She continued: The International Fellowship Program will help me develop important capabilities and skills that are applicable and measurable. Dialogue between religions and cultures has a great role and a prominent place in building peace, harmony, and coexistence within society. Therefore, I will work to spread peace, call for dialogue, learn it, and teach it to children and youth, because, in my opinion, they are the key to the future."
Dr. Aghobjian pointed to the importance of African and Arab region representation in the Programme. "These regions face unique challenges related to interreligious and intercultural dialogue that requires specific expertise and understanding. By having Fellows from these regions, the program can draw on their experiences and insights to develop effective solutions to these challenges."
"Africa and the Arab world are home to a significant proportion of the world's population and promoting peace and harmony in these regions through IRD/ICD can have a positive impact on global peace. Through the Fellows program, individuals from these regions can develop the skills and knowledge needed to tackle real-world challenges related to hate speech, communal conflict, and violent extremism, which can help to promote peace and stability in their communities," said Dr. Aghobjian
Many of the Fellows interviewed for this article said the training sessions had already proven to be invaluable in their daily work. "I have found it very useful to be able to use my training in my interfaith work," said Yacoub Abdallah Wassef Kohin, an Arab cohort on the Programme and CEO of the Samaritan Legend Association in Nablus. "My role in my community means that I am often reaching out to people of different faiths. My KAICIID training has helped me find the language that makes it easier to build bridges and connections."
Another International Fellow, Sutacari, the manager at Mingalarama Nunnery in Myanmar, said her training sessions had equipped her to deal with some of the important challenges facing her country.
"The dialogue skills have been very important to me," she said. "We have a lot of challenges facing Myanmar, so being able to reach out to people who are of different backgrounds or have different views has been very important. We don't always do a lot of critical thinking, but Interfaith dialogue is one way where we can begin to find peace and resolution." 
Moving forward
While 2023 Fellows are currently drafting their initiative proposals, all three cohorts will have their second in-person training in Asia (India and Thailand) to finalize their initiative and to learn and enhance their understanding of non-Abrahamic religions, cultures, and civilizations.
The KAICIID Fellows Programme is designed to connect and cultivate a network of global leaders committed to fostering peace in their communities through interreligious and intercultural dialogue. Since its launch in 2015, the Programme has trained hundreds of Fellows from 86 countries in the dialogue skills needed to tackle major global challenges, including combating hate speech and violent extremism. 
2024 KAICIID FELLOWS APPLICATIONS 
KAICIID is now accepting applications for its 2024 KAICIID Fellows Programme. The KAICIID Fellows Programme is an ongoing capacity development and networking programme that starts with one year of hybrid training.  The one-year fellowship is designed to provide religious leaders, educators for future religious leaders, and interreligious dialogue (IRD) practitioners with training in dialogue facilitation and intercultural communication.
In 2024, an International and Latin American cohort will be launched. The Latin American cohort will be implemented in partnership with Religions for Peace – Latin America and the Caribbean.
The period for submitting applications for the 2024 KAICIID Fellows Programme is from March 13 to May 21, 2023. Interested individuals can see all the requirements and criteria here and submit their applications here.