A Worldwide Community of Peacebuilders: How the Scouts Dialogue for Peace Programme Promotes Understanding in Argentina, Romania, and Tunisia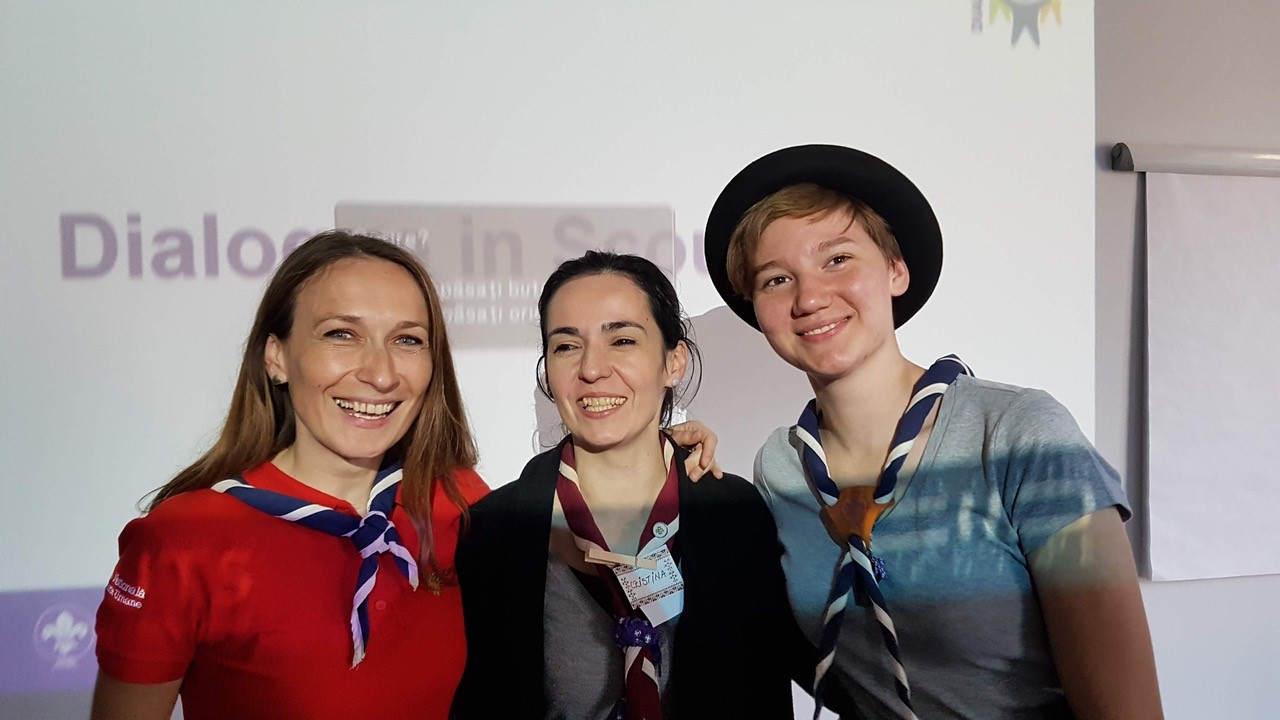 While many might assume that Argentina is overwhelmingly Catholic, its demographics feature more pluralism than expected. With a historic Jewish population, a large "unaffiliated" community, the largest Muslim minority in Latin America, and a rising number of evangelicals, Argentina is a religiously diverse country.
That's why university student and Scout Adult Leader Sol Conte Roberts of Buenos Aires, believes dialogue is so important.
Conte Roberts finds in dialogue "the possibility to really listen to 'the Other,' instead of judging based on our assumptions and misperceptions" across religious, cultural, gender, age, and class differences. "We need dialogue in all areas of society, to provide a safe space to know yourself and to know others," she said.
Conte Roberts is one of the thousands of young people who have taken part in activities of the flagship Dialogue for Peace (DfP) Programme trainings, jointly developed by the International Dialogue Centre (KAICIID) and the World Organization of the Scout Movement (WOSM).
Created for and with the help of young people, the programme aims to institutionalise dialogue as part of WOSM and create opportunities for Scouts and young people across the world to design their own local intercultural and interreligious dialogue sessions and approach.
By participating in activities, workshops, trainings, and demonstrating their dialogue skills in the real world, Scouts can earn one of three color-coded badges: a green badge for the "Personal Dialogue achievement" a red badge for "Dialogue Trainer Accreditation," or a blue badge for "Facilitator Dialogue Accreditation." Each badge highlights a different aspect of a Scout's knowledge of, and commitment to, the promotion of dialogue.
As of June 2020, 9,000 people around the globe had been involved with trainings, sessions, workshops, dialogue circles and online webinars across all six Scout Regions, namely Africa, Arab, Asia-Pacific, Eurasia, Europe, and Interamerica. These events have produced a robust international pool of 40 accredited trainers and facilitators (holders of red and blue badges). Another 30 are in the process of accreditation worldwide.
Image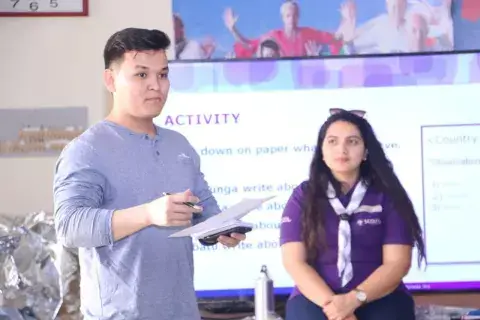 Soon, with the help of these trainers and facilitators, scores of Scouts will be able to earn the Personal Dialogue green badges, with a systematic roll-out of "Scouts in Dialogue" on the national level planned to sustain the programme into the future. To get involved with DfP training, a Scout must contact their National Scout Organization (NSO) to begin.
What follows are stories from three different accredited dialogue facilitators and trainers — from Argentina, Tunisia, and Romania — that speak to the global impact of the programme. Each story highlights how the programme equips changemakers with the tools needed to build a culture of dialogue, contribute to reconciliation efforts, and dispel stereotypes in countries across the world
Building a culture of peace in Buenos Aires
Conte Roberts joined the Scouts de Argentina, a member of the WOSM, at the age of nine. She appreciated the social opportunities, but enjoyed the education offered even more. In particular, she delighted in the opportunity for Argentines like herself to learn more about the world.
That is why she jumped at the chance to partake in a DfP training. In Houston and then at the World Scout Youth Forum in Azerbaijan in 2017 and in a follow-up training event in Panama in 2019, Conte Roberts interacted with Scouts from places as diverse as Sudan and Sweden, learning how to talk across cultural and religious differences in honest, respectful ways. Along the way, she earned a green "Personal Dialogue Badge" by not only taking part, but actively demonstrating her interest in, and knowledge of, dialogue in these activities.
Now, she serves as an ambassador for dialogue in Argentina and is working toward earning a "Dialogue Trainer Accreditation," exhibiting the essential characteristics of dialogue: active listening, compassion, and openness to learn and to be changed; but also the skills to help others in their process of incorporating dialogue in their lives.
Not religious herself, Conte Roberts said dialogue creates a "safe space" for religious minorities to share openly about their experiences in Argentine society. This, she said, helps foster peace and justice in society as a whole.
"Here in Argentina, in the past, religion was a dangerous topic for us," she recalls. "Now there are opportunities to talk more openly, and dialogue will help us do that."
She hopes to launch a dialogue training course in her home country because "building a culture of peace is what Scouts do," she said, "and the DfP Programme is a great way to make that happen."
Tunis: "A sense of belonging to a wide community of peacebuilders"
Amal Ridene, 22, is a talented musician and high-powered graduate of the Tunis Business School, recently recruited as an analyst at a private equity firm in Tunis, Tunisia.
Image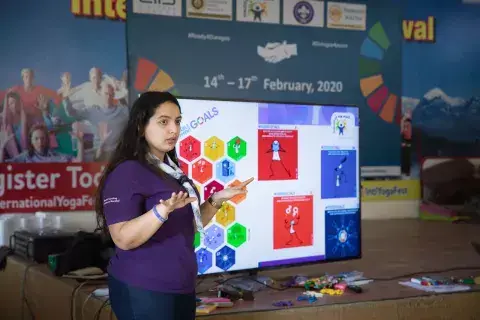 Apart from her expertise in finance and her skills as a pianist, Ridene is also an active local member of Les Scouts Tunisiens. Globally, she serves as a Youth Advisor to the World Scout Committee and is the proud recipient of the red "Dialogue Trainer Accreditation" badge after completing coaching sessions and training at the Regional Arab DfP training in Cairo, Egypt, in 2019. 
The DfP accreditation attracted Ridene because "it carries a sense of belonging to a wide community of peacebuilders," she said, "a responsibility that involves sharing what I learnt and acquired with others and a key language to use with global citizens — be they Scouts or non-Scouts."
The process to earn the Trainer's badge took her to Azerbaijan, Egypt, and India. "It involves participation in trainings, facilitating sessions in local groups and regional events, and a lot of interesting discussions with diverse groups of people, a self-discovery journey, and a learning process in shaping one's training skills," she said.
Through the dialogue training, Ridene learned that "openness is a key requirement for practicing dialogue, it is also important that one is aware about the other's sensitivities and cultural and religious beliefs." Whether in personal or professional settings, Ridene said, dialogue principles and values enable her "to give more value to everyday exchanges."
Whether with colleagues, fellow musicians, or Scouts, Ridene said, "dialogue is a crucial tool in my daily tasks."
Learning by doing in Bucharest
When the COVID-19 pandemic forced people to "shelter in place" across the world, Anca Burlacu of Romania knew dialogue could help individuals manage their mental health through challenging times. So, when the crisis hit, Burlacu launched an eight-week series of Dialogue Cafés for Romanian Scout leaders.
"They gave people across the world the opportunity to speak with someone about these difficult times," she said, "people felt for the first time that they were being heard, being listened to. They felt comfortable to share their personal stories and struggles."
Burlacu was able to lead the way in such a crisis after earning a blue, "Dialogue Facilitator Accreditation" badge through workshops, coaching sessions, and a demonstration of facilitation skills on multiple occasions in front of the WOSM-KAICIID DfP core team.
Image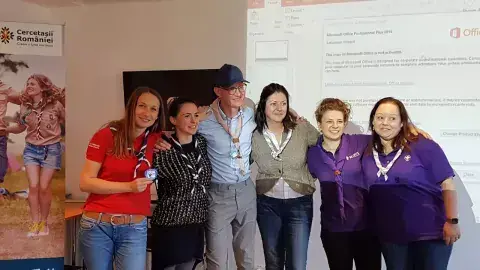 As a team leader, Burlacu has been part of multiple feedback sessions, one-to-ones, and dialogue training events, all the while learning the skills it takes to help others. "You have to know how to ask good questions, take notes, and apply the 10 Principles of Dialogue," she said.
"Facilitation is a skill that you acquire and improve over time, you learn by doing," she explained.
Burlacu is proud of the community she has seen form around sessions she facilitated. "Community is one of the most important things to help build real relationships," she said, "if you want to manage conflict and create community, dialogue can help you and others live in a more peaceful environment."
Ridene and Conte Roberts, with their set of unique experiences with dialogue, agreed with Burlacu. Each shared how dialogue creates a secure environment where individuals or groups can exchange views, knowledge, understandings, impressions, and perceptions of a certain topic or source of potential conflict.
Conte Roberts believes the DfP Programme is vital for a world in which diversity and difference tends to separate rather than unite. She said, "we all have something to say, and dialogue is a means of helping us say and share it with one another and create a more free and fair world in the process."