From Zoom to the Globe: Online Dialogue Series Fosters Dialogue between Saudi Arabia and Beyond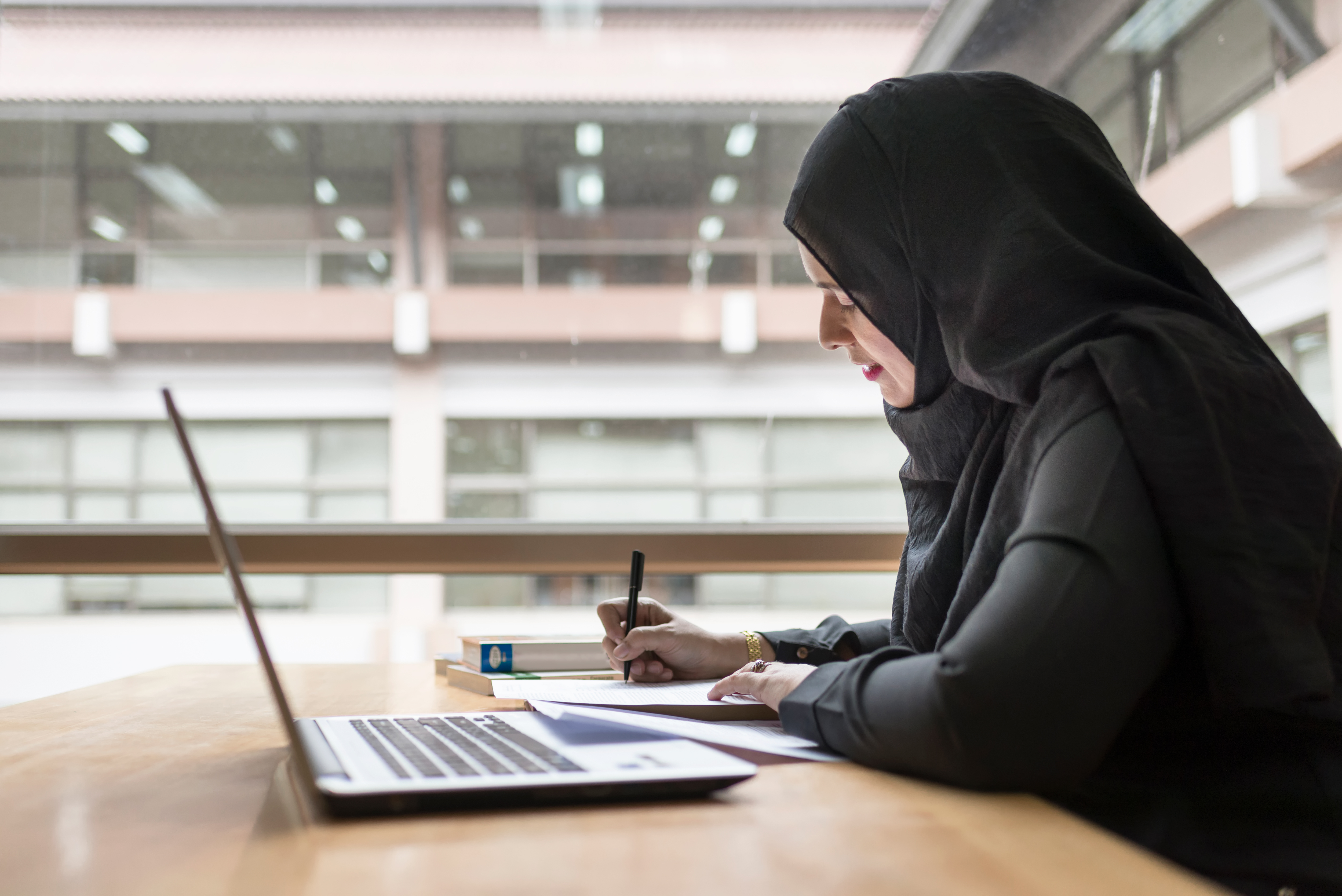 Fatima Abu-Srair's motto is "Why not!" Saying "no" can create barriers.
Since her graduation from the KAICIID International Fellows Programme, and through her work as a translator, Abu-Srair is no stranger to igniting and promoting dialogue among those in her native Saudi Arabia.
After the COVID-19 pandemic hit in 2020, Fellows alumnae Dr. Basmah Jastaniah, Professor of Religions and Creed at Taibah University in Al Madenah, Dr. Haya Alhargan and Abu-Srair launched a new dialogue project called "Ladies for Intercultural Dialogue".
The project brought together Arabic speakers, both men and women, throughout Saudi Arabia to interact in dialogue sessions on important regional and global topics such as the importance of interreligious dialogue, implementation of United Nations Agenda 2030 and harnessing social media to promote peace. Abu-Srair and her fellow coordinators also regularly invited experts from these fields to share best practices and answer questions.
"One of the best lessons I've acquired during this time, personally, is that teamwork is a beautiful concept. No person can carry the burden of society on their own. It is also such a privilege and honour to learn directly from the experts in their field of study," Jastaniah said.
The initiative was also intended to shed light on the false perception that Saudi women can't be leaders in their communities or don't have the capacity to be moderators or experts on non-woman-centric topics.
Abu-Srair and her colleagues said that although the initiative was originally meant to be in-person, taking place in different regions throughout Saudi Arabia, the unprecedented uncertainty of COVID-19 meant the programme needed to adapt to a new format.
While, in theory, rotating the location would have enriched the programme overall, it soon became evident that it was a logistical nightmare. Although women in Saudi Arabia started to drive legally in 2018, accessibility was still an issue. The three women found it difficult to meet face-to-face since each had full-time jobs and family obligations in different cities.
Instead they turned to the Internet in an effort to reach more people throughout the country. With all eyes transfixed on technological devices during the COVID-19 pandemic, Abu-Srair and her colleagues found their silver-living amid the tragedy. In a way, the lockdown was a blessing in disguise.
Using the video conference app, Zoom, the women were able to live stream the sessions each week. The interactive platform also simultaneously fed into a YouTube channel, as well as the messaging platform Telegram.
Users were actively encouraged to ask questions during the 2-hour-long talks, which could be answered by guest speakers directly on the live feed. After the session, participants were invited to fill out a quick questionnaire on the programme page and receive a certificate of attendance.
Participants who completed seven sessions were eligible to receive an additional certificate of completion.
The entire programme was conducted in Arabic, from start to finish, which was revolutionary for the region, since the majority of similar online initiatives have been in English. It also provided an innovative way for the women to reach native Arabic speakers who might not be fluent in another language and thus had never participated in a similar programme before.
Abu-Srair and her colleagues said holding the dialogues in Arabic was particularly important as many of the participants had never heard these topics discussed in their own native language.
Initially, about 150 viewers tuned in, but by the fourth session, the numbers had tripled. Alhargan believes the numbers show a clear appetite for this type of content.
"The majority of Saudi society was now online–even for family reunions. Naturally, people started to seek knowledge so we decided to launch this. It was our opportunity to congregate online and to distribute these lessons and these workshops," Alhargan said.
Alhargan said the collaboration was particularly successful because the three women come from diverse backgrounds and collectively represent the major cities in Saudi Arabia. Abu-Srair is native to the Eastern Province but resides in Riyadh; Jastaniah currently resides in Madinah, and Alhargan lives in Jeddah.
"What also helped is that we are three individuals. We each brought a different perspective and audience," Alhargan said.
The programme has exceeded their own expectations and the women plan to launch others once this one is complete. In the future, after the COVID-19 pandemic subsides, sessions may become a hybrid of online and in-person sessions.
The road to shifting perspectives is a process and by speaking and serving as facilitators, these women are creating change. They are not only talking the talk; but they are taking it in stride. Instead of going out into the world, the world is able to come to them.
Are you interested in launching your own interreligious dialogue initiative to combat the challenges of the coronavirus? Download KAICIID's free Interfaith Guide to COVID-19.