Without Women, There Can Be No Peace: Assembly in Germany Highlights Importance of Women in Dialogue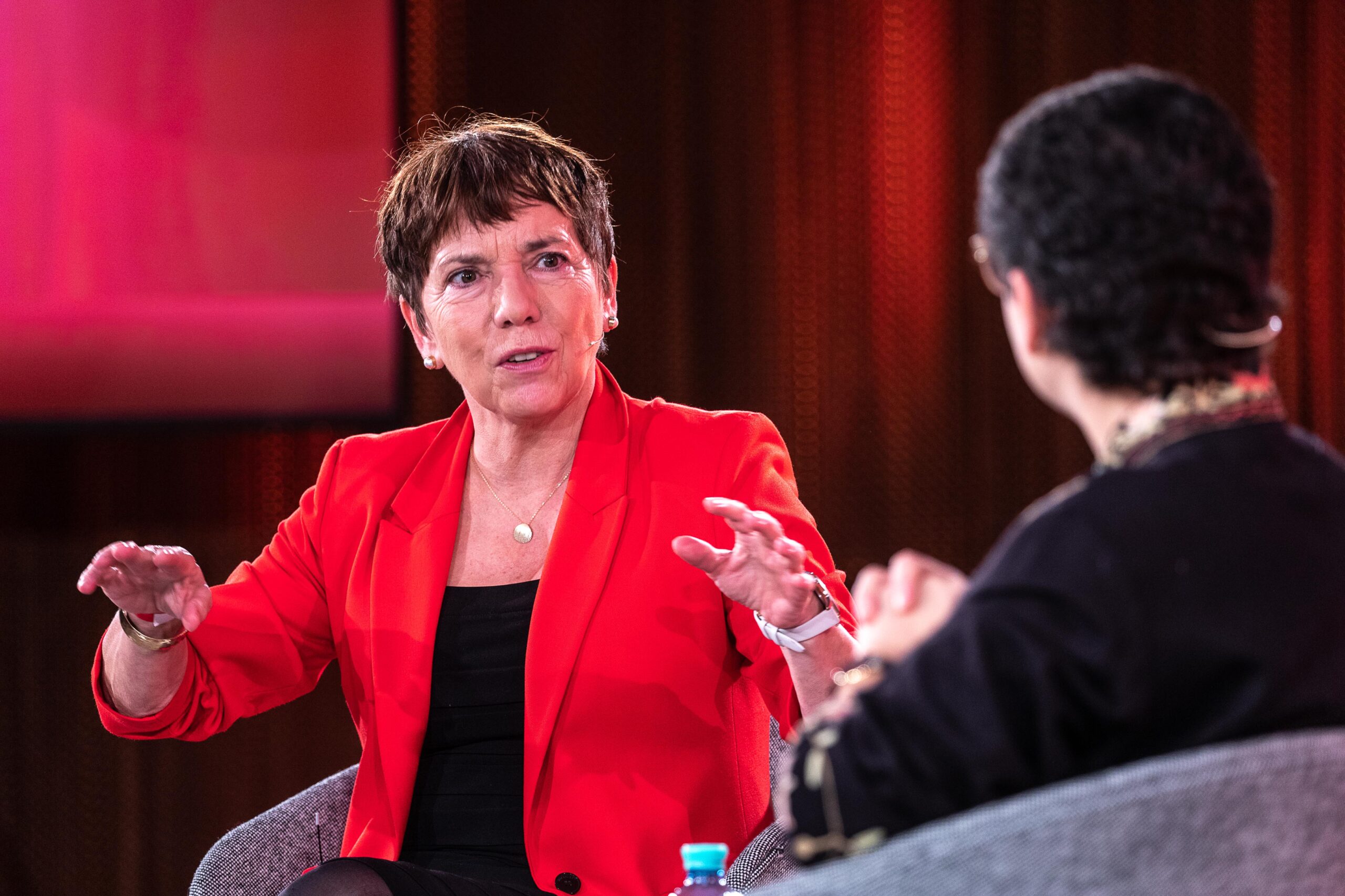 Speaking at the opening of the first "Assembly on Women, Faith and Diplomacy," Prof. Azza Karam, Secretary General of Religions for Peace International (RfP), wanted to set the record straight.
"The work of women of faith is nothing new," she said. "What is new, is the collaboration between men and women to bring the voice of women to speak to certain, critical, global truths."
And, she admitted with a wry smile, "it took quite a few men to put the issue of women, faith and diplomacy on the global agenda at this event."
Hosted by RfP with the Foundation Peace Dialogue of the World Religions and Civil Society (Ring for Peace) and supported by the German Federal Foreign Office, the assembly was convened from 10-13 November in Lindau, Germany and online. Despite the challenges of the COVID-19 pandemic, conveners created a hybrid format, with around 250 religious leaders, diplomats, and civil society representatives from around the world gathered both in-person and virtually.
Dr. Kezevino Aram, Co-moderator of RfP and a KAICIID Board Member, said the global health crisis underlined how interreligious actors, "are challenged to work together in a more constructive way."
"Even in the midst of a crisis we can keep the dialogue going," she said.
Image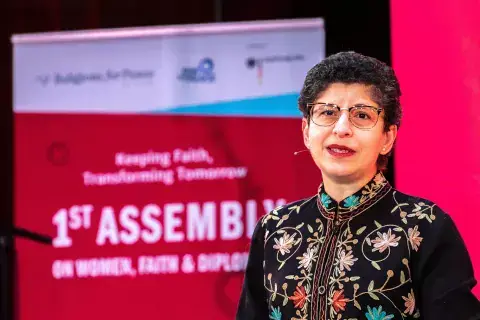 Building on the success of the 10th World Assembly of Religions for Peace in Lindau last year, which brought together over 900 religious leaders, this assembly, titled "Keeping Faith and Transforming Tomorrow" focused on "the nexus of women, faith and diplomacy, giving prominence to women's respective roles and contributions and highlighting their leadership."
The goal of the assembly was to help attendees better "appreciate the breadth and the depth of contributions of women in the realms of faith and diplomacy across the world," Karam said.
Plenaries and break-out sessions emphasised the need to build multilateral coalitions and collaborations between multiple parties — young and old, women and men, and communities of various faith traditions. On the agenda were a host of issues related to sustainable development, gender equality, the global pandemic, interreligious education, peacebuilding and dialogue.
Every session underscored that "women's empowerment is not just a woman's issue, it's an issue for the whole world," said Karam.
During the opening ceremony, different religious leaders, including Rev. Kosho Niwano, Co-Moderator and Executive Committee Member of RfP, as well as a KAICIID Board member, addressed the leadership and work of women in their respective traditions and the need for more work in this regard.
"Women can lead us to make the world more secure for everyone — not only our own interests. I sincerely hope that the assembly will bring us closer to this world," she said.
Image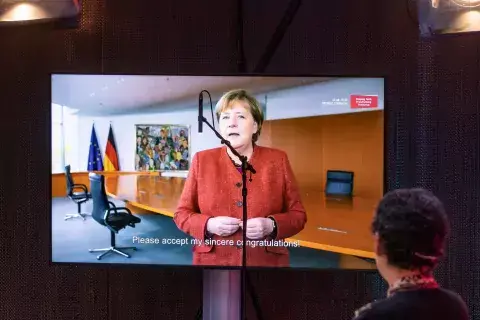 According to reports from UN Women, barriers to equal education, decent work and fair wages help explain why only about one in four national parliament seats and managerial positions are held by women, leaving their perspectives woefully underrepresented in decision-making processes.
Speakers referenced Jacinda Ardern's recent re-election as Prime Minister of New Zealand and Kamala Harris' election as US Vice-President Elect as a sign of slow, yet positive, change. They also affirmed the critical work and service of women of faith in religions across the globe.
H.E. Metropolitan Emmanuel Adamakis, Co-Moderator of RfP and a KAICIID Board member, said that while the Orthodox Church is often seen as patriarchal, "women are perhaps pre-eminent expressions of the person-centered morality in Orthodox tradition."
"Women, more than anyone else, and perhaps, first and foremost, as mothers," he said, "teach us to live as persons, not as individuals, that is, as beings in a relationship, not as autonomous and independent beings."
One preeminent global leader lent her own words of welcome to the festivities. German Chancellor Angela Merkel said the assembly was a "double joy" for the host nation, celebrating RfP's 50th anniversary and the role of women in peacebuilding.
Alluding to recent terrorist attacks in France and Austria, Merkel stressed the importance of dialogue between religions.
"We must not leave room for extremists who, in their inhuman blindness, abuse religion to sow discord and undermine our peaceful coexistence," she said, and "peace is only durable if women are involved in the process."
Image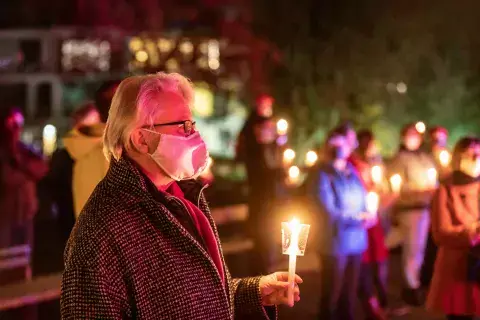 Recognising the importance of gender in interreligious dialogue efforts, KAICIID has actively worked to build capacity of women by encouraging agency, facilitating exchange by overcoming stereotypes and creating mechanisms to support advocacy.
For example, KAICIID's project "Women Empowerment in the Arab Region" engages 27 different women leaders from five countries — the Kingdom of Saudi Arabia, Syria, Iraq, Lebanon, and Egypt — in a one year training project under the title #She4Dialogue. The project aims to counter hate speech, enhance social cohesion, and build capacity for interreligious actors to respond to crises, such as the COVID-19 pandemic.
Unfortunately, as attendees wrestled with issues like hate speech, protecting minority rights, and the role of religions in preventing conflicts, they also wrestled with how women are often not at the table when it comes to addressing such challenges.
"We know that women around the world engage for peace and human rights," said German Minister of State, Michelle Müntefering. "We know that diversity strengthens innovation, efficiency and sustainability. We know all of this and still, progress is happening at a snail's pace."
Müntefering said both governments and religious institutions are not traditionally known for women's equality or prominent women's leadership. "This needs to change," she said. Too often, she continued, "the only diversity seen at high-level diplomatic meetings" is the pattern of men's suits.
Sister Agatha O. Chikelue, Co-Chair of the Nigerian and African Women of Faith Network and KAICIID Fellow echoed these views, pointing out that if women are excluded from peacebuilding because of lack of capacity, then it is the responsibility of religious leaders to build that capacity and get them involved.
Image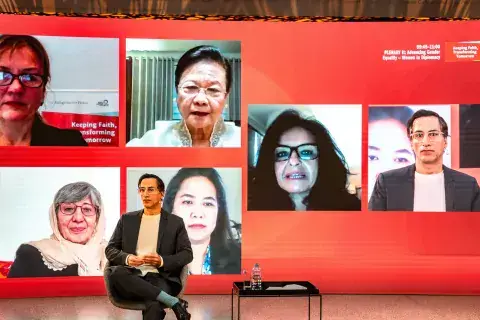 During her keynote address, she pointed to multiple examples — in the Phillippines, Myanmar, and in her own country of Nigeria — of how women have proved courageous as peacemakers in conflict zones by reaching across the lines to find common ground.
"Their work is often inspired by their religious convictions," she said, "but it is only recently that women have started to receive recognition in interreligious dialogue, and their integration both at global and regional levels has not been fully accomplished."
That, said Sr. Agatha, leaves peace teetering on shaky foundations built by only a small segment of the world's population.
"Building sustainable peace is like building a house, it requires a good architectural plan," she said. "It includes building a coalition of forces, including men, women and youth."
Echoing Karam's opening comments about the collaborations needed to bring all voices to the table, Sr. Agatha said, "a collective approach, a shared responsibility is needed."
"We cannot address the challenges of tomorrow without involving women in the process today," she said. "All hands must be on deck if we seriously want to transform tomorrow."