From Vienna to Lisbon and Beyond, KAICIID Continues its Work of Convening Dialogue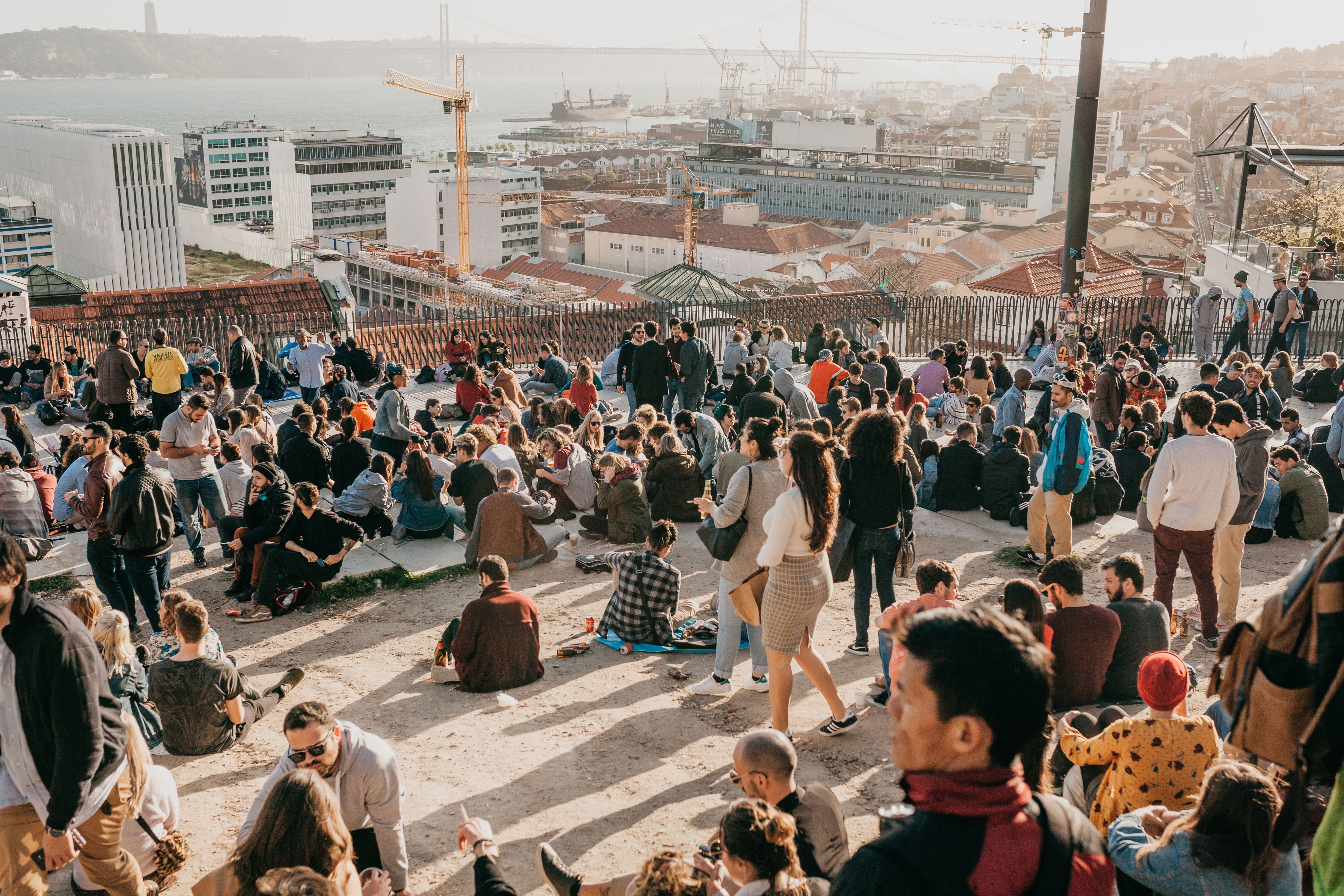 Moving to a new home brings a host of challenges. Saying goodbye to the old neighborhood, departing from dear friends, and settling into new surroundings is not always easy.
At the same time, moving presents a range of opportunities, for new beginnings, growth, and relationships.
As KAICIID marked the end of its residence in Vienna and transitioned to its new home in Lisbon, Portugal, its Board of Directors, and other close partners took the opportunity to reflect on what they learned over the last decade. Looking ahead to celebrating KAICIID's 10th-anniversary in autumn, they also shared what their hopes are for the organization in the years ahead with the organization's work based in a new city.
They not only shared what they expect to see from KAICIID after its arrival in Lisbon, but contemplated lessons learned during its first years, considered the organization's relevance, and the continuing importance of dialogue considering current issues facing the global community.
Vienna: a place to begin the good work
At a ceremony marking the end of KAICIID's time at its beloved headquarters in Vienna, Heinz Fischer, former President of Austria, remarked on how the Austrian capital was a fitting place for KAICIID's first decade of work.
"As a neutral country, Austria has always been open and interested in dialogue and already hosted several international, intergovernmental institutions," Fischer said.
Having supported the idea of hosting KAICIID in Austria from the beginning, Fischer said he was very pleased with the "enrichment" that the organization brought to Vienna and its environs over the years.
Beyond Austria's borders, Fischer pointed to KAICIID's international work and the valuable contributions it made to conflict resolution and building positive peace around the world.
Case in point, His Virtue Allahshukur Pashazade, Board member and current Chairman of the Caucasus Muslims' Board (CMB), said he was proud to serve with such an honorable organization during its years in Vienna. He highlighted how KAICIID's mission of "promoting friendship and ending the call to hatred" not only extended to Europe, but to Africa and Asia, "advancing human solidarity in multiple contexts."
Tarafa Baghajati, an Austrian Muslim activist, said Vienna was a place for KAICIID to institutionalize, expand, and help convene conversations and initiatives that were already percolating in such places. "It was," he said, "important to have a space to bring people together." For ten years, Vienna served as a special hub for ambitious projects to receive support and to have a safe space for incubation.
Among its innovative initiatives and critical contributions to conflict resolution and peace were the KAICIID Fellows Programme, which has produced 515 young dialogue leaders from 75 different countries since its founding in 2015.
Where one might have encountered the same faces at interreligious events in the past, multiple Board members said, KAICIID has helped make it so that there are now numerous young people who promise to be the next generation of dialogue practitioners and leaders.
Baghajati also pointed to the Muslim Jewish Leadership Council (MJLC), a unique convening of imams, rabbis, and other leaders from the Muslim and Jewish communities of Europe.
Though he said he was thankful to Vienna for hosting KAICIID, he said its work would only be strengthened from a new location. "I wish KAICIID all success in Lisbon. That it would flourish and blossom even more than before," he said.
The message — and the mission — remain the same
The need for KAICIID to flourish in its new home, said Board member Dr. Kezevino Aram, is perhaps more important than ever before.
Image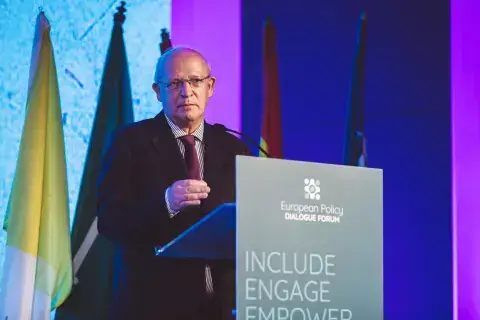 Director of Shanti Ashram in Combiatore, India, Aram said the world is facing a "confluence of crises" including a public health crisis, a costs of living crisis, and a looming food crisis.
"In the middle of this, it is important to talk about the essential importance of human dignity. To ensure human dignity we will have to come together. We cannot exclude, disrespect, or sideline others in this work," she said.
KAICIID, Aram said, stands in the gap and helps bring governments, non-governmental institutions, and the voice of the people together to address intersecting emergencies. As it makes its move to Lisbon, this kind of work not only needs to be bigger, she said, but also needs to be deeper.
Rabbi Schlomo Hofmeister, Community Rabbi of Vienna since 2008, underscored these points and said, "with all these challenges and conflicts we are facing on our planet, organizations and initiatives like KAICIID fulfill a very important role.
"The more challenges we face, the more we will need organizations like KAICIID to break down prejudice and bridge the gap between cultures," he said.
Echoing Aram and Hofmeister, Dr. Mohammad Sammak said, "humanity is changing and KAICIID has an important role, so that even as we develop different approaches to human relationships, people will know each other better, cooperate better, and avoid misunderstanding between each other," he said.
Lisbon, said KAICIID Board member Dr. Mohammed Sammak, will be a suitable place for such work, because it will not require the organization to change its mission as it shifts its place of residence.  "KAICIID is KAICIID," Sammak said, "the message remains the same.
"Changing the place we operate from does not change the concepts. It's just a new opportunity to continue its message of common love, respect, and cooperation from a different place."
Just the beginning…
Not only will KAICIID continue the work it did before, said Chief Rabbi David Rosen, but it also has the opportunity to grow and expand in its new home.
"My expectations for KAICIID's future in Lisbon that we will go from stage one," said the KAICIID Board Member and International Director of Interreligious Affairs of the American Jewish Committee, "and flourish in Lisbon, becoming an even greater asset to the world. A blessing to humanity."
Vienna, Rosen said, was a home to KAICIID in its years of infancy, with all its difficulties, teething problems, and years of growth. Now, he said, "the baby is no longer a baby. It is capable of walking on its own."
KAIICID, the rabbi said, has already made a remarkable contribution as a promoter of dialogue. This, he said, "is born of the fact that there is no other intergovernmental organization like it."
Its time in Vienna, Rosen said, has given it a profile, power, and access that is truly unique.
"We have yet to really leverage that potential," he said.
Rosen believes that the new beginning in a new country is an incredible gift to KAICIID and to the world.
Image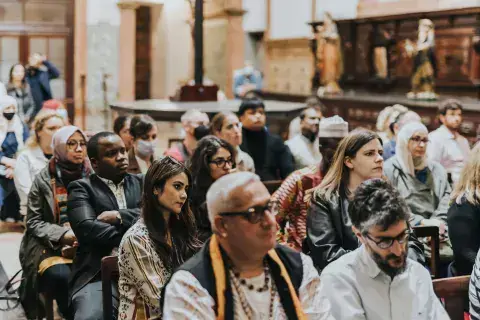 "Moving to a new location gives you a new opportunity to make a new start in areas you might have not been as productive in the past. It's a constructive moment for KAICIID," he said, "now that we move to Lisbon, perhaps religion can play an even greater role in mutual understanding between the people of the world."
His Eminence Metropolitan Emmanuel of France agreed with Rosen and said the challenges that KAICIID faced in Vienna helped prepare the organization for its new, and vital, tasks in Lisbon. He said, "despite difficulties, we must continue our commitment to dialogue. When you face challenges, you don't give up. That is the lesson we learned in Austria."
"The interreligious dialogue that we started in Vienna needs to continue. We need to bring more people around us to reach out to the youth as well. To prepare a future and bring fresh ideas," he said.
"Above all, KAICIID is an idea. An idea with a practical aspect to it: dialogue," said Metropolitan Emmanuel, "the idea — and practice — of dialogue will not die but will continue. The location is not the question."