International Women's Day Invites Reflection on Women's Role in Interreligious Dialogue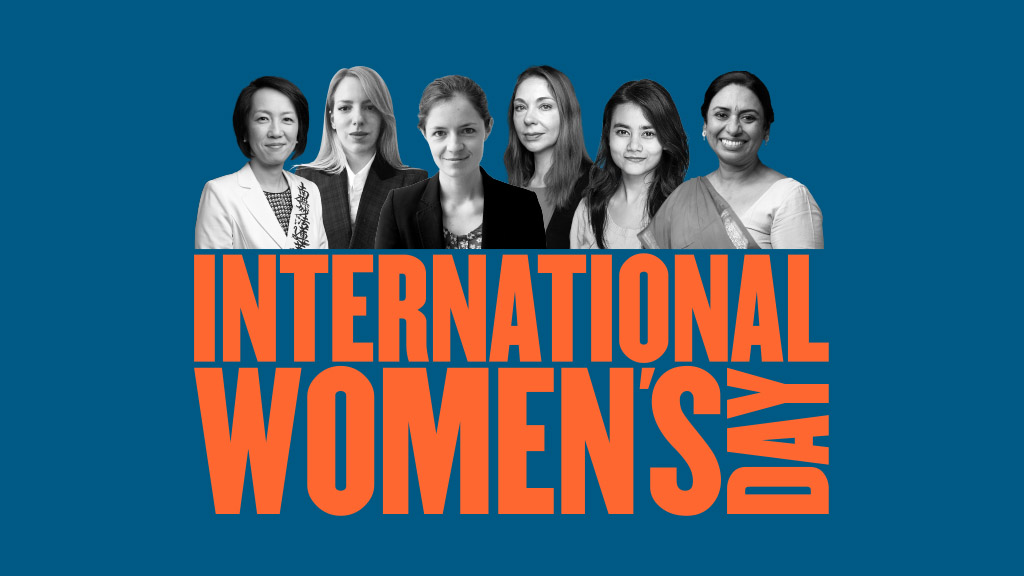 International Women's Day
In 2016, then UN Secretary-General Ban Ki-Moon met with faith leaders to discuss Myanmar's peace and development process. In a room full of men, Daw Kay Tu Mar Lar — a Buddhist nun — stood up to speak. While some mumbled about how it was inappropriate for a woman to address such a crowd, she delivered powerful words about being "peace lovers" and not just "peacemakers."
Despite the disquieting opposition, Ki-moon was inspired. So was Dr. Sneha Roy.
"That was a milestone for me," said the 2015 KAICIID Fellow and recently appointed Fellows Programme Officer, "to learn that no matter what, I can speak up, voice my opinions, and people in power will be listening."
It is those kinds of moments, Roy said, that remind her of the multiplying impact of intentionally involving women in interreligious dialogue.
"It's empowering," she said, "seeing other women at work helps you reflect on your position, your aspirations, and gives you a good understanding of where we are as women in the process."
Image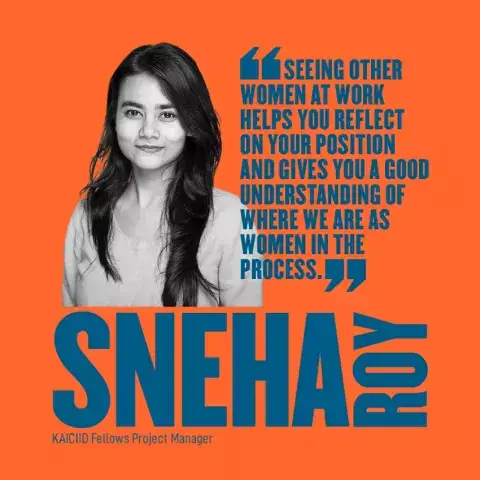 Women and girls are effective and powerful leaders and peacemakers, often playing a critical role in interreligious initiatives across the world.  At the same time, and despite advances in gender equality, women and girls still face hurdles when it comes to having a voice in local, regional, and international dialogue.
On the occasion of International Women's Day, KAICIID invited five women — three staff and two Board members — to reflect on how women and girls are involved in interreligious dialogue initiatives across the globe, and how their participation and leadership results in substantial and positive change.
Below, they share their diverse experiences and critical perspectives on the opportunities, as well as the constraints, women and girls continue to face.
Offering strength to one another along the way — Dr. Kezevino Aram
For Dr. Kezevino Aram, KAICIID Board Member and President of Shanti Ashram in Coimbatore, India, far few women serve as leaders of prominent interreligious dialogue institutions.
That, she said, does not mean women are not leading, it just means they are often not recognised.
"Women must be in leadership positions, because that is their right," said Dr. Aram, "but also because they bring the experience and insight of 50% of our global population."
As a prominent female leader, Dr. Aram believes she has a critical role in convening conversations that involve diverse perspectives — especially that of women — at every step of the dialogue process.
Referring to the example of Mahatma Gandhi, she said, "a true leader is one who generates, nurtures, and multiples the leadership potential and capacities of those around them."
"It's not an easy ask, but within such contexts, women do very well," Dr. Aram said, "contributing alongside other rich, diverse voices and offering strength to one another along the way."
Image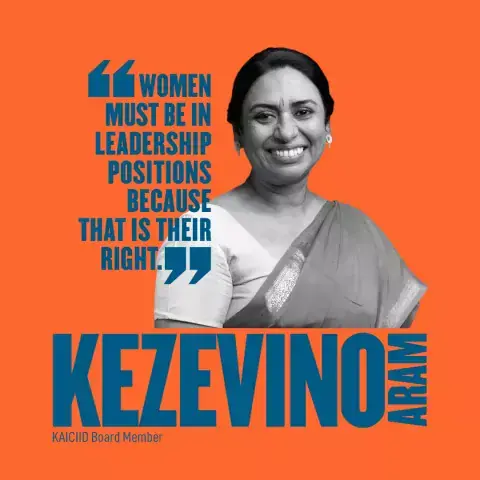 "A major shift in the last six years" — Renata Nelson
In Renata Nelson's career, this has meant rising from Publications Coordinator and Project Assistant to Coordination Officer, where she now represents KAICIID in its international partnerships with entities like the United Nations (UN) and the International Partnership on Religion and Sustainable Development (PaRD).
From this vantage point, Nelson said she is seeing a lot more women involved.
"There's been a major shift over the last six years," said Nelson, "people are thinking more creatively about how to engage women of faith in the dialogue process at multiple levels."
Nonetheless, Nelson said it is important to "take context into consideration" when seeking to make change.
"You really can't come in with expectations from your own perspective when you're trying to achieve something in a project somewhere else," she said.
"You have to think about the women you are working with, how they function in the community," Nelson said, "that's the starting point for engagement and taking steps toward integrating them into the process."
Image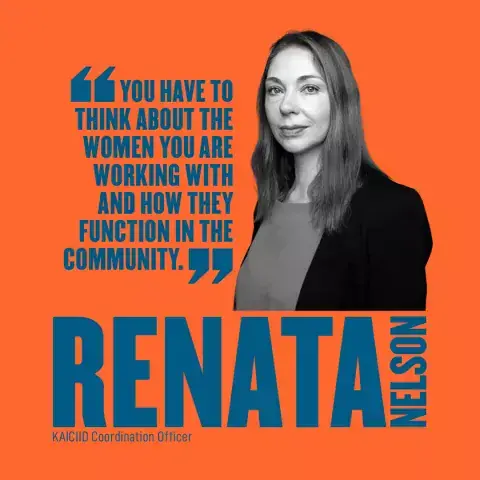 The benefit of listening — Frances Rose
The first step is often listening, said Frances Rose, KAICIID Project Manager, Europe Region.
"In a community where there is not a history of women in leadership, it's important to listen, absorb what people are sharing about the hurdles women face, and then learn, grow, and work together toward inclusion," she said.
Rose sees this first-hand in Europe, where KAICIID is frequently working in local, municipal contexts.
"We recognise that a lot of change happens at the city level," said Rose, "this gives us a lot more access to female leadership in local communities."
Part of that access means hearing feedback about how KAICIID — and other dialogue organisations — can improve.
Rose said, "it's wonderful when people are involved, observing, and bold to let us know what we are doing well, what we could improve."
"We love this kind of constructive criticism and benefit from listening to women on the ground," she said.
Image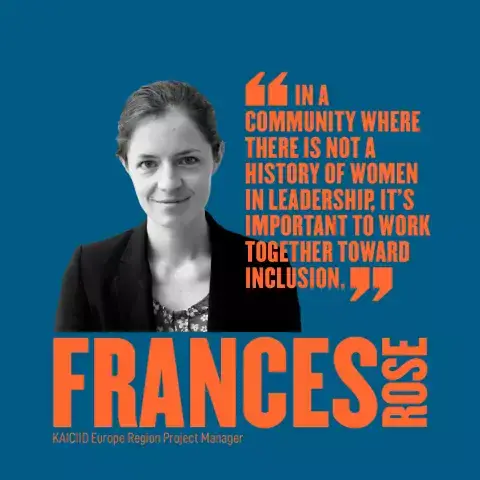 Women's voices "urgently" needed — Dimitra Missira
Acknowledging the need for patience, there is also a sense of urgency when it comes to women's leadership, shared Dimitra Missira, KAICIID's External Relations Officer.
Echoing UN Secretary General Antonio Gutteres' call that the 21st-century should be the century of women's equality, Missira said KAICIID is emphasising that "women's leadership and participation in interreligious dialogue is key to sustainable peace, and urgently needed as conflicts and realities are becoming more complex."
"Although women are disproportionally affected by inequality, particularly in times of instability, they tend to be gatekeepers and at the front-line to support their local communities," said Missira.
Referencing multiple world crises as critical junctures for change, Missira said, "we should be providing adequate platforms and tools to women of faith where they are honoured, heard, and respected without judgement and where their voices are enhanced."
Image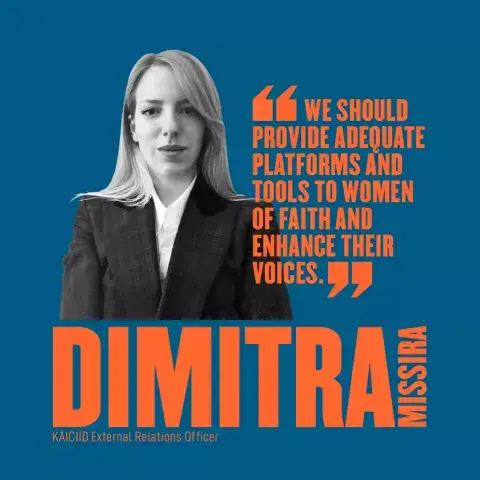 Reasons for hope — Rev. Kosho Niwano
Notwithstanding recent advances, numerous challenges remain. Religious organisations continue to exhibit blind spots when it comes to promoting women to senior positions. Trust needs to be built and communication channels opened. Full integration of women at the grassroots and policy levels remains far off.
And yet, there is great reason for hope.
Rev. Kosho Niwano, KAICIID Board Member and President-Designate Rissho Kosei-kai, said, "the leaders whose actions have contributed to the common good of humanity (and the world) and who have pushed society toward those goals have never been limited to any particular gender or generation".
"Anyone can be a leader," she said.
"The understanding of women's roles varies greatly among different religious faiths, but women of faith have crucial leadership roles to play as mainstream stakeholders making a difference in localized, substantive reconciliation and peacebuilding."
In this regard, Niwano is proud to serve as a Buddhist woman on KAICIID's BoD along with Dr. Aram. Together, KAICIID's Board, staff, and partners aspire to see more women of faith speaking, acting, and making critical interventions in interreligious dialogue in the future, she shared.
Above all, Niwano said, "I hope for the true establishment of understanding, respect, and equality for women, and by women" both now and in the future.
Image