Following Attacks on Muslims, Buddhist Monk Sparks National Campaign to Call for Interreligious Solidarity in Myanmar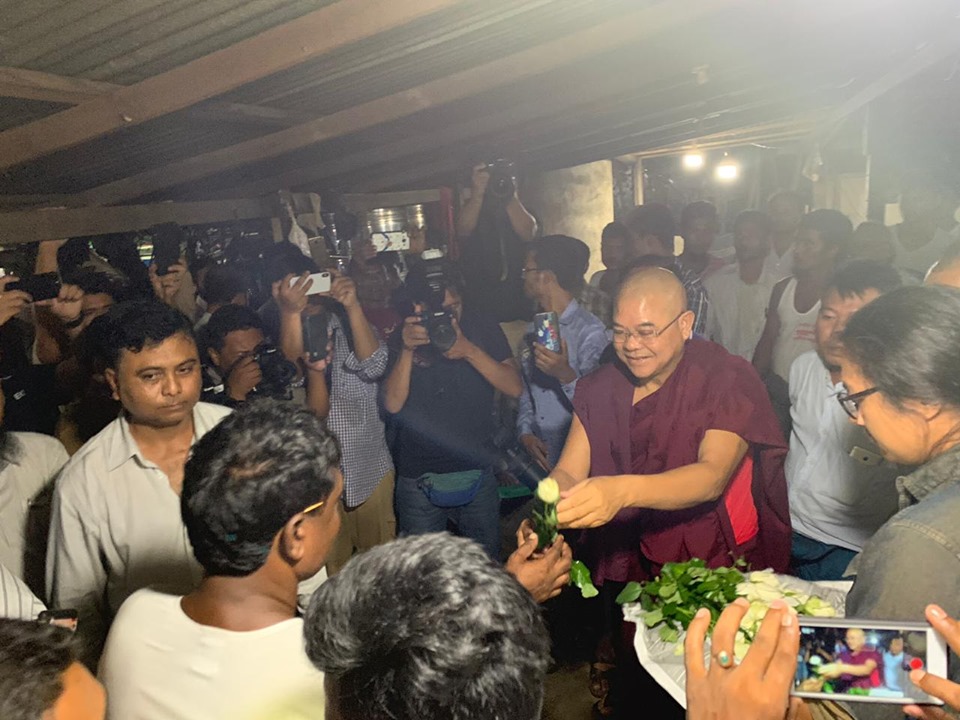 Following Attacks on Muslims, Buddhist Monk Sparks National Campaign to Call for Interreligious Solidarity in Myanmar
In response to a series of violent attacks against Muslim houses of prayer in Myanmar's largest city, Yangon, a senior Buddhist monk, and key member of the KAICIID-supported Peaceful Myanmar Initiative, led his community in a touching gesture of solidarity: he visited the Muslim community, and urged his countrymen to show tolerance and respect for their Muslim countrymen and women. Now his gesture of interreligious support has grown into a nationwide campaign of support and advocacy for Myanmar's Muslims and their right to practise their religion in peace.
On 15 May, a mob of about 200 self-proclaimed "nationalists" surrounded three government-authorised Muslim houses of prayer in Yangon, Myanmar. The houses of worship are the only permitted gathering places for Muslims in Yangon during Ramadan. The mob demanded that Muslims stop praying, and then moved on to intimidate and abuse civilians in the streets surrounding the place of worship.
U Seindita, a senior Buddhist monk, head of the Asia Light Foundation and patron of the KAICIID-supported interreligious platform, the Peaceful Myanmar Initiative, met the violence with a stirring demonstration of interreligious support. He led a small group of monks to meet with the affected members of the Muslim community, and called on his followers and fellow citizens to reject this attempt to polarise and divide the country. He presented a white rose to the members of the Muslim community, a visual reminder of peace and tolerance.
"I am not blaming anyone. As a monk, we are peacebuilders, and I want everyone to be tolerant. Anytime there is conflict in the country, there is great harm done and I want to encourage everyone to do what is best for the country," said U Seindita to a local reporter. He also met with local officials to appeal for peace.
In response, the people of Myanmar launched a campaign to "spread metta (loving kindness) and show community resilience towards hatred and extremism." White roses were handed to Muslim communities around the capital, and people took to social media to call for peace and freedom of belief.
As a result of the campaign by PMI and other civil society organizations, KAICIID has learned, the house of prayer has been re-opened, and order restored in Yangon.
KAICIID and its partners have supported and facilitated the Peaceful Myanmar Initiative since its establishment in 2016, and it has now grown to be one of the largest interreligious networks in the country.