Network of Policymakers and Religious Leaders Launched to Address Crisis of Violence in Nigeria
07 April 2022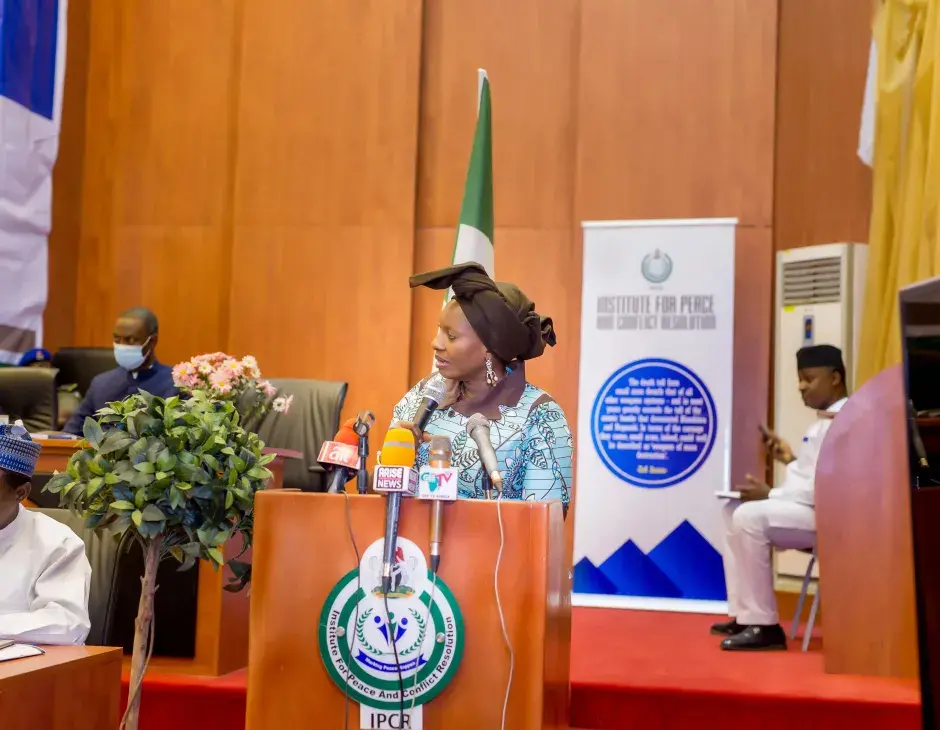 Nigerian policymakers, government officials, and religious leaders have come together at a KAICIID-sponsored roundtable event to discuss their country's worsening crisis of violence. 
The meeting, held in Abuja on Monday in conjunction with the Institute for Peace and Conflict Resolution (IPCR) and the Nigerian Institute of Advanced Legal Studies (NIALS), hosted the launch of a peacebuilding network of decision-makers and religious leaders.
The Network of Policy Makers to support Reconciliation, Peace and Security in Nigeria will see high level figures from government departments and agencies collaborate with senior religious leaders on the formulation of policies that address ethno-religious conflict and build peaceful coexistence between adherents of Nigeria's two main faiths, Islam and Christianity.      
Nigeria's Crisis of Violence 
More than two-thirds of Nigeria's states and federal territories are presently experiencing some form of violence, ranging from kidnapping and banditry, religious extremism and terror, separatist movements, and a protracted pastoralist-farmer conflict. While much of this unrest is resource-based, sectarian and interreligious divides are critical contributing factors. 
Despite this, government policies tend not to take into account the security situation's religious dimension. By not involving religious voices in the policy formulation process, officials risk aggravating the country's interfaith conflict. This deficiency is something the Network of Policymakers hopes to address, the roundtable heard.  
"Nigerians love their faiths," said H.E. Geoffrey Onyeama, the Nigerian government's Minister of Foreign Affairs. "Religion is therefore a huge weapon for peacebuilding and development".
Onyeama added that the creation of the Network had "come at the right time", and that "all hands on deck" were needed to tackle Nigeria's deepening security challenges. The Minister of Foreign Affairs also praised the IPCR and KAICIID for their role in launching the initiative, adding that his department would fully support its work. 
Onyeama's endorsement of the Network was echoed by Nigeria's Inspector General of Police, Usman Alkali Baba, and the country's Chief Justice, Ibrahim Tanko Muhammad, who said that the scheme "should not be a talking shop, but an avenue for functional resolutions and recommendations".
Political Action
Rather than engaging in conflict resolution and post-conflict processes, the Network will work to formulate preventive measures that address tensions before they erupt into violent confrontation. Key to this will be bringing together a diverse range of stakeholders who can represent different communities and take into account local sensitivities. 
Image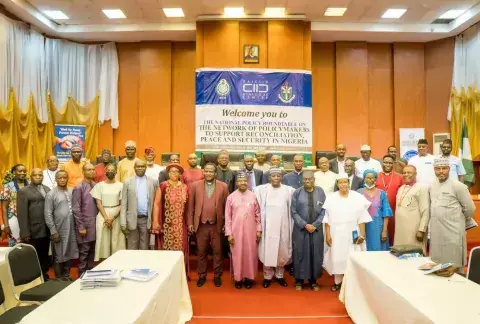 While religious leaders have an incredibly important role to play in this endeavour, real progress can only be made if politicians are also willing to act, attendees at Monday's meeting were told.
"Policymakers will have to sit up and fasten their seat belts," said Samson Olasupo Adeniyi Ayokunle, president of the Christian Association of Nigeria (CAN). "They must not pass the buck to religious leaders, and they must accept that policy plays a major role in conflict and crises."
More than anything else, Nigeria's frequent flare-ups in violence are rooted in the country's high youth unemployment rate, low worker salaries, and inaccessible education system, Ayokunle added. To address this, not only must the government pursue the right policies, but "there must be a change of mindset by Nigerians," he concluded. 
Dame Pauline Tallen, Nigeria's Minister of Women Affairs, commended the initiative, but noted that "women should be better represented in number". 
Moving Forward
This week's meeting will serve as a roadmap for the thematic areas of policy and engagement that stakeholders will discuss over the coming months and years.  
Moving forward, the Network will establish and maintain further consultations between policymakers and religious leaders, providing them a space to constructively interact on the formulation of inclusive policies. IPCR and KAICIID will facilitate this process, convening future meetings and reviewing policy proposals. 
"Developing networks that bring together religious leaders and policymakers in order to develop policy is of crucial importance to ensure a high-level of social cohesion in a given society," said Agustin Nuñez Vicandi, KAICIID's Senior Programme Manager for Africa.
"This is particularly true in countries where affiliation to a specific religious community is an important identity marker, as ensuring that religious voices are able to inform policy will lead to the development of more inclusive policy that takes into account the needs and perspectives of the various communities," he added.