KAICIID Launches Two New E-learning Courses Focused on Sustainable Development and Refugee Support
05 September 2022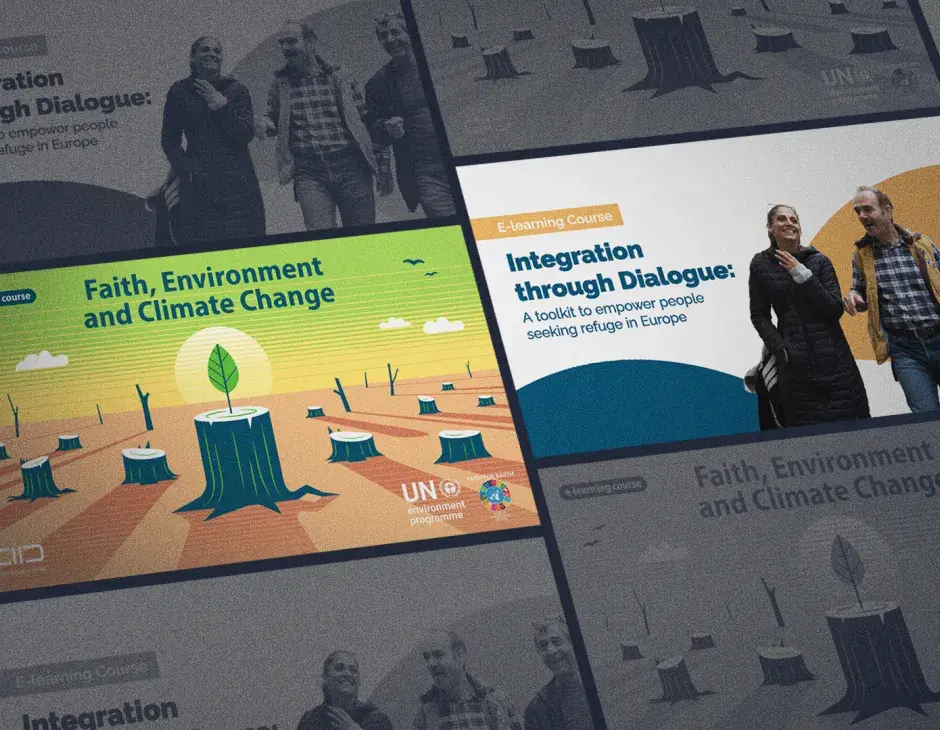 The International Dialogue Centre (KAICIID) today introduced two new free e-learning courses focused on the empowerment of refugees in Europe and the role of faith actors in strengthening national, local and community level resilience to environmental issues and climate change.
Designed to address the lack of accredited online academic courses covering interreligious dialogue, KAICIID's suite of digital learning opportunities is open to both dialogue professionals and the general public.
Faith, Environment, and Climate Change
The eight-week, instructor-led moderated course, 'Faith, Environment and Climate Change', was designed in partnership with the United Nations Environment Programme (UNEP) and, together with the 'Engaging Faith Actors to Support the Implementation Process of the Sustainable Development Goals (SDGs)' course, presented at the United Nations Environment Assembly (UNEA) 'Faith for Earth Dialogue at UNEA 5.2' event on 21 February 2022 at the. Today, the 'Faith, Environment and Climate Change' course has been made available by the KAICIID E-Learning Programme.
Image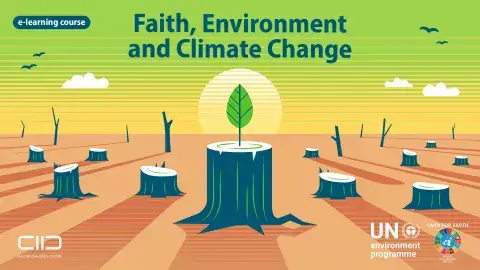 Though religious groups have a rich history of activism in the fields of education, healthcare, and humanitarian assistance, they are generally less experienced on matters of sustainability and climate change. However, an abundance of environmental knowledge and inspiration can be gleaned from religious texts and teachings, providing huge opportunities to align faith-based organisations (FBOs) with climate change mitigation efforts.
Indeed, since the development of the Sustainable Development Goals (SDGs) and the accompanying 2030 Agenda, there has been wide recognition that religious leaders and FBOs have an important role to play in crafting a more sustainable future for the planet.   
Despite this recognition, it is clear that deeper collaboration between FBOs and key stakeholders — such as government agencies, policymakers, multilateral institutions, and non-governmental organisations (NGOs) — is necessary. To achieve this, FBOs and religious leaders require guidance on how best to encourage and evaluate sustainable progress in their communities.
The overarching aim of the 'Faith, Environment and Climate Change' e-learning course is to build the capacity of faith actors and empower them to address climate change-related challenges while working towards the attainment of the SDGs.
While designed primarily for religious practitioners, the course is of relevance to policy and decision makers, UN agencies officials, international non-governmental organizations, FBO staff, academia and other experts involved with green policy and environmentalism. The syllabus has been created to help foster connections across faith, science, and secular divides by promoting new climate change-focused partnerships between stakeholders.
Participants will gain an understanding of the complex and interconnected environmental challenges confronting the world, and will be supplied with scientific knowledge, resources, and best practices to address these issues.
Participants will also be introduced to UNEP's strategic focus and will be taught about the key areas of priority for green policy as communities adapt to our changing climate.
Integration through Dialogue: A toolkit to empower people seeking refuge in Europe
The second course unveiled today — 'Integration through Dialogue: A toolkit to empower people seeking refuge in Europe' — is a four week digital programme that participants can complete at their own pace.
Image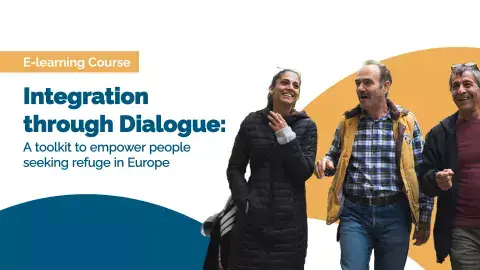 To support individuals seeking refuge on the European continent, KAICIID's Europe Region Programme developed a toolkit in 2019 that has helped strengthen dialogue between migrant groups and host communities, as well as assisted with the integration of recent arrivals.   
The new e-learning course, which is based on the toolkit, sets out to achieve the same objective, showing participants how state agencies and organisations, NGOs, and FBOs can leverage dialogue as a practical tool to help refugees assimilate more smoothly. 
Professionals working with public authorities, civil society organisations, and FBOs in Europe are the course's target audience, though the tuition will be of particular relevance to trainers, facilitators, and mentors working directly with people seeking refuge. The e-learning programme also represents an important resource for anyone interested in deepening their dialogue skills in order to form closer connections to refugee communities. 
Though 'Integration through Dialogue' is open to a wider variety of professionals and practitioners, it is important to note that the course has been specifically designed for people with previous facilitation experience to ensure that dialogue cycles with people seeking refuge are run successfully and responsibly.
By the end of the four-module course, participants will have a strong understanding of why dialogue with people seeking refuge is fundamentally important, and how that dialogue can contribute to the successful societal integration of newcomers. Additionally, individuals who complete the course will understand how to use the toolkit's guidance in real world situations to facilitate effective and sustainable dialogue sessions and cycles.
Having reached the programme's conclusion, participants will also have a clear understanding of what preparation is required prior to a dialogue session, what steps must be followed during a dialogue session, and what can be done after a dialogue session to ensure progress is cemented. They will also know how to implement and evaluate dialogue cycles, and understand the wider value and application of interreligious and intercultural dialogue in a variety of contexts.
Opportunities for continued learning
Upon successful completion of the e-learning courses, students will receive a certificate detailing their new skills. Participants will also be able to continue their learning through KAICIID's Connect2Dialogue — an online networking platform that fosters best practices and knowledge exchange by connecting interreligious dialogue practitioners, experts, and other stakeholders around the world.
The new e-learning courses and the Connect2Dialogue platform are part of KAICIID's E-Learning and Online Resources, where practitioners and the general public can access a wide selection of digital knowledge assets, e-learning opportunities, and thematic webinars, all designed to teach dialogue as a tool to address global problems.
All of the Centre's e-learning courses are interactive, mobile-friendly, free of charge, and are available in Arabic, English, and French. Participants can register for short self-paced programmes or longer, expert-led lessons which run for a number of weeks. They are all linked with global initiatives and development goals for sustainable peace.
Register for these and other courses now! Registrations for self-paced courses are open all year. Moderated courses are run monthly and registrations open on the 22nd of every month.