"Respect their holy places as our own": Webinar participants learn how to better protect religious sites
20 May 2021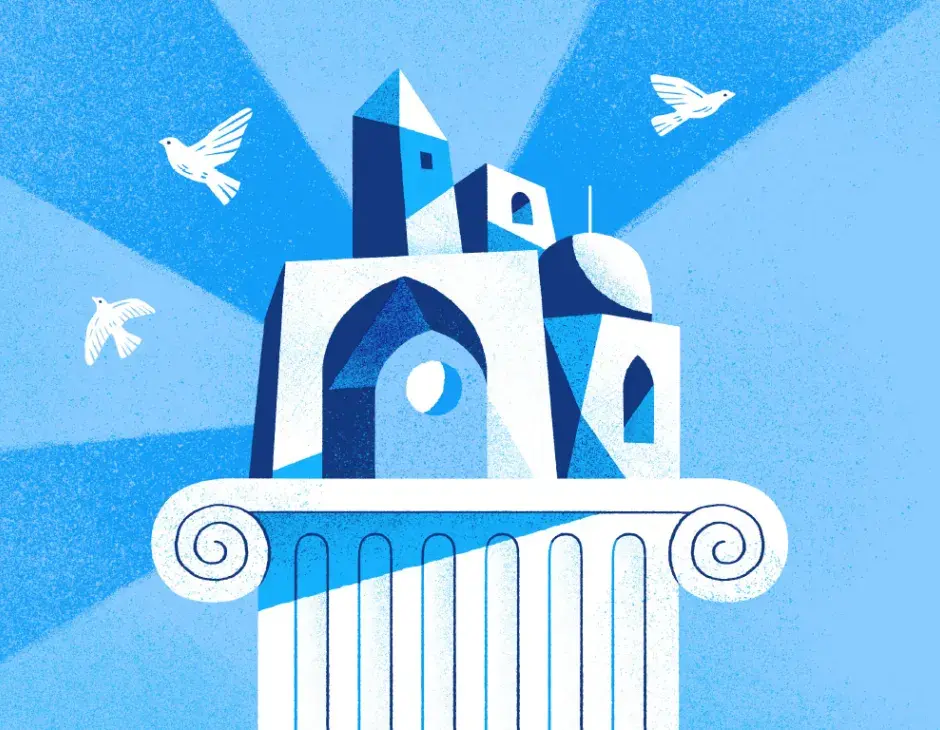 As fighting continues in the Tigray region of northern Ethiopia, both an historic church that claims to house the "Ark of the Covenant" and one of sub-Saharan Africa's oldest mosques recently came under attack, with hundreds killed in the violence.
This is one example of how religious sites are becoming increasingly vulnerable. Muslims have been murdered in mosques, Jews assaulted in synagogues, Sikhs, Christians, and others killed at worship, and religious cemeteries and sites vandalised across the globe.
To help prevent such violence and promote peaceful consensus, the World Organization of the Scout Movement (WOSM) and the International Dialogue Centre (KAICIID) co-sponsored the "United in Diversity: Preservation of Cultural and Religious Sites" webinar on 12 May 2021.
Speakers addressed the responsibility of religious communities to address the protection of not only their traditions' religious sites, cultural heritage, and historical experience, but also those of others.
Each underscored what United Nations Secretary General António Guterres wrote in his preface to the United Nations' Plan of Action to Safeguard Religious Sites: "Religious sites and all places of worship and contemplation should be safe havens, not sites of terror or bloodshed."
From focal points of conflict to "places of exchange"
The Plan of Action was part of the UN's response to the 2019 attacks against mosques in Christchurch, New Zealand, which caused the deaths of 51 people, said Dr. Paul Morris, UNESCO Chair in Interreligious Understanding and Relations at Victoria University of Wellington, New Zealand.
The attack illustrated how sacred sites can become symbolic vehicles for expressing hatred, Morris said.
"Religious sites play a role in collective identity, mobilising communities, and in individual and communal cohesion and well-being," he said. At the same time, however, "they can also become focal points of conflict and terror," he added.
Morris hopes that the UN Plan of Action will not only protect sacred sites, but enhance their roles as "meeting points" and "places of exchange."
Religious sites are a living heritage, or "treasures" that can "foster dialogue and respect for diversity," he added.
Protecting sacred heritage in Thailand and India
Lertchanta Ally Seeluangsawat, Scouts of the World Award (SWA) Coordinator for Thailand Kaengkrachan Riverside Scout Camp, shared with participants her experiences working with Scouts pursuing their SWA at Sukhothai, a historic town in the north of Thailand.
Scouts come to Sukhothai not only to learn about its history, but also to ensure its preservation: "They not only get information about a place, but also serve and help protect and sustain it," she said.
Sukhothai – the capital of the first Kingdom of Siam in the 13th- and 14th-centuries – is one of the first UNESCO World Heritage Sites to benefit from the Scouts' new World Heritage Recognition Achievement programme. The programme derives from a 2018 agreement between UNESCO and the WOSM through which Scouts learn to appreciate and help preserve World Heritage Sites globally.
Seeluangsawat explained that throughout the programme, she emphasises to the Scouts that Sukhothai is part of their heritage, towards which they owe a duty of care:  "I always tell them, 'it is your duty to do something. If you do not do it, who will? If not now, when?'"
Scout Chetan Mogral's programme involves the preservation of a less tangible expression of heritage and tradition in India.
Mogral described how he works to preserve a sacred dance called barathyanatyam as well as a cultural folk fair known as Yakshagana. Together, they represent an important link between India's past and present, he said.
"The protection of any kind of art — or site — is only possible when it is being passed on to the next generation," said Mogral, "when people know the history and understand themselves as part of it."
"Respect their holy places as our own"
Rabbi Ioni Shalom of the Latin American Jewish Congress told webinar participants that one of the greatest challenges involves learning to appreciate and protect the heritage of other cultures and religions as well as one's own.
 "If a place is sacred to someone else, how can I learn to have empathy with what someone else feels for that site? How can I appreciate why the 'Other' finds a place holy?" participants were told.
Shalom shared a story of his own journey of understanding in Israel and Palestine where he found in his interaction with Christians and Muslims along the way why they found places to be sacred through the prism of their own traditions: "Through the process, I not only learned how others felt, but we became friends," he said.
"When you have this closeness to the other it is easier to understand, but also grow together," he added. "So what happened there on that trip is that we not only understand the thinking of the other but also feel what the other felt."
KAICIID Fellow Fatima Madaki closed the webinar by sharing how she attempts to achieve the same experience with Christian and Muslim youth in Nigeria.
Through "Building Consensus on the Protection of Holy Sites," an interfaith peacebuilding project promoting the protection of holy sites from destruction and desecration in northern Nigeria, Madaki aimed to show participants how "places of worship need to be recognised as sanctuaries of peace for many."
Madaki said she focused on helping people on both sides "know the value of what we are losing, that we are destroying more than a building."
Through women and youth-led mentorship programmes, participants learned "that there is value in holding exchanges, working with one another, rather than against," said Madaki.
"It is only if we experience and understand the 'Other,'" said Madaki, "we can expand our perspective and respect their holy places as our own."