KAICIID Supports Efforts Countering Hate Speech in Myanmar, the Arab region, Africa and beyond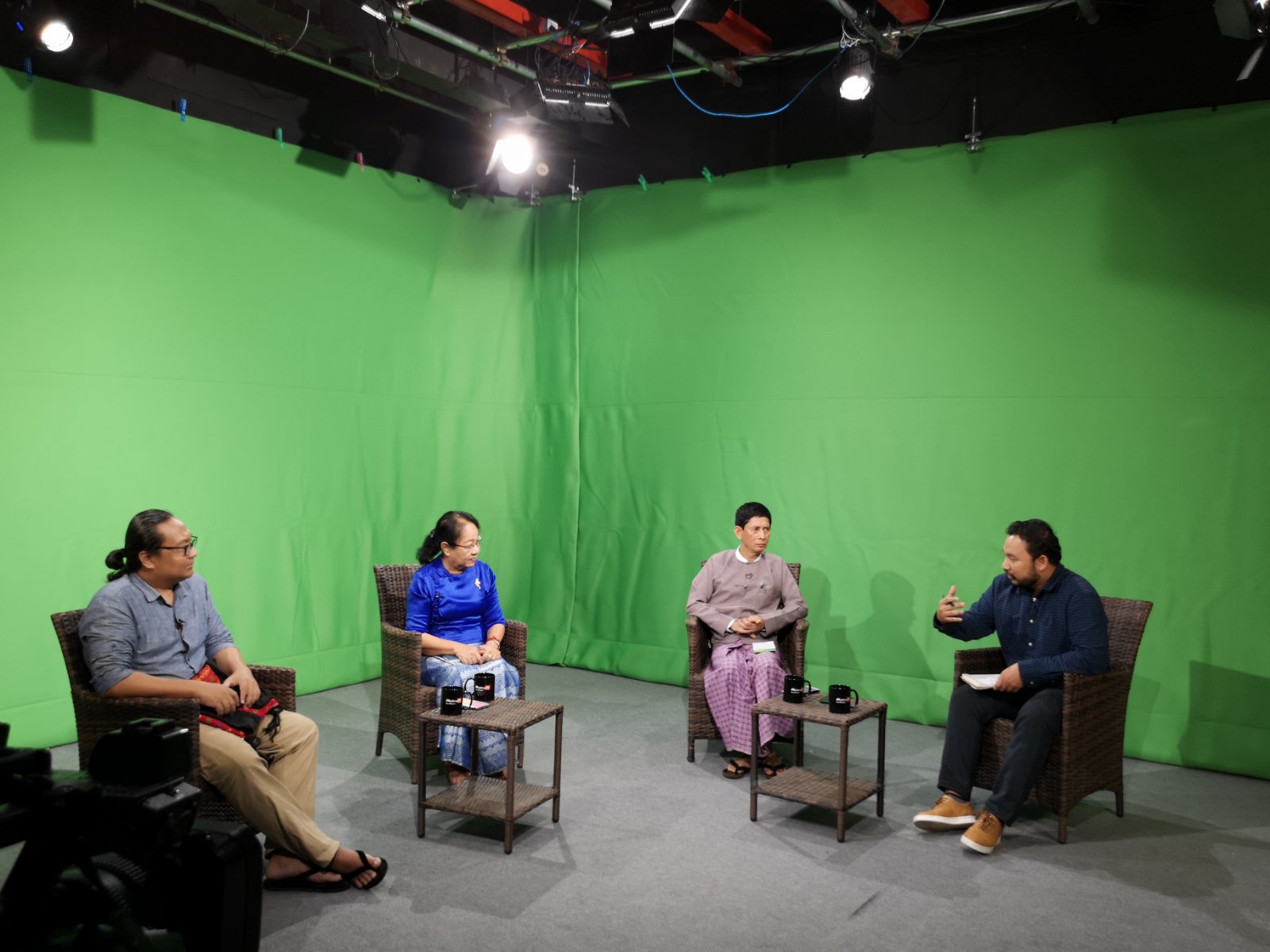 Every two weeks, Ko Bobby, a Buddhist scholar and writer, gathers a panel of well-known religious scholars and writers and educators in a TV studio in Yangon, Myanmar. Over the next hour, on a show titled, "Way Forward to Harmony and Peace," the guests discuss how to combat hate speech and promote interreligious understanding.
"We need to educate a wide majority of the public to educate others and not to follow hate speech," said Bobby, who acts as programme director. He is also the co-founder of Safety Net, an organization which works with influential Buddhist monks and scholars to counter hateful narratives in Buddhist society while promoting inclusive dialogue. "We also need to do genuine dialogue with those who promote hatred to change their perspectives."
In the five months since its launch, "Way Forward" has proved to be a success with around 600,000 viewers on its launch and request for weekly broadcasts. Bobby says the dialogue programme has also received more comments than any other Mizzima TV show on the channel's Facebook page. Recent episodes have included discussions about religion, politics and elections, gender equality and overcoming discrimination in literature and art.
The TV show has been financially supported by The International Dialogue Centre (KAICIID), and the Centre's staff have advised on show topics and speakers. "I would like to thank KAICIID's dedication to support our work," said Bobby. "It's really enabling us to work effectively in an innovative way to help people not be influenced by hatred."
Image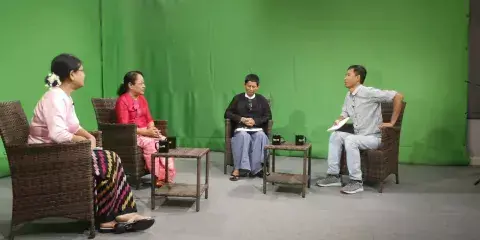 "Way Forward" in the studio. 
"Way Forward" is broadcast on the free-to air Mizzima TV channel and can also be viewed on live on Mizzima's Facebook page. The show marks an important development in a country where sectarian violence against minorities resulted from widespread hate speech campaigns, fuelled through rumours and misinformation on social media, according to a report by the United Nations High Commissioner for Human Rights.
Addressing hate speech to end violence
The United Nations Plan of Action on Hate Speech found that hate speech is a fundamental threat to societal values and human rights. KAICIID recognizes that addressing it is crucial to prevent armed conflict, atrocity crimes and terrorism and to end violence against women or marginalised groups.
"Way Forward" is just one of hundreds of programmes and social media campaigns backed by KAICIID in support of the United Nation's call to end hate speech and promote interreligious cooperation. 
The Centre's microgrants also support grassroots initiatives which counter hate speech, most notably in the Arab region, the Central African Republic (CAR), Europe, Nigeria and Myanmar.
The projects are a long running theme of KAICIID's efforts to combat online hate speech since its ground-breaking "United Against Violence in the Name of Religion" conference in 2014, where leaders from 40 countries denounced oppression, marginalisation, persecution and killing of people in the name of religion.
Much of this work has been concentrated in the Arab region. Since 2015, KAICIID's Social Media as a Space for Dialogue Programme has trained more than 700 young leaders to combat online hate speech and extremism while promoting inclusion. During the COVID-19 pandemic, programme graduates in Iraq, Jordan, Lebanon and elsewhere have launched a series of online campaigns to combat discrimination and promote safe health practices.
Image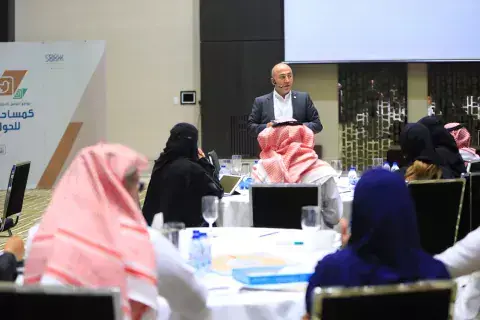 Social Media as a Space for Dialogue Training, Saudi Arabia, 2019. Photo: Mohammed Almoailme.
Another important initiative, the Dialogue-60 grants project, currently has 25 active projects in 15 Arab countries addressing hate speech. Dialogue-60 provides support for 44 organizations and 16 individuals in countries including Iraq, Lebanon, Morocco, Palestine, Egypt, Saudi Arabia, Bahrain and Yemen.
Elsewhere, KAICIID has also trained youth on using social media for dialogue in Erbil, Iraq and Riyadh, Saudi Arabia.
Last year, the Centre convened nearly 200 faith leaders, policymakers, human rights representatives and journalists in Vienna to discuss ways of fighting online and offline hate speech. The international conference, "The Power of Words: The Role of Religion, Media and Policy in Countering Hate Speech", addressed the importance of interreligious dialogue as well as the challenges posed by hate speech on social media, including so-called "fake news."
Image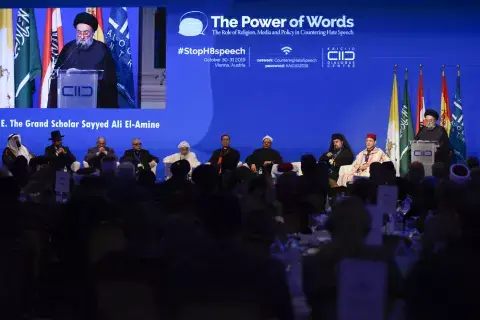 The Power of Words Conference, 2019. The event concluded with KAICIID announcing 1.5 million Euros in funding for the Centre's 2020 global programmes to counter the growth of hate speech. Photo: KAICIID
Fellows' efforts in Africa 
While hate speech can reach large numbers of people on social media, the same platforms can sometimes be harnessed to counter divisiveness and disinformation. In CAR, a 2020 KAICIID Fellows initiative by Stephanie Victoire Gangale Monka, has promoted interfaith dialogue among women and girls to resolve instances of hate speech language between Muslims, Protestants, Catholics.
The country has been the site of religious and communal fighting in a long running civil war since 2013. Thousands of people have been killed and hundreds of thousands displaced in a country of 4.6 million, which is still largely controlled by armed groups despite the signing of peace deals between the government and armed groups in 2019.
Monka's two-day training workshop addressed interreligious and intercommunal conflict by selecting 25 women to be future leaders. The women were chosen by an interfaith committee comprised of an imam, a pastor and a priest. The women also attended weekly and monthly sessions on interreligious dialogue and social cohesion.
Monka, who works as project supervisor at the NGO Action for Population and Sustainable Developments, said participants were advised to avoid divisive language.
"Let's avoid words like: Segregation, nepotism, tribalism that is not of my community or my religion. These were the codes of conduct and the rules to be followed for these short and long-term trainings."
Elsewhere in Africa, KAICIID has also helped combat hate speech in Nigeria. According to Stephen Ojapah, a Catholic Priest of the Missionary Society of Saint Paul of Nigeria, former KAICIID Fellow and member of the KAICIID-supported Interfaith Dialogue Forum for Peace (IDFP), social media was flooded with hateful messages ahead of elections in 2019. This was particularly "true in the north, where issues of this nature can easily be turned into religious crises, especially where the leading candidates belong to different religious groups."
Ojapah worked with a local Muslim leader and colleague from the KAICIID Fellows programme, Ameer Muhammad Jameel Muhammad, the principal of the Saifuddeen Model Islamic Science College in Niger State and co-chairman of the Central Coordination Council of the IDFP, to develop a project countering hate speech through public engagements with religious and local leaders across the country. These leaders engaged in a national conversation on topics including hate speech and the role of religion and gender and child rights.
Image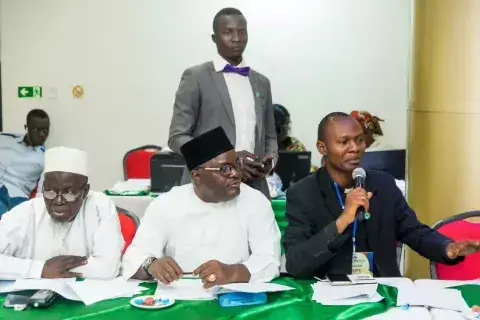 Stephen Ojapah at the Interfaith Dialogue Forum for Peace General Assembly, 2019. Ojapah is an active Fellow and member of the IDFP, a key partner of KAICIID in Nigeria. Photo: Godwin Oisi.
The project ran from December 2018 to June 2019 on television and radio and was viewed by over twenty million Nigerians in three months.
"When the elections got close, politicians were ramping up rhetoric against one another," said Ojapah. "It was timely for us during the election period to have a Christian cleric and a Muslim cleric anchor. Bringing in two religious leaders sent a big message that was well received by the Muslim and Christian communities."

"Most ordinary Muslims in northern Nigeria see it as a taboo or a problem for a Christian to shake hands with a Muslim in public," continued Ojapah. "A Muslim hardly enters a church, Christians hardly enter a mosque. I confess that it was my first time visiting a mosque. On the ground now, I see a lot of Muslims groups visiting churches on Easter Sunday and Christmas. For me that was a big impact. I really want to attribute it to the work that we did with these shows."
Ojapah said KAICIID's local network proved to be invaluable.
"One of the things the Centre is blessed with is connectivity. KAICIID has a platform that any person can leverage. I can go through them to connect to everyone in Nigeria. That is the most important aspect of collaborating with KAICIID. It gives you access to everyone you want to get on board with any programme you want to do."