As World's Focus Turns to Myanmar at UNGA, Religious Leaders in the Country Call for Peace
25 September 2018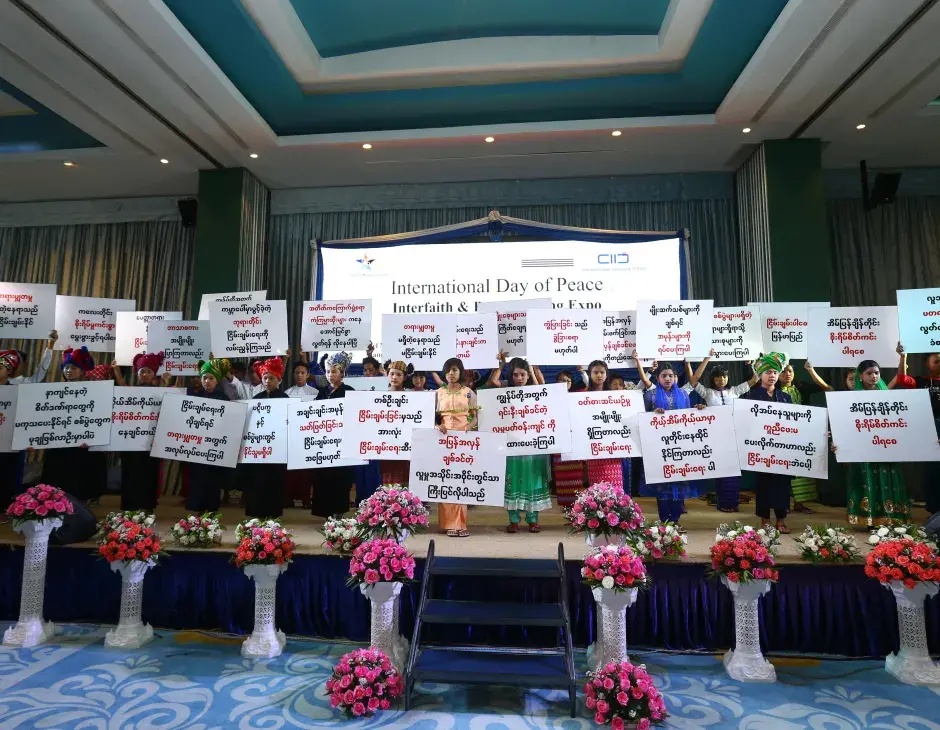 Mandalay, 21 September: Religious leaders from Myanmar's Buddhist, Muslim, Hindu and Christian communities called for more dialogue between the diverse religious and ethnic groups in the country at an event on 21 September, the internationally recognised Day of Peace. The event, held in Mandalay, a city known for religious and cultural diversity, was organized by the Peaceful Myanmar Initiative, the country's largest collective of religious leaders.
The event brought together more than 300 leaders from religious communities, civil society, youth groups and faith-based organizations. Through an art competition for young children, music and dance presentations, as well as a series of stirring speeches by religious leaders, the organizers sought to highlight the importance of peace and dialogue among the various religious groups in the country.
"Dialogue is very important. We need to open our minds and have an honest dialogue in order to build sustainable peace in Myanmar. On this particular day, I also want to remind everyone that dialogue, even with the military, is very important for genuine reconciliation", said Ashin Ariya Wun Tha Bhiwun Sa, a Buddhist monk known as Myawaddy Sayadaw from Mandalay, and Patron of the PMI.
In a highly positive development, the event was also attended by several government representatives, who expressed their support for the initiative.
The recent tragic events in Northern Rakhine State, which have led to the displacement of over 700,000 people, also threaten to further divide the diverse religious communities in the rest of the country and create a crisis of trust between the Buddhist majority population and the Muslim minority in particular. The Peaceful Myanmar Initiative, which was founded in 2016, is urging intensive efforts to promote dialogue for a return to peaceful coexistence. They have implemented interreligious activities in 10 of 14 states and divisions and also run a training centre, the country's first, on interfaith dialogue in Pyin Oo Lwin, in upper Myanmar.
The Peaceful Myanmar Initiative is supported by the Vienna-based International Dialogue Centre (KAICIID), an intergovernmental organization dedicated to the promotion of interreligious dialogue for social cohesion. A delegation from KAICIID attended the event.
"Where religion is manipulated for violence, political solutions must be supported by interreligious dialogue to be sustainable and effective. Religious communities need to be part of the solution to the conflict in Myanmar. Interreligious dialogue is key to preventing hate speech, incitement to violence, and atrocity crimes, as well as to fostering sustainable social cohesion. This is why KAICIID is proud to support the impressive efforts of the Peaceful Myanmar Initiative to revive the spirit of tolerance in the country," said Anders Frantzen, Senior Programme Manager, KAICIID in his opening address.
Peaceful Myanmar Initiative (PMI) is a multi-religious and inclusive network composed of 15 prominent religious leaders from different faith traditions (Buddhism, Christianity and Islam) and civil society organizations aiming to promote peaceful dialogue across Myanmar. Led by respected religious leaders and civil society activists, the PMI is working in partnership with KAICIID to pilot various IRD activities and trainings in selected regions in Myanmar. PMI and its partners aim to serve as sustainable dialogue network to build bridges between religious, ethnic, political and regional communities in Myanmar.