Religious Leaders In Nigeria Call For Peace Ahead Of Divisive Election Period
06 April 2022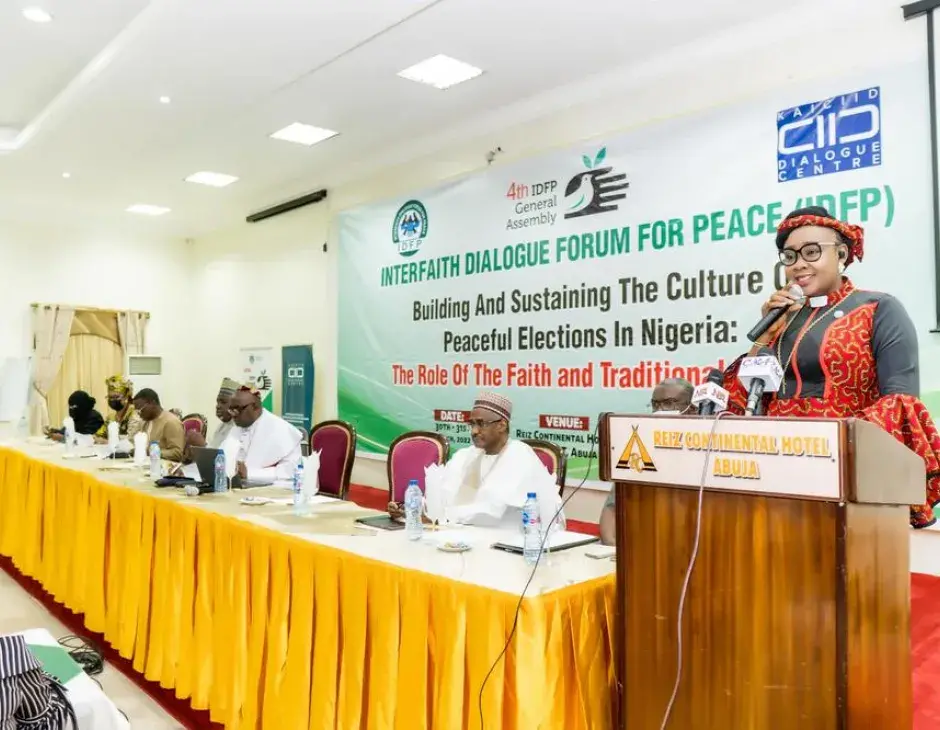 Nigerian policymakers, religious leaders, and traditional rulers have called for peace ahead of a potentially turbulent election period at an event hosted by the KAICIID-supported Interfaith Dialogue Forum for Peace (IDFP).
Ahead of next year's general election, scheduled to take place in February 2023, there's a heightened risk of insecurity and violence, attendees of the IDFP's fourth annual general assembly heard in Abuja last week.
As Nigeria continues to battle the fallout of the COVID-19 pandemic and as the upcoming election approaches, faith and traditional leaders must increase their efforts to promote interreligious dialogue and understanding as a means to build and sustain a culture of peace. This message of unity was shared with the event's almost two hundred attendees, who represented the country's two principle religions — Islam and Christianity — and came from communities across Nigeria.  
Continued COVID-19 Recovery 
Last week's general assembly and peace conference was the first time the IDFP — a network of religious leaders, policymakers, and civil society stakeholders — has gathered in full since the start of the pandemic. 
Nigeria has, like most countries, suffered multiple waves of coronavirus outbreaks, each of which has exacerbated deep-rooted inter-communal and interreligious divisions. Lockdown measures have led to food security concerns, school closures, heightened competition around resources, and in some cases, flare-ups of deadly violence.
However, the pandemic has also underscored the value of cooperation and solidarity in Nigeria — a point raised by KAICIID's Board Member Dr. Kezevino Aram.
"[The pandemic] has reminded us the importance of thinking together, of working together on issues such as public health, conflict resolution, and the environment," Dr. Aram told the conference. "The lack of a peaceful environment impedes momentum towards development that allows people to flourish," she added.
Tensions Rising Ahead of Election 
COVID-19 has aggravated sectarian unrest in Nigeria — but the country's divisions long predate the pandemic. More than two-thirds of its states and federal territories are currently experiencing some form of violence, ranging from kidnapping and banditry, religious extremism and terror,  separatist movements, and a protracted pastoralist-farmer conflict. 
Political tensions ahead of the 2023 general election risk aggravating these conflicts further, the conference heard, which is why religious groups must act to promote peace. Faith leaders have an important role in ensuring the electoral process remains peaceful, attendees were told, as they have a unique ability to guide their followers away from violence. 
"There's a need for traditional and religious organisations to preach, sensitise, and mobilise for peace in all their sermons, teachings, and meetings," said Dr. Bakut Tswah Bakut, the director general of Nigeria's Institute for Peace and Conflict Resolution (IPCR).

The co-chairs of the IDFP, Alhaji Ishaq Kunle Sanni and Bishop Dr. Sunday Onuoha, echoed this message, warning that preachers who refuse to propagate peace would be failing the Nigerian people. Similarly, the general assembly resolved that policymakers should put in place mechanisms to build a more humane and peaceful country "devoid of ethno-religious sentiments".
The Important Role of Young People and Women
The conference also made resolutions on the importance of empowering young people and women as agents of peacebuilding, political change, and sustainable development. With regard to young people, religious leaders were told to encourage Nigeria's youth to pursue peaceful dialogue and reject hate speech.
"The country is a lot more divided along ethnic and religious lines," said Professor Usman Yusuf, former executive secretary of the Nigerian National Health Insurance Scheme. "Our restless youths are being fed a cocktail of toxic ethnoreligious poison, mostly by failed politicians," he added. 
Women have a key role to play in shaping the next generation of Nigerian leaders — and thus, in securing the country's peaceful future — said Rev Uzoaku Juliana Williams.
"Women are an integral part of the nation. Most importantly is that we're peer educators, we educate our children," Rev Williams said. "In seeing that there's mutual understanding and interfaith relations in Nigeria, women play a key role educating our children in the rights and the wrongs."