New E-learning Course will Support the Engagement of Faith Actors in Advancing the SDGs
21 February 2022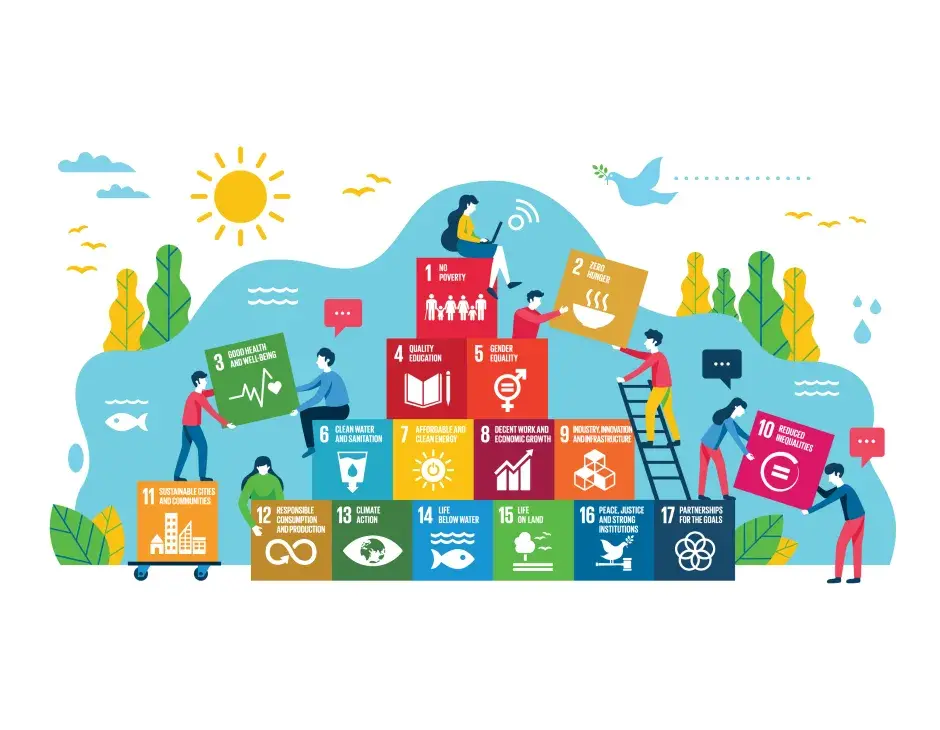 The International Dialogue Centre (KAICIID) together with the United Nations Environment Programme (UNEP), University of Peace (UPEACE), Lutheran World Federation (LWF), National Muslim Council of Liberia (NMCL), and Institut Superior de Ciències Religioses de Barcelona (ISCREB) today unveiled a new e-learning course designed to help religious leaders and faith-based organisations (FBOs) achieve greater engagement and contribute to the implementation process of the United Nations' Sustainable Development Goals (SDGs).
Developed in collaboration with the aforementioned groups, the course — titled Engaging Faith Actors to Support the Implementation Process of the Sustainable Development Goals — was launched during a dialogue session of the United Nations Environment Assembly (UNEA).
The free e-learning and training course is formed of seven modules, each offering faith leaders, religious groups, faith-based organisations and other stakeholders a distinct approach to effectively engage and contribute to the process of sustainable development in the communities they serve.
Religion's vital role in sustainable development
Religious leaders, FBOs, and local faith actors play a vital role in advancing the 2030 Agenda and its goals, particularly those focusing on peace, reconciliation, social justice, and environmental protection.
Greater engagement of religious voices by national and international stakeholders is necessary, however, to ensure that sustainable development strategies are implemented in a way that is inclusive and participatory.
"The SDGs require the engagement of all sectors of society, and sustainable development is no longer considered the responsibility of conventional development actors such as the UN or national development agencies alone," said Dr Iyad Abumoghli, director of UNEP's Faith for Earth Initiative and co-author of the course's fourth module.
Equipping participants with the skills to promote SDGs
Spanning seven modules, the course covers a range of topics relevant to sustainable development, including hate speech, interreligious dialogue, and how to assess faith actors' contributions to SDG implementation.
Each module is available individually via KAICIID's Dialogue Knowledge Hub, and can be completed at the participants' own pace. Alternatively, the course can be completed as part of a moderated, instructor-led programme over a seven-week period, with an average workload of three hours per week. 
As participants advance through the syllabus, they'll learn how to raise awareness around the importance of engaging faith actors in sustainable development schemes, as well as how to identify and map out initiatives that help achieve this.
Participants will also be shown different methodologies, models, tools, and other approaches to better the engagement of religious figures, while also learning about how to contribute to the design, planning, and implementation of SDG programmes in their home countries and communities.
The e-learning course will promote a systemic approach to the role of religion in humanitarian response, sustainable development, conflict resolution, and peacebuilding, as well as showing participants how to use different platforms, forums, and group activities to share their own SDG-related advice and expertise.
"Recognizing the work of the SDGs by international interfaith groups is vital to recognize the power of the religions in our society in a positive way," said Dr Joan Hernandez Serret of the Institut Superior de Ciències Religioses de Barcelona (ISCREB), who helped create module 7. "This message helps normalise religion in public space," he added.
A certificate of completion will be issued to participants who finish all of the programme's mandatory exercises and achieve a minimum total score of 70%.
Relevant to a wide variety of stakeholders
Engaging Faith Actors to Support the Implementation Process of the Sustainable Development Goals has been created with religious leaders, local faith figures, and FBO staff in mind.
The e-learning course is, however, also relevant to other stakeholders working in the sustainable development space — primarily policymakers and sustainable development practitioners who are looking for new approaches, methodologies, tools, and models to effectively engage faith actors in the implementation of SDG strategies. 
A wide variety of other non-religious groups can also benefit from completing the course, including professionals working for UN agencies, nongovernmental organisations (NGOs), civil society organisations, and national, regional, and local government bodies.
"[The course is designed to] enable faith actors to see themselves as key stakeholders in the implementation of the SDGs, and to sensitise other stakeholders — governments, the UN, NGOs, and so on, to be aware of the unique contribution and potential that faith actors have," said Isaiah Toroitich, Head of Global Advocacy at the Lutheran World Federation, who co-authored module 6.
The programme is also relevant to academics and students interested in the intersection of religion and sustainable development, and private sector actors involved with corporate sustainability and responsibility.
Engaging Faith Actors to Support the Implementation Process of the Sustainable Development Goals' was launched today, Monday, 21 February and is open for applications. The moderated course will commence on Monday, 7 March.
Faith, environment, and climate change
Another new e-learning course — this time specifically focused on religion and climate change — was also presented at UNEP's Environment Assembly. Co-created by UNEP and KAICIID, Faith, Environment and Climate Change will consist of eight modules, each looking at different faith-based approaches to pressing environmental issues. The course is expected to be available as of March 2022.
Image