In Lisbon, KAICIID's Latest Fellows Cohorts Graduate, Join Growing Alumni Network
30 May 2022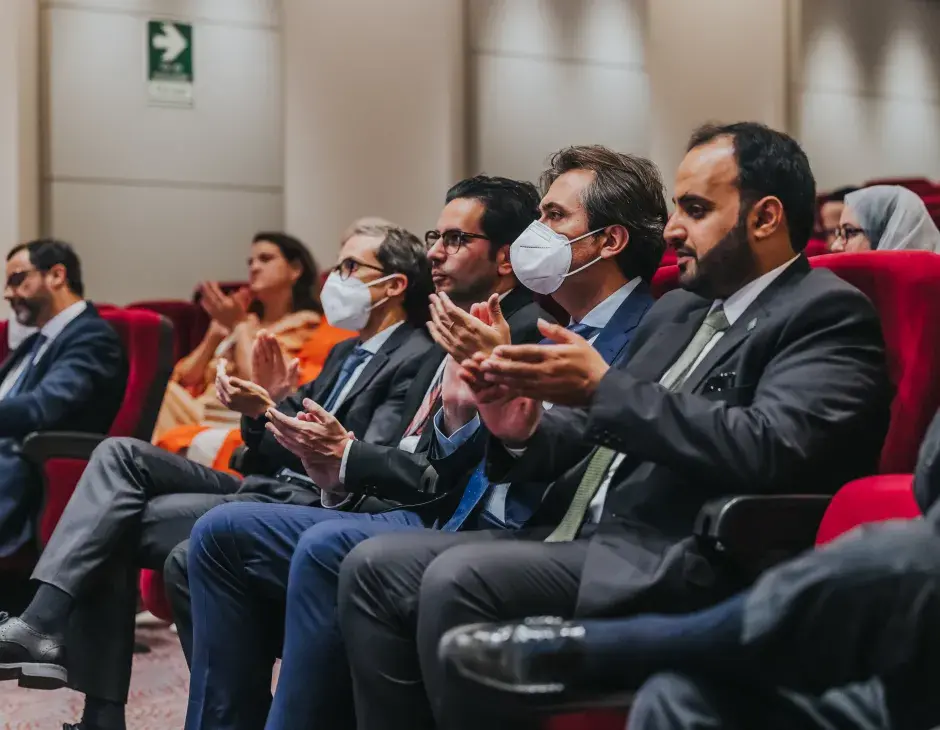 You can almost sense it in the Lisbon air.
After two years of travel restrictions and social distancing, visitors are returning and the hustle-and-bustle of the Portuguese capital is coming back into full swing.
There amidst travellers enjoying Lisbon's picturesque, pastel-coloured buildings are KAICIID Fellows from its 2021 European and International cohorts. They too, are embracing the opportunity to travel again — specifically to meet in person for their final training and graduation ceremonies.
Over the last year, they have connected with one another online and once in a hybrid programme in Vienna to be equipped, inspired, and empowered for interreligious dialogue in their own contexts.
Before their graduation in Lisbon on 26 May, Fellows went through one more round of training, including local site visits and sessions on topics like evaluating interreligious peacebuilding, replication and sustainability, and gender inclusivity in the dialogue process. After graduation, they will join a network of some 400 Fellows from a total of 74 different countries.
Speaking to the Fellows in Lisbon, KAICIID's Interim Deputy Secretary General (IDSG) Elham Alshejni remarked on the diverse make up of yet another set of cohorts. "As I let my eyes wonder through the room just a few minutes ago, seeing so much diversity," she said, "I was thinking to myself: Isn't this Programme precisely what KAICIID is all about?
"To build bridges among those who are different to each other. To connect people from different cultural and religious backgrounds in an inclusive environment, instilling in them a curiosity and desire to learn more about one another, not despite of their differences, but because of them!"
A "lucky" cohort
Giancarlo Anello, one of the 2021 Fellows, thinks his cohort is quite lucky.
"Obviously to work in person is much better in order to know the other Fellows, to spend time with them, to discuss with them during the trainings and after," said the professor of law and religion at University of Parma, Italy, "I have learned much listening to their experiences which were, most of the time, very different from mine."
Another Fellow, Maryana Hnyp is glad to connect with fellow interreligious dialogue practitioners after the upheaval of COVID-19. "It is both delightful and challenging to meet new people," she said, "to reconnect with friends from previous trainings and to follow an intense, yet very interesting programme."
It is that sense of connection and intense training that Hnyp signed up for when she applied to the Fellows Programme. As Founding Chair of the Catholic University Leuven's (KU Leuven) interreligious Lifestance Network and member of Board of Directors of the European Network on Religion and Belief, Hnyp knows that people of diverse backgrounds who live in close proximity to one another need opportunities to connect and converse.
Image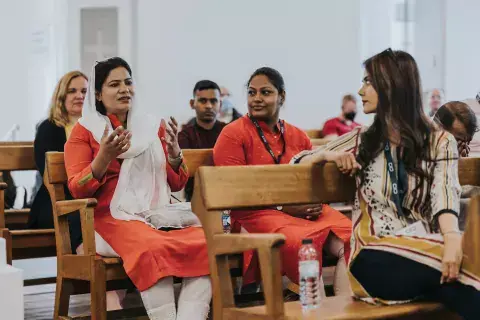 She said the KAICIID Fellows Programme seemed to be a promising opportunity to learn how to lead others to discover others' traditions, rituals, belief systems, values, and methods of communication. The kind of "theoretical and empirical knowledge" and opportunity to meet with "like-minded" dialogue practitioners that the Fellows Programme offers, serve as an invaluable means to promote peaceful and flourishing coexistence across difference, said Hnyp.
Equipping Fellows to be a light to others
In her opening address, KAICIID's IDSG Alshejni said the Programme's responsibility "is to equip our Fellows with tools in dialogue, as well as to invest in them and help them make their voices heard.
"We hope their example will be a light to others who share the same passion for diversity and interfaith dialogue," she said.
To that end, Kyfork Aghobjian, Senior Manager of the Fellows Programme, said "part of the learning and practicing process for Fellows is receiving grants to design and implement grassroots initiatives in their own communities."
Over the last year, Fellows designed and implemented 40 individual and two joint initiatives, organizing dialogue trainings, conferences, lectures, and field visits, producing publications, curriculums, and documentaries. Some initiatives promoted interreligious dialogue, social cohesion, and interfaith education. Others focused on freedom of religion and the prevention of hate speech.
"The initiatives directly targeted 7,000 people in 34 countries," said Aghobjian, "raising awareness on the role interreligious and intercultural dialogue can play in addressing local, regional, and global challenges."
For his part, Anello created a brand-new teaching module called "Religious Diplomacy." His training with the Fellows Programme helped him design the syllabus, improve his teaching, and enlarge the network of scholars and experts he draws on as examples in the course.
Back at KU Leuven, Hnyp plans to open a "multi-lifestance" student residence "for people who want to learn more about various religions and are willing and ready to actively engage in empirical interreligious dialogue at the grassroots level," she said.
Hnyp hopes to lead students through exchange visits, exhibitions of "creation care" art, a series on sustainable food practices across religious traditions, and to produce an interfaith bereavement prayer book.
"A network of friends and colleagues."
Knowing how important these initiatives are, the training and support that KAICIID offers their Fellows does not end after graduation, said Aghobjian.
"The graduation ceremony is not an end to their engagement with the Fellows Programme," he said," it is a new start, an entry ticket into the Fellows Alumni Network."
For those in the European cohort, their first opportunity for connecting with other Fellows will occur immediately after graduation. The following day, they will gather with around 40 European Fellows who have graduated from the programme since its launch in 2015. The aim is to help them create regional chapters that will continue to "enhance their work and interreligious engagement on a regional level," said Aghobjian.
Image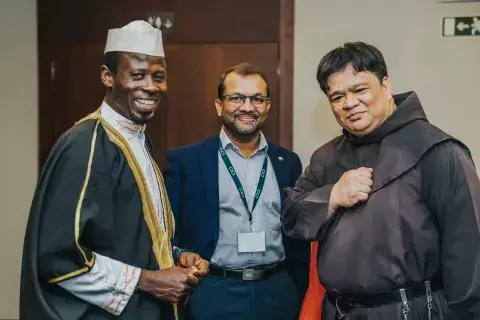 These are the things that make the KAICIID Fellows Programme special, said Hnyp.
Apart from offering theoretical and empirical dialogue training and practice, she said, "it fosters an opportunity to create a network of friends and colleagues in the field of interreligious dialogue – a precious and invaluable gift indeed."