KAICIID reaffirms its mandate on the first International Day for Victims of Violence Based on Religion, Other Beliefs
22 August 2019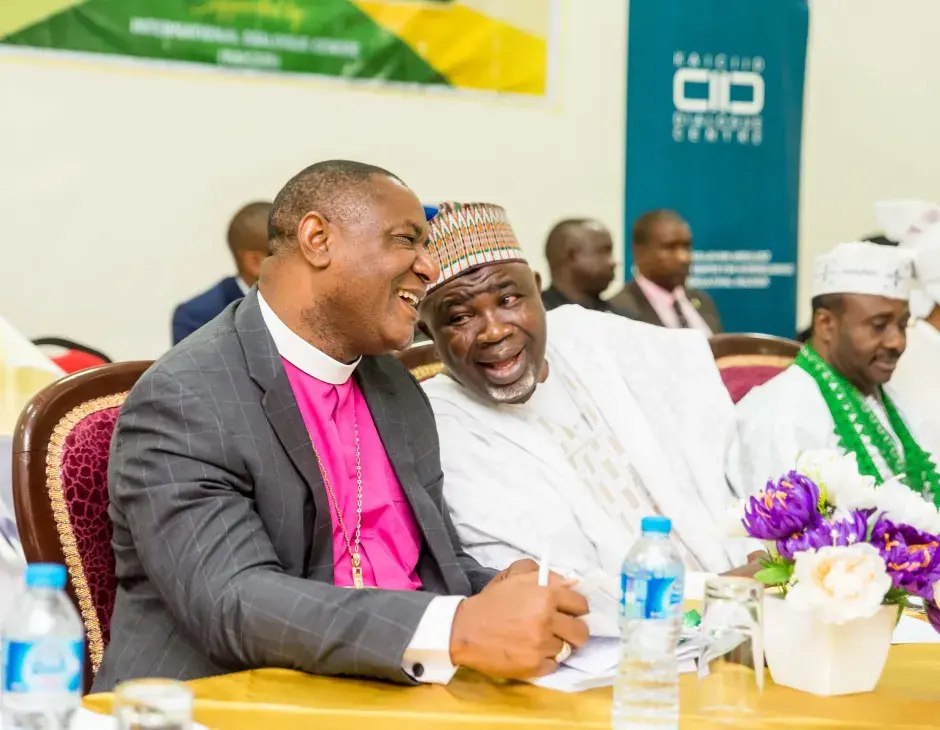 Today, 22 August 2019, marks the first International Day for Victims of Violence Based on Religion, Other Beliefs, proclaimed by the United Nations General Assembly earlier this year. International days are a powerful advocacy tool in that they serve to draw public attention to issues of global concern and prompt action at thought leadership and policymaking levels.
Successive initiatives by the International Dialogue Centre (KAICIID), including statements by its multireligious Board as well as engagement at policymaking and thought leadership levels, are driven by the Centre's deep rooted concern over the hundreds of lives lost or destroyed by those seeking to bypass the message of peace inherent in all religions in pursuit of twisted ideologies and/or political ends.
Since the establishment of the Centre, KAICIID has aligned its programmes and strategy with Agenda 2030 and the UN Sustainable Development Goals. More specifically, KAICIID contributes to the achievement of SDG 16 (Peace, Justice, and Strong Institutions) in all of its programmes across the Arab Region, the Central African Republic, Europe, Myanmar, and Nigeria by fostering the promotion of inclusive development platforms and placing religious leaders at the heart of peacebuilding efforts.
KAICIID is the only intergovernmental organization governed by religious representatives and dedicated to the facilitation of dialogue between followers of different religions and cultures. Its mandate allows it to bridge the gap between religious leaders and policy makers in order to advocate peace and combat violent extremism. This approach stems from a belief that religious leaders and policy makers must work together in order to address the many conflicts and problems in which religious identity is manipulated to justify violence.
On this first International Day for Victims of Violence Based on Religion, Other Beliefs, the Centre reaffirms its mandate to introduce dialogue as the only enduring pathway to peacebuilding. Below are some of the ways in which the Centre seeks to establish interreligious dialogue as a means of supporting this goal across the globe.
ARAB REGION
For centuries, religion has been a pivotal part of political life in the Arab world; however, the misuse of religion by violent factions has led to increased polarisation and conflict. Many Arab countries are plagued by violence, large-scale displacement, sectarianism, violent extremism, and the collapse of critical infrastructures – the combination of which significantly challenges regional, national and global stability.
Advocating for Rights and Inclusion through a Platform for Peace
The KAICIID-supported Interreligious Platform for Dialogue and Cooperation in the Arab World supports religious authorities from Muslim and Christian institutions to advocate for the rights and inclusion of all communities in the Arab Region. The platform equips members to combat hatred and sectarianism and promotes the fundamental rights and dignity of all human beings based on the concept of common citizenship. The platform also connects religious leaders with policy makers in the region to advocate inclusive policies and give a stronger voice to marginalised communities.
Image

CENTRAL AFRICAN REPUBLIC
Over the last few years, violence in CAR has broken down key infrastructures, creating an urgent need for religious leaders to step in not just as moral authorities, but also as aid administrators, development coordinators and administrators of support systems for vulnerable populations. KAICIID advocates for the inclusion of these religious leaders in peace processes given their ability to foster national efforts of reconciliation from within their respective communities.
Rebuilding Trust in Shattered Communities
To this end, the KAICIID-supported Platforme des Confessions Religieuses de Centrafrique (PCRC) works with Catholic, Evangelical, and Muslim communities on projects targeted at healing and rebuilding trust in shattered communities. The platform also collaborates with authorities on policies regarding interfaith and community issues. Currently, the PCRC is working to establish regional offices (antennae structures) in all of the country's 16 prefectures.
Championing a Strategy for National Reconciliation
Through its collaboration with the CAR Ministry for National Reconciliation, KAICIID plans to support Local Peace Committees (LPCs), ensuring the inclusion of religious and community leaders in these structures, as well as training committees to use dialogue facilitation to mitigate conflict.
Supporting Conflict Sensitive Journalism
Despite these efforts, highly politicised and strident journalism has placed strains on the country's efforts for peace. Many media outlets are under intense pressure from armed groups and lack proper training and resources. The Centre provides training in conflict-sensitive journalism to local media outlets, developing their capacities to report on inter-ethnic and interreligious issues in a more professional, objective and responsible way.
Image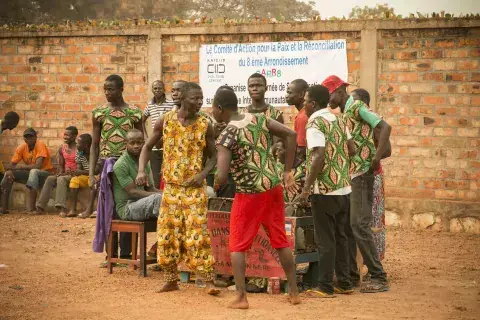 EUROPE
The KAICIID-supported Muslim and Jewish Leadership Council (MJLC) was founded in 2015 in Vienna by fourteen European religious leaders. The council has equal representation among the Jewish and Muslim communities with seven Jewish and seven Muslim religious leaders serving as part of its governance. It was registered as an Austrian non-governmental organization in 2018.
Protecting Pluralism and Religious Freedom in Europe
The Council collaborates on issues of common concern, such as islamophobia, anti-Semitism, and xenophobia in Europe. The MJLC advocates religious freedoms, which are anchored in European law, through joint campaigns to defend the rights of religious minorities across the continent. By setting an example of collaboration and respect, the Council seeks to encourage understanding and build trust between Muslim and Jewish communities.
Image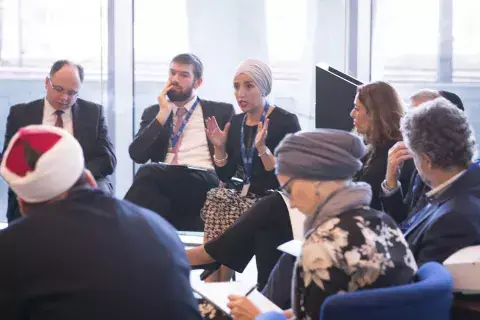 MYANMAR
Myanmar's deep-rooted ethnic and intercommunal conflicts have shaped the country's national challenges and current security issues. This underpinned the situation in Northern Rakhine State, where conflict has led to the displacement of over 700,000 people, and left thousands dead.
Advocating Tolerance through a Multi-religious Network for Peace
In response to the violence, the KAICIID-supported Peaceful Myanmar Initiative (PMI) has become one of the largest and most influential interreligious dialogue networks in the country, working to revive the spirit of tolerance in Myanmar. The network is multi-religious, led by representatives from the Buddhist, Christian, Hindu and Muslim communities, as well as civil society leaders.
In 2018, PMI launched the country's first Interreligious Training Centre which trains government officials, religious and civil society leaders on religious literacy, peacebuilding, and social media as a tool for conflict prevention.
PMI also directly addresses humanitarian issues on the ground through its network of religious communities. This includes emergency services (i.e. medicine, food and sanitary kits) for communities facing natural disasters, such as monsoon flooding.  
Image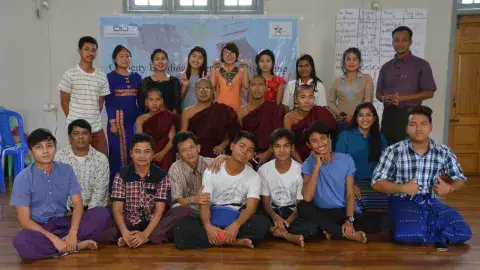 NIGERIA
Nigeria's 200 million inhabitants comprise 250 different ethnic groups, representing one of the fastest-growing populations in the world. While Nigeria's diversity and growth denotes significant promise, the country also faces fierce economic, social and security challenges.
Building Peaceful, Just Communities
KAICIID has supported the establishment of the Interfaith Dialogue Forum for Peace (IDFP) in Nigeria, which convenes 100 Christian and Muslim religious leaders from across the country. Through this interfaith partnership, the IDFP works to protect holy sites, uphold the freedom of religion, promote conflict sensitive journalism, prevent hate speech, and foster interfaith education and exchange.
Multiplying Community Development Initiatives through Microgrants
In order to support these efforts, KAICIID supports approximately 20 local and grassroots initiatives each year. These grants empower local organizations and actors to implement anti-violence campaigns and bring religious leaders together on issues such as public policy and community development. Current initiatives include the promotion of pluralism and minority rights, electoral conflict analysis (understanding and mitigating drivers of violence), identifying and addressing threats to human rights and security, and countering violent extremism online.
Image