European Policy Dialogue Forum Tackles Hate Speech and Urban Challenges for Refugees and Migrants
11 November 2022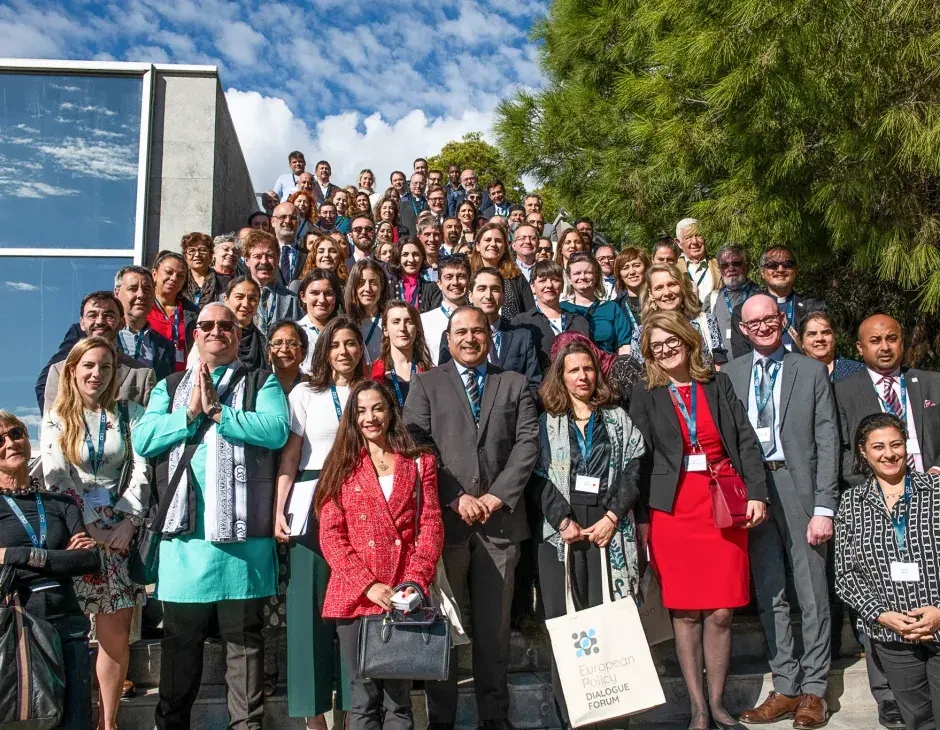 Policymakers, religious leaders, journalists and civil society representatives converged in Castelldefels, Spain this week for the 4th European Policy Dialogue Forum on Refugees and Migrants, where they tackled barriers to successful integration in European cities.
Held from 9-10 November, the Forum welcomed 120 participants from 7 different religions and 30 different countries.
The event was jointly hosted by the International Dialogue Centre (KAICIID); the KAICIID-supported Network for Dialogue (N4D); the Blanquerna Observatory of Communication, Religion and Culture; the European Council of Religious Leaders/Religions for Peace Europe; and the Institut Superior de Ciències Religioses de Barcelona (ISCREB). The OSCE Office for Democratic Institutions and Human Rights (ODIHR) supported the event.
Image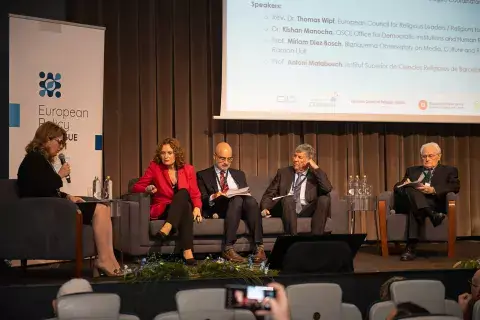 Opening the Forum, KAICIID Secretary General Zuhair Alharthi reminded participants that nearly 100 million people are forcibly displaced, according to the UN Refugee Agency, with the number expected to increase due to major conflicts and climate disasters globally.
"Displacement is not a Muslim or a Hindu problem. It is not a Latin American or an African problem. It is a problem that affects each and every one of us – our social cohesion, our collective economic growth, our human dignity, our safety and well-being."
Over the two-day Forum, participants explored two topics: Multistakeholder partnerships to support the inclusion of refugees and migrants in European cities and cultural and media initiatives to counter hate speech.
According to Kishan Minocha, Head of Tolerance and Non-Discrimination at the OSCE Office for Democratic Institutions and Human Rights (ODIHR), multistakeholder partnerships are crucial to building inclusive cities and defusing hate through engagement, policymaking and dialogue.
"At this time of crises and deepening uncertainty which create such a febrile climate for intolerance and hate, the way diverse populations interact in cities is key to addressing many of the challenges European societies face such as racism, discrimination, migration, the environment, inequality, and economic injustice. There is no better question than that of how we live together well in mixed cities," he said.
Today, more than 60 per cent of the world's refugees live in urban areas, where they have better chances for education, jobs and self-sufficiency.
An increasing number of those cities are choosing to empower refugees and embrace the opportunities they bring.
Many such examples were shared throughout the Forum, including during a special Dialogue café which shared eleven initiatives targeted at improving urban integration. They included "Faiths in Tune", a project implemented in Germany by Anja Fahlenkamp which aims to foster dialogue and peaceful coexistence through musical and personal interactive formats and the "Welcome Hubs" in the city of Bristol, which ensure community support for Ukrainian refugees arriving in the city, presented by Forward Maisokwadzo.
According to Miriam Díez-Bosch, Director of the Blanquerna Observatory on Media, Religion and Culture, these types of initiatives are key to ensuring that refugees and migrants experience real social inclusion, which goes beyond diversity.
"Despite often being used interchangeably, diversity and inclusion indicate different approaches to society. Diversity efforts can often be focused on representation while inclusion is about belonging."
Religious leaders and communities have a key role to play in ensuring that sense of belonging, participants heard throughout the conference.
Image
According to Metropolitan Emmanuel, a member of KAICIID's multi-religious Board of Directors, this is because many religious organizations – for example, Network for Dialogue members like the Jesuit Refugee Service or Islamic Relief – already have well-established support mechanisms in place to smooth integration processes for refugees and migrants.
"Faith has the ability to create bonds to generate relationships, to fill up the linguistic, cultural & even administrative gaps that refugees and migrants face when trying to find their place in this new world," he said.
Rev. Thomas Wipf, President of the European Council for Religious Leaders / Religions for Peace Europe, added that faith also has the power to bring people around shared values and key human rights.
"In the polarized political and social situation in most European countries and around the world, there is a need for people guided by values and inner convictions who stand up for cohesion and mutual understanding with courage and hope," he said.
During the closing plenary, Johannes Langer, Senior Programme Manager for KAICIID's Europe Region Programme, shared actionable steps & policy recommendations which include fostering a rights-based approach, providing accessible directories of stakeholders to allow for inclusive partnerships and the implementation of capacity-building training for government officials and law enforcement units on how to effectively address and confront instances of hate speech.
Image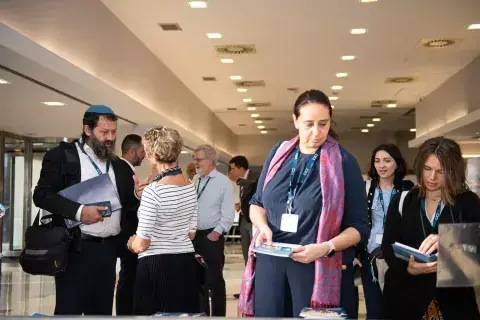 Closing the Forum, Ambassador António de Almeida-Ribeiro, KAICIID's Deputy Secretary General, asked participants to take the recommendations seriously, and to commit to accountability and transformative change.
"I hope at next year's Forum we can look around the room and say that we have stood together and already moved the needle – making our cities stronger and better for the newcomers arriving on our shores."