"Day of Peace" Event in Myanmar Brings Together Religious Organizations, Civil Society in Show of Solidarity
21 September 2017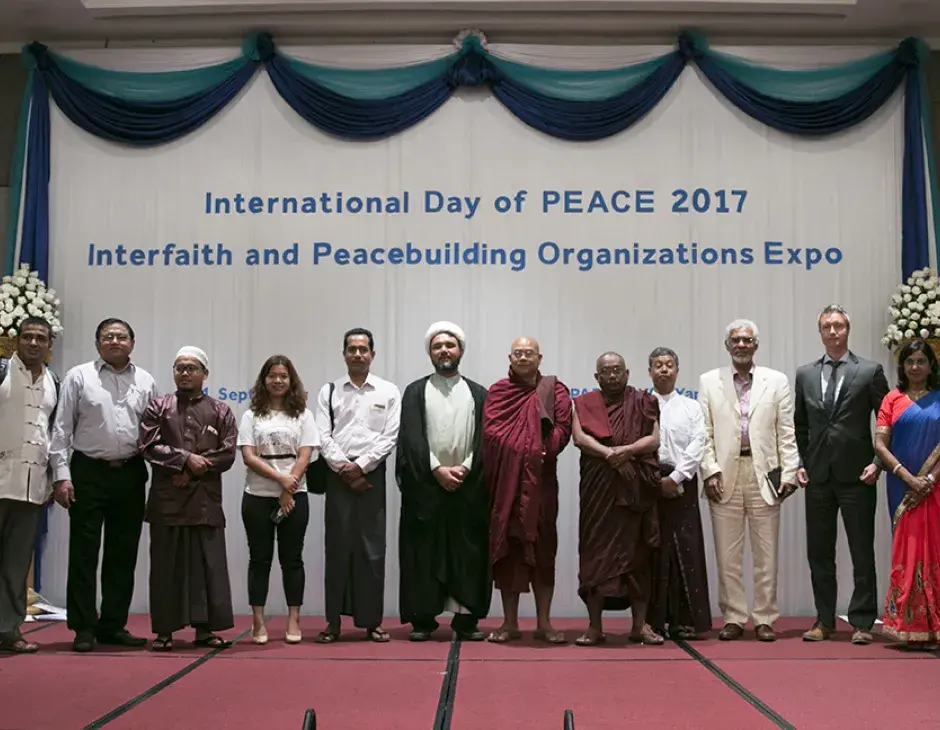 Representatives of diverse religious organizations in Myanmar came together with their counterparts in civil society organizations in a powerful demonstration of interreligious solidarity and cohesion at an event in Yangon, Myanmar, to mark the United Nations "International Day of Peace" (21 September). The event, organized by the Peaceful Myanmar Initiative (PMI) brought together more than twenty civil society and religious organizations to exhibit their work in grassroots projects to promote peace, network among their peers and to discuss promoting peace in Myanmar.
In the past three years, 120,000 people, primarily from Muslim minority groups, have tried to leave the country by boat, attempting to reach neighbouring countries including Bangladesh, Malaysia and Indonesia. Bouts of communal violence in 2012 killed at least 192 people and uprooted some 146,000 people from their homes.
The escalation of violence this year has left thousands dead, and hundreds of thousands of people have been displaced, homeless and forced into refugee camps.
"Holding celebrations of peace and having different religions together in the same place and the same time is the only way to promote peace and stability through dialogue," said U Sein Di Ta, PMI Member and Head of the Asia Light Foundation.
A KAICIID Fellow and peace advocate in Myanmar, local expert Daw Nan Shan, the Programme Director at the Shalon Foundation; U Ohn Maung, a legal advocate and General Secretary at the Peace Cultivation Network; and Daw Phyu Phyu Thin, member of Parliament at Pyithu Hluttaw, discussed ways in which civil society and religious organizations could help restore community relations, which have been severely damaged by the ongoing crisis. Religious organizations can reach a large number of people, and can combat hate speech and incitement to violence, acting as an early warning system in areas where inter-communal tensions threaten to erupt into violence.
The event was designed to engage the people of Myanmar in a discussion about what social cohesion and respect for diversity means to them. To this end, it included also theatre and musical performances by young people, which called on the people of Myanmar to unite by overcoming their differences and appreciating one another's unique talents and contributions.
The event concluded with musical performances, including a performance by peace advocate and musician, Saw Poe Kwar, who is known as Myanmar's king of reggae.
The Peaceful Myanmar Initiative (PMI) network will continue to support an inclusive IRD platform in Myanmar with the aim to revive tolerance in the country through dialogue and local activities promoting peace, including a national-level interfaith dialogue conference in late 2017.
The event was also attended by local Council of Party Representatives including H.E Ambassador Sahal Bin Moustafa Bin Ahmed Ergesous of Saudi Arabia, and H.E. Aung Than Htay, Austrian the Honorary Consul.
The Peaceful Myanmar Initiative (PMI) is a multi-religious and inclusive network composed of around 50 prominent religious leaders from various traditions (Buddhists, Christians, Hindus and Muslims) and civil society organizations to promote peaceful dialogue across Myanmar, including in Rakhine State. PMI and its partners aim to serve as sustainable networks and platforms of Burmese-led activities to build bridges between diverse religious, ethnic, political and regional communities.