Religious and Traditional Leaders of Nigeria Lead Vaccination Campaign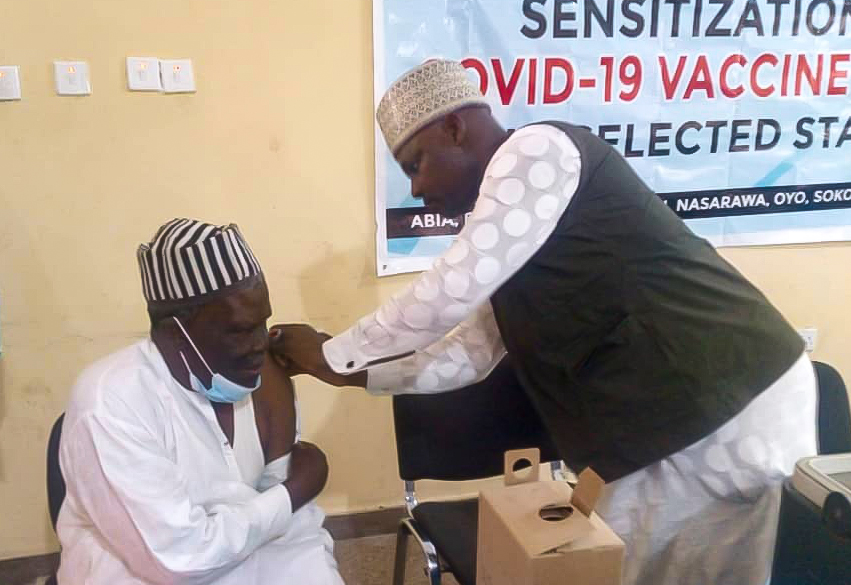 Photo: IDFP
Across Nigeria, a vaccionation and information campaign is empowering religious and traditional leaders to promote public health.
Supported by KAICIID, the information and vaccination promotion campaign is being administered by the Interfaith Dialogue Forum for Peace of Nigeria (IDFP) in partnership with the National Primary Health Care Development Agency (NPHCDA) and State Primary Healthcare Agencies. IDFP is an interfaith and intercultural dialogue platform made up of high-level Christian and Muslim leaders across Nigeria.
Image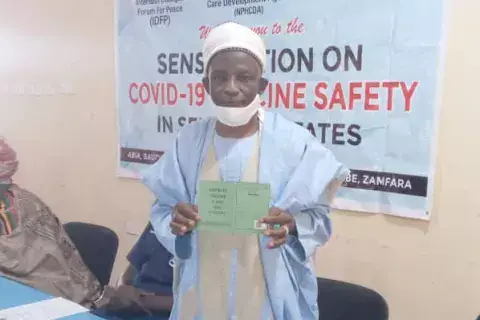 This man was part of a group of some 60 local religious and traditional leaders taking part in a COVID-19 sensitisation and vaccination event at the River Edge Hotel in Bauchi — the capital of the inland Nigerian state. 
Alh Yakubu Aminu Dankaden Bauchi, who worked with KAICIID and IDFP in Bauchi State to coordinate the campaign in June said the plan "was to reach out to the masses through two institutions they cherish and trust — traditional and religious institutions — to administer the vaccine." 
"The initiative is important because the majority of the people didn't take COVID seriously," said Alh. Aminu. 
Countering Misinformation on COVID-19
As in other parts of the world, conspiracy theories and misinformation have spread almost as fast as the disease in Nigeria. Some religious leaders have even gone so far as to call vaccines the mark of the antichrist. 
Many community leaders and organizations are struggling to get people vaccinated, especially in rural areas, and without increasing vaccination numbers, infections and deaths continue to rise. Therefore, the IDFP organised a campaign and training for religious leaders on the vaccine and its importance, as well as how to share information about it among their congregations.
Alh. Aminu said that in his state, the campaign played a significant role in both communicating the seriousness of the disease and providing a means to combat its spread among hard-to-reach communities. 
More importantly, he said, it underlined the critical role traditional and religious leaders play in Nigeria and the positive influence they can have on public health. 
The campaign chairman, Rev. Zaka Ahuche Peter said IDFP selected 10 states to prioritise as part of the two-phase campaign — including Abuja, Plateau, Borno, Kaduna, Kano, Oyo, Lagos, Ebony, Imo and Niger States. In the first phase, they visited and carried out sensitisation programmes on "COVID-19 vaccine safety" in order to stem the spread of the pandemic. 
"We did jingles, town hall meetings, distributed sanitary packs like face masks, hand wash, hand sanitisers, tissue papers, buckets, etc." said Rev. Peter. Additionally, the campaign was aired on state and national media outlets. 
"This initiative is a timely one particularly in Nigeria where COVID-19 was ravaging her communities; and because of the cultural and communal nature of Nigeria, this initiative came to salvage the situation and stem the spread of the pandemic," he said. 
Administering Vaccines in Rural Nigeria
The second phase focused on administering vaccines in Abia, Bayelsa, Oyo, Kebbi, Sokoto, Zamfara, Nassarawa, Yobe, and Bauchi States. This time, IDFP targeted areas where myths surrounding the vaccine led to slowing down its rollout, putting millions of people in danger of contracting the virus. 
Despite efforts put in place by the States and the Federal Government of Nigeria, many people were not properly informed about the pandemic and the vaccine, he said. This included religious and traditional leaders who feared the vaccine might be another means of oppression or a tool of the state to strip them of freedom. 
And so, key to this phase's favorable results, Rev. Peter said, was holding town hall meetings with important community stakeholders, specifically religious and traditional leaders. Utilising sacred scriptures and local traditional knowledge, campaign leaders aimed to convince them of the importance of the vaccine and so that they in turn would deliver the message to their followers. 
The success was overwhelming, said Rev. Peter. "Some were even vaccinated on the site when they understood the need for the vaccine," he said. Such was the case with the man in the image above. 
The Role of Religious Leaders in Public Health
"The religious leaders were targeted due to their roles in issues like this," he said, "they are closer to the people and more respected than political leaders."
"People are willing to do what their religious leaders ask them to do," he said. 
KAICIID Fellows, Elder Uzoaku Williams, who led the team that covered Abia, Bayelsa, and Oyo States in southern Nigeria, said the 100 per cent KAICIID-funded initiative was important because of the many myths, misconceptions, and conspiracy theories "trolling" COVID-19 vaccine rollouts. 
Facilitating workshops, Williams partnered with multiple religious stakeholders at the state level, including the National Primary Health Care Development Agency (NPHCDA), the Nigeria Supreme Council for Islamic Affairs, Christian Association of Nigeria (CAN), Muslim and Christian women, youth, and traditional institutions. 
---
Read more on how religious and traditional leaders are responding to the pandemic here. 
---
"Nigeria is a highly religious nation" she said, "this platform helped us reach as many persons as possible so as to demystify these norms and believe the vaccine was there for their good." 
On that point, Rev. Peter said, "the role of religious and traditional leaders in the history of Nigeria and their impact on Nigerians cannot be overemphasised."
"They are believed to be the mouthpiece of God," he said, "whatever they agree with each other, they can influence and convince their followers to accept and believe."
This, he underscored, is true not only in Nigeria but in other locales across the globe struggling to get vaccines administered to a majority of the population. As the WHO's Sarah Hess told past and present KAICIID Fellows at an April 2021 workshop, "Faith leaders are close to the local community, even those who don't regularly attend, they can lead the way by receiving the vaccine, putting out faith-based statements on vaccine efficacy and trustworthiness, or offering faith venues for vaccine delivery." 
This was certainly the case in places like Yobe State, said Ahuche Peter. Because religious and traditional leaders are now on board there, he said the expectation is that there is now going to be mass acceptance of the vaccine. 
And yet, despite the positive results of the campaign's first two phases, Rev. Peter is still concerned and drew attention to the need for follow-up. Because of the constant swirl of misinformation, there is a need to continually help religious and traditional leaders combat conspiracies and promote greater awareness about COVID-19 realities, he said. 
For now, however, Rev. Peter is thankful. 
"I want to thank everyone who contributed in one way or the other to make this project, especially KAICIID," he said. "And above all I want to thank the Almighty God for granting us safety and success."
---
Read More: Overcoming everyday challenges during the COVID-19 Pandemic
---