A Place to be Different: Celebrating Diversity through Interfaith Dialogue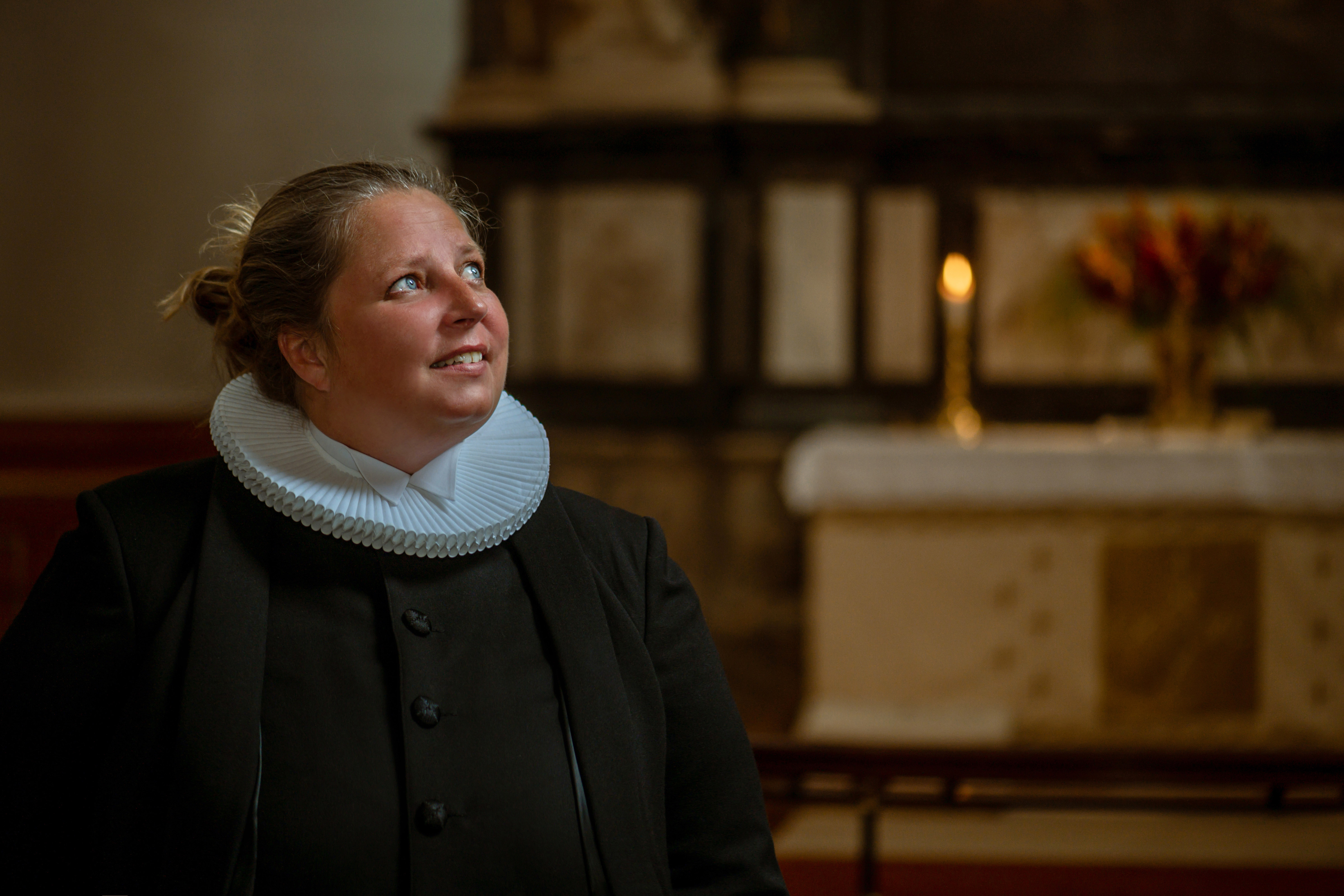 Photo by Nataly Dauer
Born to Danish missionaries, Agnete Holm spent much of her childhood abroad. She traces her comfort with intercultural diversity and passion for interreligious dialogue back to the lunch table at her primary school in Japan. 
"I went to an international school with students from 37 countries. Some kids ate rice for lunch, some ate peanut butter and jelly sandwiches. I thought being this diverse was normal," she remembers.
Agnete's international bubble burst when at 13 her family moved to a small village on the west coast of Denmark. 
"Everyone was the same. They ate the same food, wore the same clothes, had the same type of furniture. There was no room for being different," she said. "I simply couldn't breathe. I was teased. I was the odd person out. I was miserable."
Agnete longed for the diversity of her early youth where "everyone was the odd one out" and saved up enough money to revisit Asia after high school. She deepened her engagement with interreligious dialogue over the next few years by living in Hindu ashrams, studying spirituality, travelling around the region, and eventually finishing a Bachelor's and Master's degree in theology. 
Image
At the end of her studies, Danmission, the Danish Chrisitan charity Agnete's parents had served as missionaries, asked her to help set up a dialogue centre in southern India. She's been working with Danmission ever since, now as senior advisor on interfaith dialogue and theology.
Danmission facilitates interreligious and intercultural dialogue to achieve mutual understanding and reduce conflict around the world. Agnete is responsible for projects in the Middle East and Asia. She's also an ordained pastor with the national Evangelical Lutheran Church in Denmark and leads occasional services at the historic Church of the Holy Spirit in Copenhagen.
"My theology is inclusive and pluralist. Being an ordained pastor does not stand in contrast to working and living and believing in interfaith dialogue. It's two sides of the same coin for me," she said.
For 15 consecutive summers, Agnete has put this philosophy into practice at a mountain monastery in Lebanon where she organizes and facilitates the International Dialogue and Education Camp (IDEC), a joint project of Danmission and the Forum for Development, Culture and Dialogue. Each year IDEC brings together around 30 diverse young people from Denmark and the Middle East to improve their interreligious and intercultural dialogue and conflict resolution skills. 
Image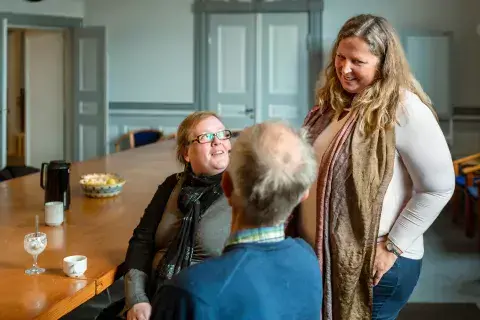 Agnete envisions the camp as a safe space where youth from different backgrounds and faiths can work through prejudices, find common ground, and go on to promote interreligious cooperation back home. To accomplish these goals, her workshop model breaks the mould. 
"Most dialogue conferences are really serial monologues of people speaking for a long time. I wanted to move beyond the horseshoe-shaped tables, plastic flowers, and tissue boxes we typically see and create a space for true interfaith dialogue between people," she said.
This requires participants to interrogate their own misconceptions and to improve their listening skills before effective dialogue can begin. 
"It's not possible to journey towards a relationship with other people unless you are open to journeying within yourself," Agnete said. "Dialogue is not about convincing others you are right. It's about connecting and relating and being inspired by the beauty of that which is different from you. It's a gift, an invitation to take part in each others' lives and to share. That doesn't mean it can't be frustrating."
With so much religious and cultural diversity in the room, tensions inevitably arise. Agnete embraces this reality as an opportunity to break down biases and has witnessed incredible transformation among participants who lean into these tensions with openness and honesty.
She remembers a young Sunni participant from Lebanon whose parents taught him to hate Shias and told him that if he ever came home with a Shia girlfriend they would ostracise him. This veil of hatred finally fell when he met a Shia woman at IDEC.
Image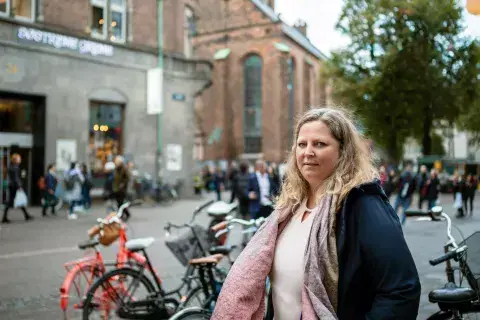 "He took her to visit his parents. They welcomed her with kisses and had a lovely conversation. When he told them she was Shia, his parents were shocked. They had just spent an hour with this wonderful girl. It broke down all their prejudices. He told them what he had learned at camp and said he simply didn't want to hate anymore. His parents understood and told him he could marry whoever he wanted to. It was an incredible change," Agnete said. 
Many participants continue their dialogue journeys long after the camp ends, either infusing their old lives and careers with lessons learned or forging new paths entirely. 
One Syrian participant created a new interreligious dialogue organization after attending the camp, and several Syrian scout leaders have incorporated lessons learned into their troop meetings. An Egyptian woman who attended the camp without any interreligious dialogue experience now leads interfaith dialogue camps for youth. 
"These young people have made me more and more humble. In the beginning, I thought I could teach them a lot, but now I know that the biggest change comes from us listening to each other, asking the right questions, and responding with humanity," Agnete said. 
Image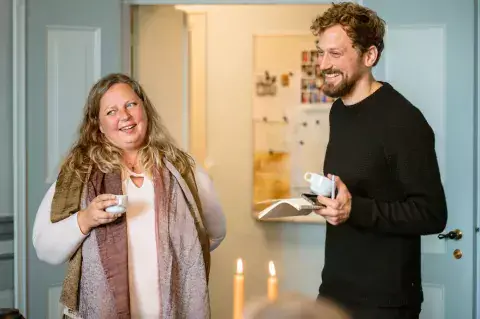 To help former participants and the general public spread these lessons, Agnete created Danmission's free online dialogue toolbox, which features more than 40 exercises, video clips and articles users can incorporate as they design and facilitate dialogue workshops for their local communities. Toolbox exercises have been downloaded hundreds of times since the platform launched in 2018. 
Agnete hopes the toolbox spawns more dialogue camps and encourages future facilitators to experiment with different formats that best suit their particular communities' contexts and needs. 
"Dialogue is not about exchanging knowledge, it's about preparing a space inside me for the other to inhabit," Agnete said. "We first have to do the work ourselves. I'm here to help people relate to each other more easily, love each other a little more, and find places where they can breathe, where it's okay to be different."
Agnete Holm is one of KAICIID's featured Heroes of Dialogue. To find out more, click here