The Journeys that Unite Us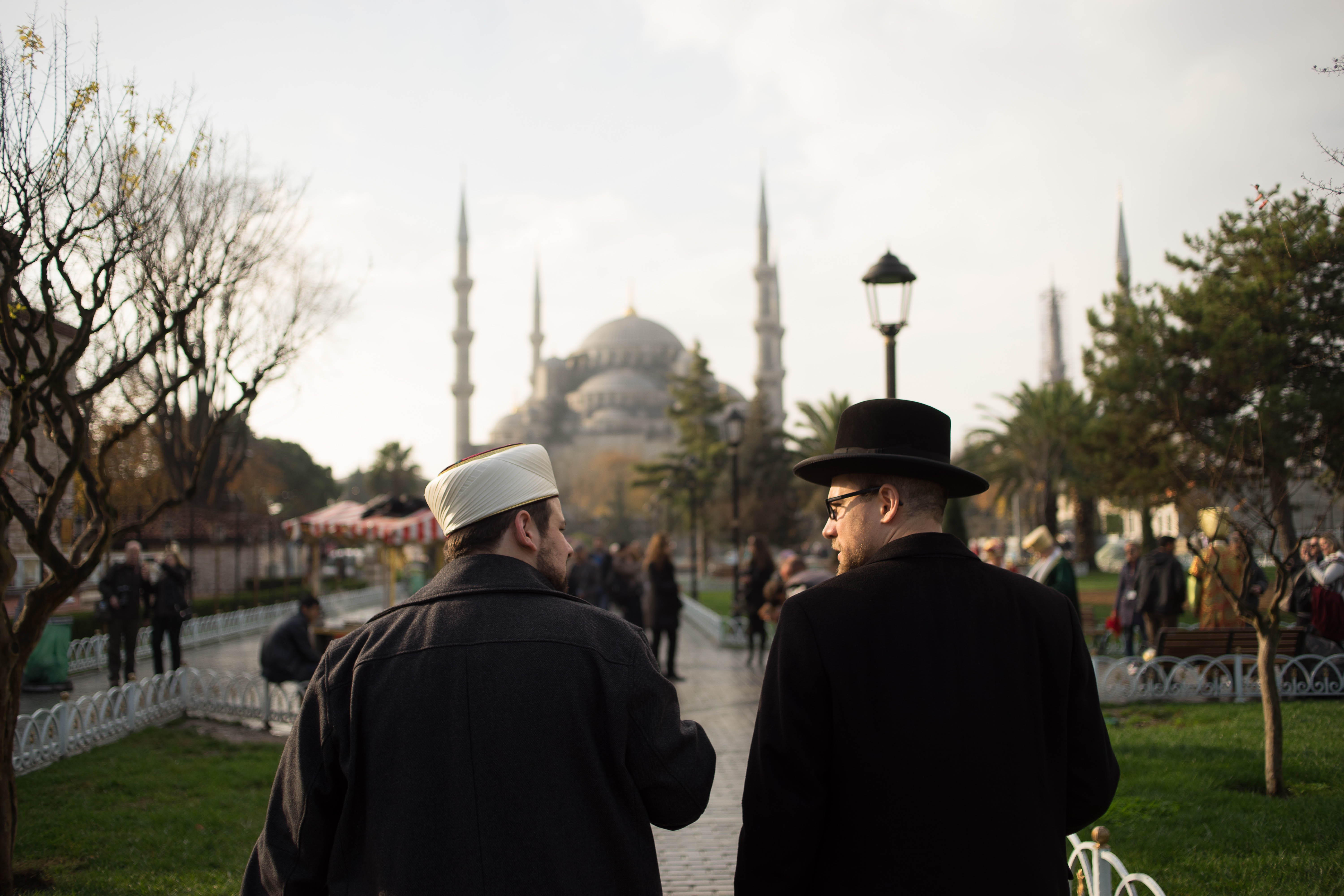 Photo by Florian Reiner
When Rabbi Schlomo Hofmeister and Imam Ramazan Demir boarded their flight from Vienna to Tel Aviv together in 2015, fellow passengers took note.
"People were shocked to see a rabbi and an imam traveling together, not going somewhere like Sweden but to Jerusalem, where so much conflict seems to have its origins," Rabbi Schlomo said. "There is a public perception that Jews and Muslims hate each other, kill each other, that they don't talk to each other, and then you see us sitting and chatting together on a plane, going on a pilgrimage together as friends."
That element of surprise was part of the plan.
"This imam in traditional clothes and me in my black hat. We wanted to make people think," he said. "Most prejudice only survives because people don't think. A rabbi and imam traveling together, walking side by side through Jerusalem, sitting at a restaurant together -- that shock makes people think, and that's the most important precondition for dialogue to be fruitful."
Image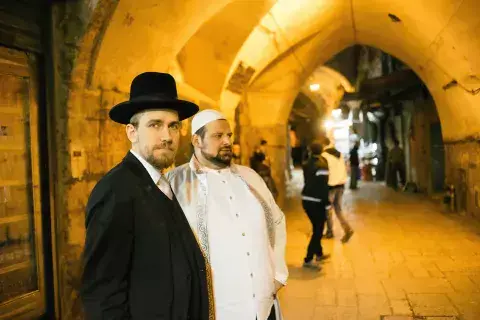 Rabbi Schlomo is the Chief Rabbi of Lower Austria and Community Rabbi of Vienna. His 2015 trip with Ramazan Demir, a Sunni imam of Turkish descent who also lives in Vienna, was the first of five interreligious pilgrimages he has led to Jerusalem. Other trips have included priests, students of different faiths, and representatives from Austrian civil society who visit the Western Wall, the Church of the Holy Sepulcher, Temple Mount, Al-Aqsa Mosque, Dome of the Rock, and other sites of Abrahamic religious and historical significance.
"On these trips, we want to bring people who will spread the message that politics must not be used to create conflict among religions," Rabbi Schlomo said. "Religion is never the cause of conflict. It's only an excuse. It's very important for me to show that the Middle East conflict some Western countries abuse to harbour antisemitism has no basis in religion."
Back in Europe, Rabbi Schlomo is an executive member of the Muslim Jewish Leadership Council. The council works to promote intercultural and interreligious dialogue throughout Europe, to breach prejudices between Muslim and Jewish communities, and to address shared threats to religious liberty, including efforts to ban religious slaughter and religious circumcision.
"These practices, which affect Jews and Muslims in the same way, are under threat both from right-wing political movements, which want to eradicate everything they deem 'foreign', and from the secularist movement, which wants to ban religious practices they consider outdated," he said.
Image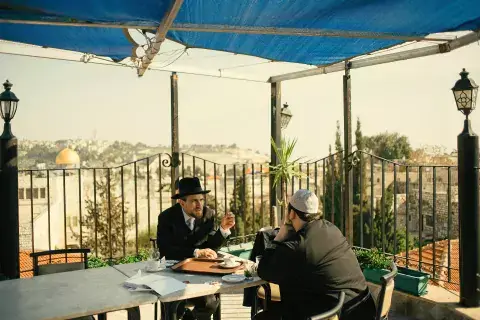 As part of his outreach efforts to combat such prejudices and interreligious hostilities, Rabbi Schlomo speaks to public and private school groups in Austria and neighbouring countries, sometimes sharing the stage with imams. He estimates he has visited more than 100 schools and spoken to more than 10,000 students about Austria's historic and modern-day Jewish community.
"When we dialogue, students reconsider many concepts they built their whole worldviews on," he said. "Muslim teens who might have had a very prejudiced idea about Jews while being otherwise open-minded, when I get to talk to them, they start crying and realise they want to meet again and ask more questions. It's the most moving experience. Very rarely do these discussions turn into arguments."
Rabbi Schlomo witnessed similar mental shifts among Muslim refugees from Syria, Iraq and Afghanistan who arrived in Vienna in 2016. Through an aid initiative he helped organize called Shalom Alaykum, Jewish volunteers welcomed new refugees, helping them navigate the asylum process and adjust to life in Austria.
"We thought it was important to extend a helping hand to these refugees because many had lost their homes and families," he said. "We also wanted to show them not to be afraid of Jewish identity."
Rabbi Schlomo's commitment to interreligious dialogue and the inspiration for his interfaith Jerusalem trips dates back to his own initiation in the Holy Land. After finishing high school in Munich, he moved to the Old City of Jerusalem's Jewish Quarter, which sits adjacent to the traditional Muslim, Christian, and Armenian Quarters.
Image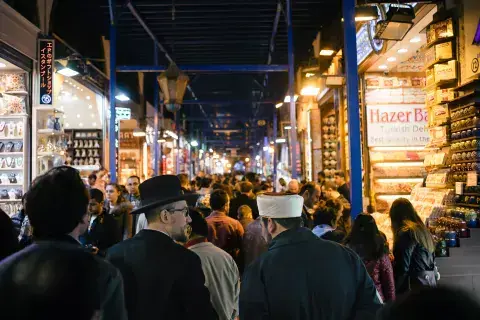 "Through contact with the Muslim community there, I started to realise that the political conflict overshadowing everything people associate with the holy city of Jerusalem doesn't correspond with the coexistence I experienced between Muslims and Jews there," he said. "The point of my first trip back to Jerusalem with the imam was not to discuss the Middle East conflicts but to form solidarity, to show that he has holy sites and I have holy sites, but we can both go on our pilgrimages together, authentically in our ways."
Rabbi Schlomo strives to build the same solidarity in Austria and across Europe, uniting regional faith leaders to defend each other's communities against encroachments on religious liberty. 
"An attack on one religion is an attack on all. That's the practical and pragmatic importance of interreligious dialogue," he said. "Some people think they have to bend over backwards or compromise their worldviews to allow for bridges to be built in interreligious dialogue. I think that is completely unnecessary. My hope is that by dialoguing, by gaining respect for the other, people will also gain more confidence for their own identity, their own culture, their own religion, which will make them less insecure towards the other and result in less conflict and tension."
Rabbi Schlomo emphasises these ideas in a book he co-wrote with Imam Ramazan about their trip to Jerusalem. He hopes it will inspire others to make the journey with open hearts and open minds as he continues his own dialogue journey.