"I want every woman to understand she can make a meaningful contribution to her society"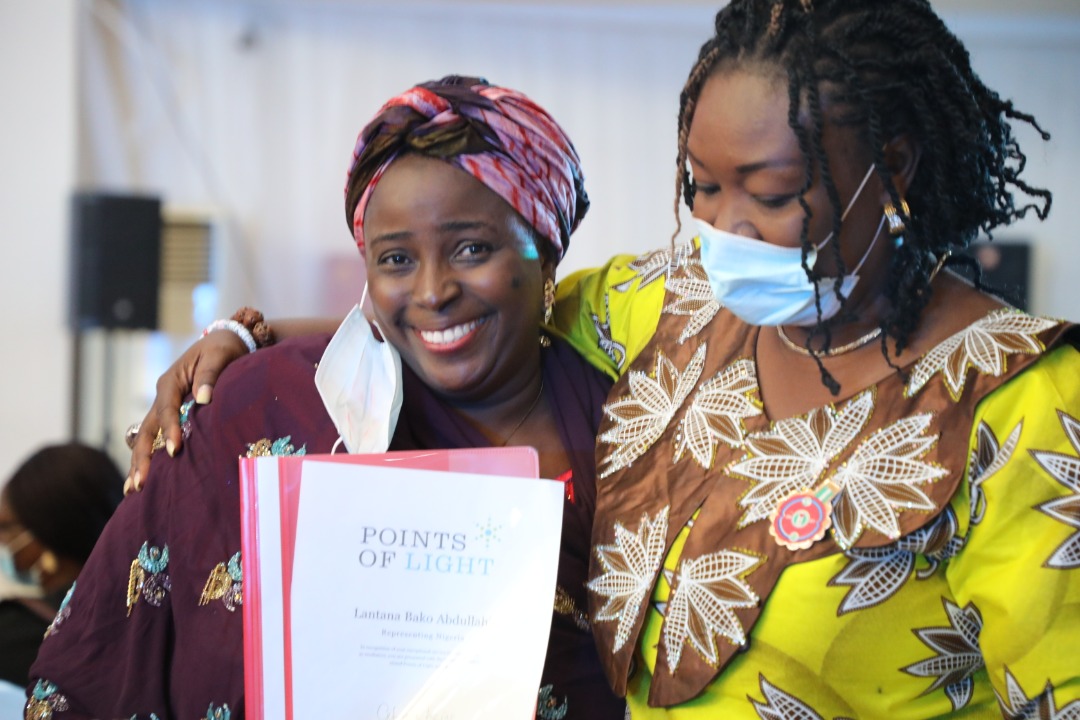 Growing up in provincial northern Nigeria, "women weren't supposed to be seen, let alone heard," says Lantana Bako Abdullahi — but she wasn't going to let that happen. 
For many women in Nigeria, early marriage means the end of formal education, preventing them from developing the knowledge and skills needed to help lift their families and communities out of poverty. When friends began getting married in their early teens, she pursued education instead, broadening her horizons and dreaming of a life beyond the strictures of societal expectation.
Over time, Abdullahi's desire to choose her own path deepened, developing into a passion that would become her life's work: helping others.  
"I knew that I had to do things differently, that I had to set some goals and work hard to make a difference in communities hit by conflict across Nigeria, particularly for girls and women."
It's an ambition she has realised and, this week, is being rewarded for. On 8 Dec., in recognition of her commitment to conflict resolution and women's rights across Africa's most populous nation, Abdullahi received a Points of Light award; an honour conferred upon the British Commonwealth's most inspirational volunteers.
For the KAICIID Fellow and Programme Officer, it crowns a storied career fostering peace and interfaith dialogue in one of the world's most war-torn regions.
More than twenty years of ethno-religious conflict has beset vast stretches of Nigeria's North and Middle Belt, claiming tens-of-thousands of lives, and forcing millions from their homes.
Clashes between nomadic Fulani pastoralists — mostly Muslim in faith — and Christian farmers over fast-disappearing grazing land have been particularly fierce. Reports of brutality abound on both sides — a consequence, Abdullahi says, of deep-seated distrust festering at a local level.   
Image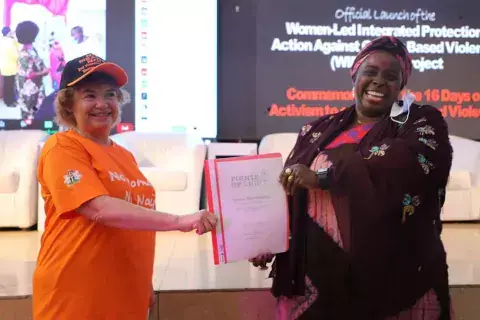 "People are prisoners in their own communities, in their own homes, unable to travel to the next town as it's inhabited by the other group. Young children grow up with the perception that other faiths are bad, that those people have done bad things to their community." 
Addressing these divisions is central to Abdullahi's work in conflict mediation; a process dominated by men, indicative of Nigeria's enduring patriarchy. Overcoming gender prejudice has been a challenge Abdullahi says — "I was never seen as equal to a man, never taken as seriously" — but necessary in her mission to assist those most in need. 
"We must have women peacebuilders, because it is women who are most affected by violent conflict. Over and over again I hear the same stories of women being raped, women being kidnapped, women being killed, often as a weapon of war."
Abdullahi's first-hand observations tally with statistical analysis. No fewer than 30% of Nigerian women surveyed between 2012 and 2013 said they had experienced some form of gender-based violence — a figure that leaps to almost two-thirds in the nation's restive northeast.
According to data compiled by the Council on Foreign Relations, only 6% of the 1,860 peace agreements reached worldwide between 1990-2019 included provisions which specifically addressed violence against women.
This is why, in conjunction with her conflict mediation efforts, Abdullahi mentors girls and young women, equipping them with the capabilities and confidence to deliver to their communities a plan for peace.
"Often in Nigeria, when we bring the youth to the table, that only involves young men. So I thought: how can we support young female activists? How can we give them a voice in the peacebuilding process?"
Lacking a pre-existing platform for girls interested in conflict resolution, Abdullahi decided to build her own: the 'Women for Positive Peacebuilding Initiative'. Her team trains young people in the art of leadership, interfaith dialogue, and public speaking, in the belief that real change must come from the bottom up. After the training concludes, the participants are charged with starting their own local programmes.   
Image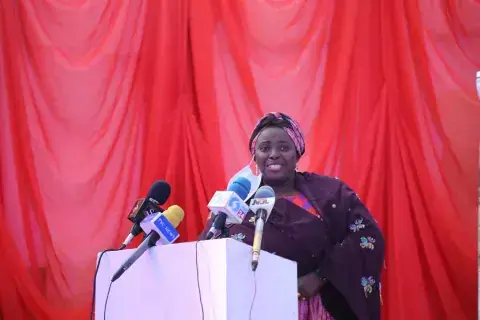 "It's amazing to see these young girls go to their communities and call for meetings, organize activities, and do presentations on what impact the conflict has had on them." 
"That way, they can become integrated in grassroots decision making, and can help spread the message of human dignity that's found in all religions."
This campaign of empowerment took Abdullahi to Nigeria's northeastern corner, a lawless region ravaged by the murderous insurgency of Boko Haram. There, she became involved in counter-extremism efforts, striving to challenge the allure of the militants, who, in 2014, gained global notoriety with the kidnap of 276 schoolgirls. 
"A lot of people join Boko Haram because they have experienced some level of human rights abuse. We wanted to see how we could counter that, by engaging more directly with security forces and civil society organizations, to reduce those rights violations. If there's more trust in the authorities, I think less people would join."
On that front, there's undoubtedly still work to be done. Allegations of unlawful detention and an absent judicial process are widespread, while the insurgents' gruesome offensive shows little sign of slowing (just last week, militants are believed to have butchered scores of Nigerians in what is said to be 2020's worst attack against civilians.) 
But Abdullahi is living proof of what can be accomplished when adversity and historic barriers are overcome. Ultimately, she says, this is her greatest achievement — demonstrating to the young women of Northern and Central Nigeria that anything is possible. 
"I want every woman who is disadvantaged to understand that she can make it happen. She can make her dreams come true and make a meaningful contribution to her society."