Creating Cohesive Interreligious Communities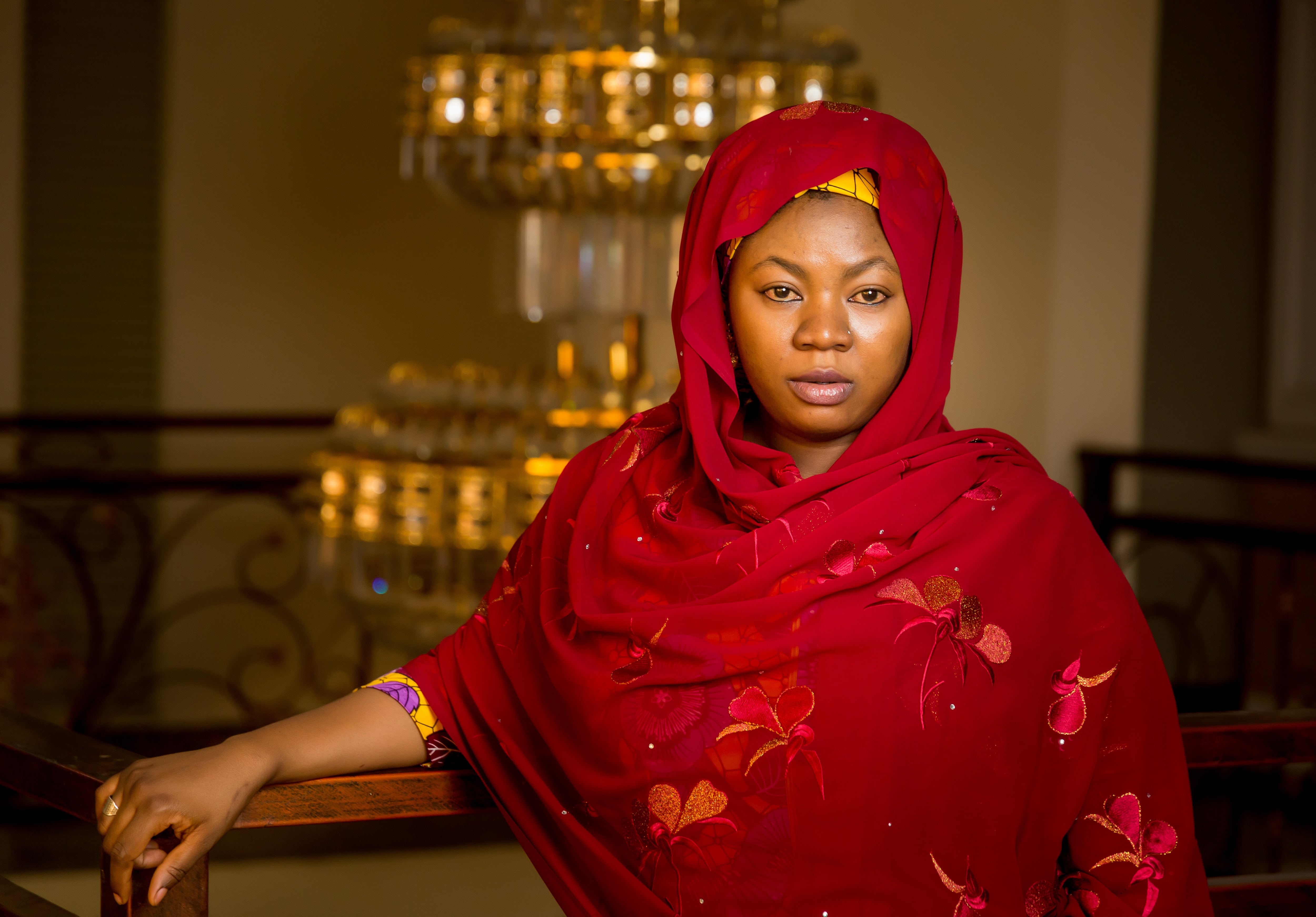 Fatima Madaki Abubakar
As a child growing up in Nigeria, Fatima Madaki hoped to study medicine, believing that to be the best way of saving lives. As an adult, she realised that she could achieve more on the streets than in hospitals. "There were so many social issues that I knew I could address without being a medical professional," she said.
"I wanted to understand how and why people do the things they do. So, I studied psychology at university, hoping that it would make me better able to address social issues."
Even growing up in a predominantly Muslim community in a country divided along religious and ethnic lines, young Fatima's social circle was inclusive of all religions, which taught her to believe that people were generally loving and hospitable. For her, discovering the stark polarisation and divisive narratives that thrived beyond her immediate experience was a blunt realisation. "This made me even more convinced that the peacebuilding eld is where I need to be," said Fatima.
---
---
Fuelled by a burning desire to mend the discord among Christian and Muslim communities in Nigeria, Fatima has built up an impressive track record of initiatives. To date, she's worked with a number of organizations such as Mercy Corps and Search for Common Ground (SFCG), and on a wide range of development issues. Eventually, she decided that engaging with religious communities and conducting meaningful dialogue sessions would be her primary focus.
"The more you think you know, the more you realise that you don't really know much", Fatima explained.
Regarding her decision to bolster her already extensive peacebuilding experience by joining the Fellows programme. Not only did she feel that her accustomed methods towards peacebuilding could be improved, she also wanted to increase her knowledge of interreligious dialogue.
Her curiosity to learn how dialogue can be used to advantage in a­ffecting issues of social cohesion was key to her seeking out the Fellows programme. "With KAICIID, I got to learn that interreligious dialogue is not just about solving problems; it is also about understanding "the Other" better.
Image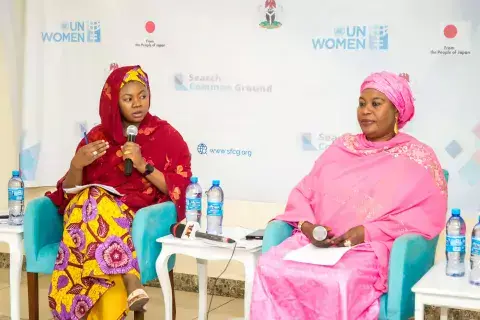 We don't need to make people become exactly like us. Once you come to that realisation, that is when you can begin to empathise," she said. Having completed the Fellows programme, Fatima has changed the way she works. Whereas before, she engaged only with established experts in the eld of peacebuilding, her training taught her the importance of including perspectives from all ages and all walks of life.
"Being a KAICIID Fellow even helped me better understand how to implement intergenerational dialogue. That is the focus of my new initiative, to bring people, young and old, together to exchange ideas around how to better protect religious sites," she said.
Fatima currently works with SFCG Nigeria as a Senior Project Coordinator on the Advancing Religious Tolerance project, engaging religious leaders and other high-level state and non-state actors. She confesses to formerly wearing institutional affiliations like a coat of professional armour, using the organizational connection to create a type of detachment that prevented her from absorbing the emotional impact of her work.
It was the Fellows training, particularly the dialogue sessions, that helped her shed the protective shield. "I came to understand the di­fferent layers of identity and in one particular dialogue session, I was even able to cry. Up until then, I'd not realised that I was carrying a lot of emotional baggage in my role as a peacebuilder. I felt as though I needed to be strong so that others could be strong too," she said. As well as peeling back layers of impenetrability, being an alumna of the Fellows programme has done much to enhance Fatima's ethos within the field.
"Not being a religious scholar, sometimes it's difficult to engage with religious people because you feel you do not have enough authority or knowledge," she admitted.
"But being a Fellow has given me that leverage to have access to them. It has also opened me up to linkages for resource mobilisation and knowledge sharing. I've reached out to other Fellows programme alumni for advice on activities that I want to run, or for feedback on projects that I'm designing. Speaking to them helps me to understand conflict dynamics better." Beyond simply benefiting from the network, Fatima is actively expanding it. "In the religious engagement sector there is room for us to come together to hold review missions and plan strategies," she said.
Image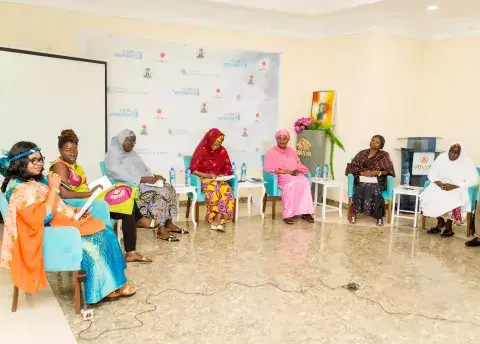 "That's why I've initiated a process where SFCG collaborates with KAICIID in Nigeria to host quarterly meetings in which we bring religious engagement organizations and civil society together to review various initiatives and see what is working. We also assess what needs to be improved and how best to evaluate impact more e­fffectively." When talk turns to the durability of her e­fforts within a sometimes-volatile Nigeria, Fatima is clear about what is needed in order to prolong impact. In her view, too many organizations fail by turning training into one-o­ episodes, rather than long-term engagements. This is where KAICIID diff­erentiates itself.
"The post-training support given by KAICIID to Fellows, in the form of small grants, recognises the fact that, sometimes, brilliant ideas are dead on arrival for lack of support," she said.
Fatima credits KAICIID's readiness to support even grassroots e­fforts with helping her to implement several peacebuilding initiatives beyond the scope of her primary role with SFCG. For Fatima, the goal of working towards a Nigeria where people come to learn about how to successfully build peace remains paramount.
That vision can sometimes feel far away, as turbulent changes within the country's social, political and religious structures keep everyone on edge. Still, Fatima thinks that the training and dialogue process that has helped her to encounter her vulnerability also gives her hope. "If I could experience that, and if other people are granted the opportunity to experience something similar, then we can move forward with our commonalities as a key value for enduring change," she said.