Building Trust through Dialogue in Ukraine
Photo by Olena Polishchuk
When Taras Dzyubanskyy founded the Libertas Centre for Interconfessional and Interreligious Dialogue in Lviv in May 2013, Ukraine was at relative peace. Less than a year later, violent protests had toppled the government as a result of Russian claims to the Crimean Peninsula.
"Originally, I just wanted Ukraine's different religious communities to get to know each other, but when you're at war, that's not enough. Working together for peaceful ends is now our main focus," Dzyubanskyy said of Libertas's evolving mission.
More than 3,000 Muslim Tatars displaced from Crimea soon found refuge in Lviv, a majority Catholic and overwhelmingly Christian city in western Ukraine that until then was home to few Muslims. When these new arrivals asked for help establishing a Muslim prayer house, Libertas organized a roundtable meeting for religious and community leaders to discuss.  
"It was interesting to see that a lot of the Christian leaders wanted to give them permission to build a mosque. They remember the communist times when Christians could not have churches or prayer houses in Ukraine and said, 'Now these people need help, why not give it to them?', so we did," Taras said.
Lviv's Islamic Cultural Center was inaugurated in 2015. Nearly 200 people, including Taras and other representatives from the Ukrainian Greek Catholic Church and Protestant denominations, stood in solidarity as the building opened its doors on the same street as several Christian houses of worship.
Image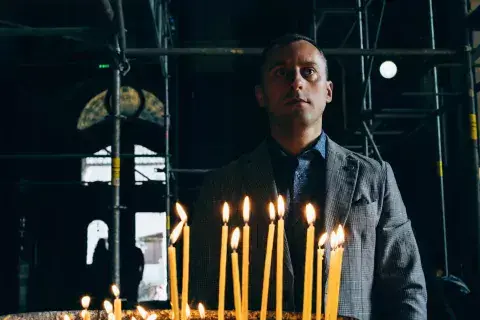 The Libertas Centre has continued to assist displaced Crimeans find housing and job opportunities and adjust to life in Lviv. In his role as religious issues adviser to the mayor, Taras recently helped designate a cemetery space where Muslims can perform their own burial rituals. Such efforts have encouraged Lviv natives and new arrivals to interact and find common ground.
At a recent conference on migration, a Christian bishop asked a Muslim imam to say a prayer and a blessing. "The imam said his blessing in Arabic. That was revolutionary for the people there," Taras said. "They thought, 'if the bishop is accepting this blessing from an imam, why should we not accept it?'"
Libertas's work extends far beyond resettlement. Since its inauguration in 2013, the Centre for Interconfessional and Interreligious Dialogue has hosted more than 40 ecumenical and interreligious events including conferences, seminars, lectures, and social projects involving more than 5,000 members and leaders of different faiths in Lviv and around Ukraine. Taras says Libertas is Ukraine's first neutral platform for interfaith work and a long overdue addition to the interreligious dialogue landscape.
"Before starting the centre, I noticed that when one religious community would organize an event, members of the other faiths wouldn't come. By establishing Libertas as a neutral platform that does not represent one particular religion, it gives us more freedom to navigate topics that are difficult for religious communities to explore, including corruption, fake news, gender, and LGBT rights," he said.
Image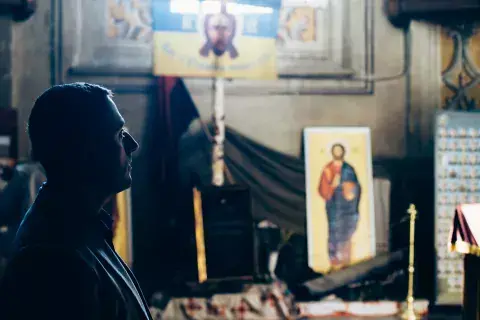 Taras belongs to the Ukrainian Greek Catholic Church and teaches theology of interfaith dialogue at the Ukrainian Catholic University in Lviv. He was born and grew up in Lviv but attended a rural school outside the city.
"My interest in religion was born out in the countryside," Taras said. "At that time, Ukraine was still part of the Soviet Union, but in the villages, religion played an important role in people's lives. The country was communist and religion was underground, but a lot of people still went to churches."
Taras set his mind on joining a seminary in his teens and eventually earned a Ph.D. in theology and interreligious dialogue from the Pontifical University of St. Thomas Aquinas (the Angelicum) in Rome.
"My commitment to interreligious dialogue started the first time I heard a rabbi speak at my university," he said. "St. Thomas Aquinas was very conservative, but I went to a conference where a rabbi was speaking about the Jewish roots of Christianity. Suddenly, it struck me. Jesus was a Jew, Mary was Jewish, the apostles were Jewish, so I realised I needed to study the Bible from the Jewish point of view, not just from the Catholic perspective. Listening to this rabbi was an illumination, a revelation."
Putting these dialogue studies into practice has become Taras's life mission and a particular challenge in Ukraine.
 
Image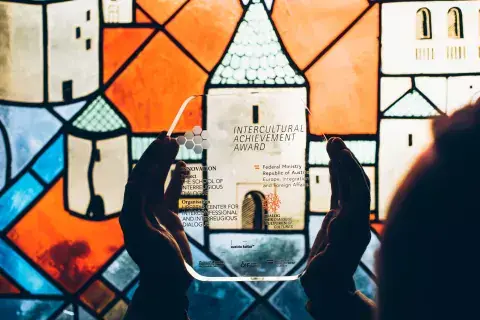 That goal has become more difficult to achieve as information wars have raged on social media – particularly in regards to Ukrainian politics. The Libertas Centre has addressed the volatile situation head on through its School of Interreligious Journalism, which trains journalists to promote dialogue and combat propaganda. The project received an Intercultural Achievement Award in 2018 from the Austrian Federal Ministry for Europe, Integration and Foreign Affairs.
Similarly, much of Libertas' work in recent months has addressed conflict and unrest, working to heal communities which have been affected by violence. Recently the organization reached out to Orthodox and Catholic children who lost their fathers in eastern Ukraine's armed conflict.
"We brought together a group of about 30 children and their mothers at a Ukrainian Orthodox monastery and brought psychologists, social workers, and spiritual leaders to talk about the loss of their fathers and husbands," Taras said.
"Ukrainians usually don't want to talk about their problems in public, but when we had these widows come talk about their loss with a psychologist, their eyes welled with tears. They thanked us for doing this work, for bringing them together and for bringing religious leaders to talk to them in this difficult time."
Image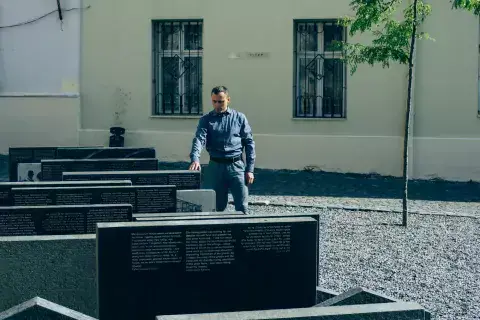 The Libertas Centre's commitment to interconfessional and interreligious dialogue has been deeply instrumental in a time when tensions are high and divisions over politics run deep.
"There is so much distrust among people here after communism. When I organize these interfaith meetings, people wonder about my intentions. Breaking this pattern of mistrust and building trust within the people is something I'm working hard to implement here."
Taras Dzyubanskyy is one of KAICIID's featured Heroes of Dialogue. To find out more, click here