Atallah Fitzgibbon: Effective Humanitarian Response Requires Dialogue
Atallah Fitzgibbon is the Faith Partnership Advisor at Islamic Relief Worldwide - an independent non-governmental organization (NGO) founded in 1984. The organization works closely with the United Nations Refugee Agency (UNHCR) and the United Nations World Food Programme to provide humanitarian relief and development programmes in over 30 countries around the world.
Mr. Fitzgibbon spoke with KAICIID during the 1st European Policy Forum on Refugees and Migrants, which took place in Athens, Greece. The forum brought together grassroots activists from the KAICIID-supported "Network for Dialogue", as well as policymakers, religious leaders and academics working on the social inclusion of refugees and migrants in Europe.
Can you tell us very briefly about the work you do in refugee integration and why you consider what you do to be important?
Islamic Relief is principally a humanitarian agency, and we do about 20-30% development and advocacy work. Much of our humanitarian work is actually working with refugees, and on issues around refugee integration, as well as with host communities, so this is a critical issue for us.
What are the greatest obstacles that you face in the work you do?
One of the challenges in relation to Europe is that our offices in Europe would like to work more through local Muslim communities. In the context of the refugee crisis many local Muslim communities are themselves poor, marginalised migrants.
So it's about enabling and empowering them to be able to have the confidence in some cases and the skills to provide protection to refugees and to enable them to integrate. Because they have a unique understanding themselves, having come to Europe, they are very important in explaining to the newly arrived refugees how to integrate.
Why do you think that this Policy Forum, combined with the Network for Dialogue Meeting, is important and why did you decide to attend this event?
This Policy Forum, in my view, is extremely important because some of the work that KAICIID is doing, and the Network for Dialogue is doing, relates to the role of faith communities and their interaction and support for refugees, which tends to be marginalised by donor agencies, policymakers etc. who do not fully understand a community-based response to refugees. So the policy forum can enable a very unique voice to be promoted and mobilised from faith communities to policymakers which can help policymakers to think slightly different around approaches to the integration of refugees.  
From your professional experience, what role does or can interreligious dialogue play in the integration process?
I believe that dialogical approaches are critical in terms of them being integrated within humanitarian and developmental activities for refugees. The reason is because Islamic Relief as an agency has worked for many years in humanitarian response, but recognised that in the context of complex emergencies and complex situations involving conflict between peoples and gulfs of understanding between people, humanitarian aid and developmental activities are an ideal means to convey understanding around different communities.
They also enable social contact and mixing between these communities, so that often informal dialogue happens. And it's often the informal social contact and dialogue that happens in these circumstances that enables refugees to gain understanding around the others and enables the host communities to gain understanding of the refugees. So humanitarian aid enables that to happen, particularly if it is designed in a way for that to be enabled.
Image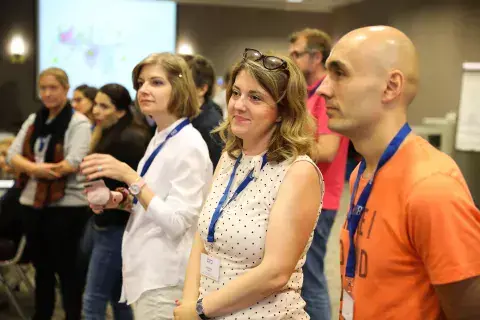 How do you consider the work of KAICIID in the field of refugee integration but also in general terms?
For me and for Islamic Relief, this is a very critical issue, because dialogue is absolutely necessary, but it is one that is often ignored by agencies. As I say, agency responses have the ability to integrate dialogue within them, but we often don't do that, because we are not sensitised to this. The more agencies such as ourselves can understand that working within this nexus between humanitarian support, integration and conflict, humanitarian support can be almost like a Trojan horse that, with the excuse of doing an activity that brings communities together, enables dialogue to happen.
So what I have learned from KAICIID and from the Network for Dialogue is that dialogue is a nuanced activity, it's not one activity, it is many activities, and that it can be integrated in all different ways. And not many people understand that.
So KAICIID has a fairly unique message, I think, around that, which is extremely valuable to many, and there are not many agencies that are doing what KAICIID are doing. We are very grateful for KAICIID's support.
How do you think can religious leaders and policymakers join hands in shaping social inclusion policies for refugees in Europe?
Local faith actors (LFAs) play a critical role in ensuring immediate and appropriate reception arrangements. They can be instrumental in referral, registration, providing legal assistance, and even undertaking or providing access to refugee status determination (RSD) procedures. They provide clothing, shelter, medical aid and livelihoods support. Additionally, faith motivates many volunteers taking part in visitations and other activities within immigrant detention and deportation centres, and often plays an important role in migrants' experiences of detention.
Convincing a sceptical public about the benefits to migration requires more than just government spokespeople, it requires both faith leaders and academics to hold politicians and officials to account. Many European national governments are unable to provide the level of social support required, particularly in the softer areas around spiritual and emotional support as well as playing the twin conflicting roles of enforcing RSD processes and supporting refugees in presenting their case within an often intimidating legal and social atmosphere. Faith communities, along with others, have filled both these roles in enabling public policy to be seen to function adequately and humanely.
Churches and faith communities in Europe very often have to deeply reflect and develop their theologies around pluralism in order to remain relevant and inclusive in the 21st Century. Policymakers and faith leaders can benefit from mutually sharing perspectives around this process and a shared vision of society
Where do you see the use of dialogue in the future in the field of social inclusion of refugees?
All too often the public space for sharing and learning about one another is not provided either physically in relation to urban planning, social and educational policy or in processes such as that of human resource development and management. Dialogue has often been ignored within public processes of education and within the arts, recreation and youth work and in the workplace. Public policy around engaging with other religious communities and cultures is critical in enabling self-development. Opportunities present themselves within these spheres but due to cultural and secular hegemony, institutions are unwilling to innovate or be seen to be acting differently.