"If We Fail Women in Afghanistan, We Fail Them Everywhere"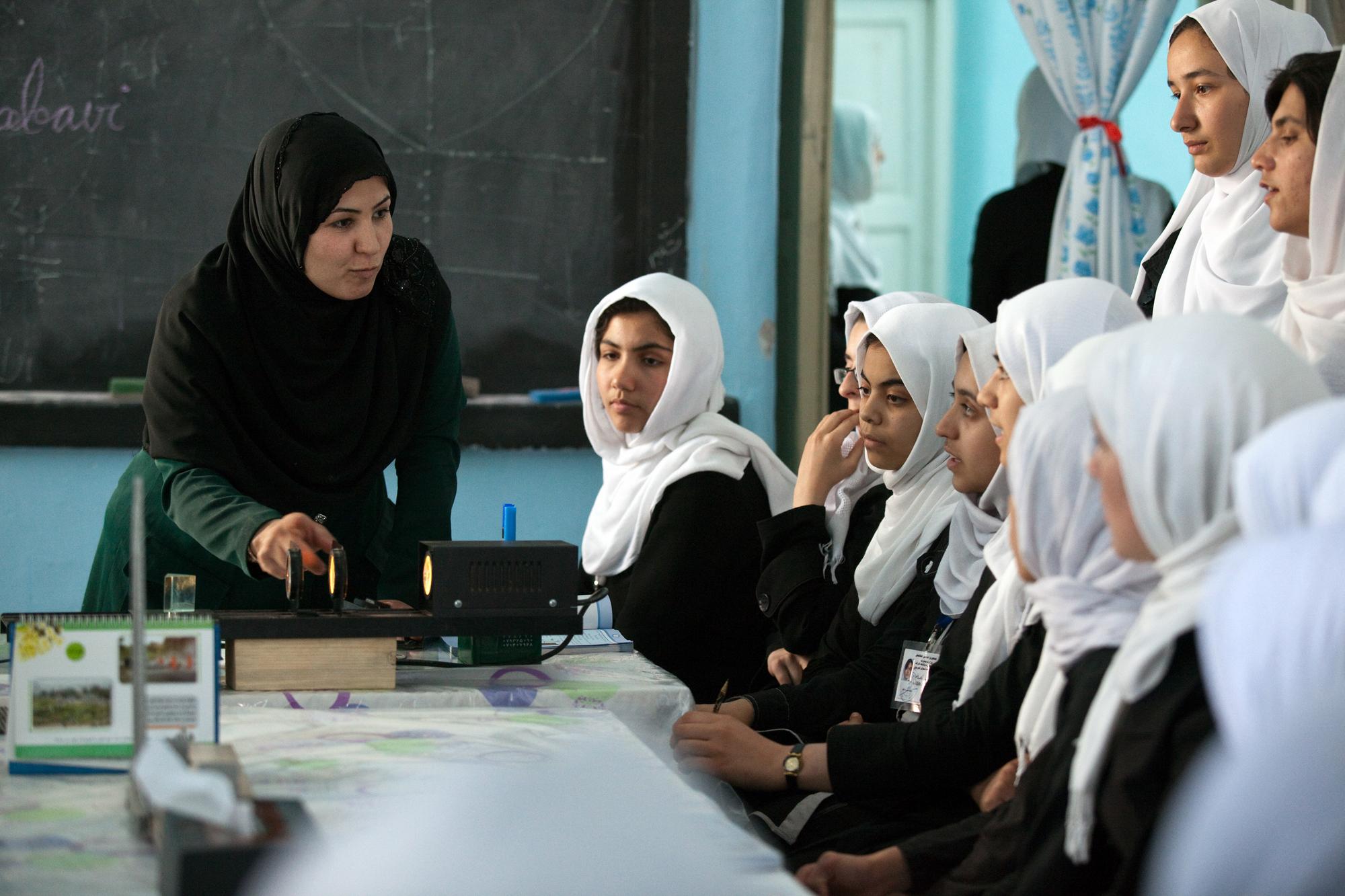 A failure to include the voices of Afghan women in the current peace processes would be a blow to women peacebuilders around the world. Religious leaders can help.
As the international community celebrates women's history month, experts and advocates for women's rights fear that lack of participation by women in current peace negotiations in Afghanistan may negate nearly two decades of progress on gender equality. This has implications for women's rights throughout the world. 
Afghanistan has been engulfed in violent armed conflict for over two decades. Last year, the US administration brokered a deal with the Taliban in an effort to end decades of war. Under the current agreement, the international community has requested a permanent ceasefire in exchange for foreign troop removal by 1 May. 
According to Belquis Ahmadi, Senior Program Officer for Afghanistan at the United States Institute of Peace (USIP), women's rights have been mostly ignored by the international community, with the issue being left to the outcomes of intra-Afghan negotiations. As the 1 May deadline looms, she fears that Afghan women have a lot to lose. 
Yet, support for women's equality in Afghanistan may require both a top down and a bottom up approach – and that is where religious communities are uniquely positioned to help.
Excluding women from the peace talks threatens 20 years of progress
Prior to 2001, women were almost completely absent from the public sphere; yet today, Ahmadi says, the environment has drastically changed. "Women are present in every sector of society. Thousands of women work for the government, in the private sector, for NGOs, as journalists, scientists, entrepreneurs, politicians, judges and lawyers." 
This representation, however, has been absent from the peace negotiations. Despite mounting pressure from international organizations and human rights groups to include women in the September 2020 intra-Afghan talks, Ahmadi says that only four women served on the twenty-one-member negotiation team for the Afghan government. There were no women on the Taliban's twenty-one-member team.
---
Read More: Women in Peacebuilding in Nigeria
---
According to Afghan women's rights advocate Zarqa Yaftali, the presence of women on the government's negotiation team is a positive development, "but it is not enough." 
"Afghanistan's track record for including women is dismal – between 2005 and 2020, women were excluded from almost 80 per cent of peace process meetings and negotiations," she stated at a recent UN Security Council Open Debate on Women, Peace and Security.
These numbers reflect a discouraging global trend. According to data compiled by the Council on Foreign Relations, over the past two decades, women constituted, on average, only 13 per cent of negotiators and 6 per cent of mediators in major peace processes around the world. Additionally, the majority of the 1,860 peace agreements reached since 1990 fail to reference the conflict experience of women or their post conflict contributions.
Yaftali argues that including the perspective of women in peace negotiations is crucial, as conflict often hits women the hardest. "Women and children make up the majority of four million internally displaced people," she said. Additionally, "87 per cent of Afghan women have already experienced at least one form of gender-based violence."
Religious actors are key to advancing women's rights
Many religious leaders have been on the frontlines of this conflict, dealing with the outcomes of humanitarian crises and violence. In a traditional society like Afghanistan where Islam shapes culture, traditions, and customs, religion is integral to changing hearts and minds. 
That's why Palwasha L. Kakar, Senior Program Officer for Religion and Inclusive Societies at USIP, believes it is essential to work with religious leaders who have credibility and moral authority among large segments of the Afghan public. 
"Religious leaders are among Afghanistan's traditional "gatekeepers" for making local decisions, especially on questions of women's rights, and they can be effectively engaged," she wrote in a peace brief for USIP titled, "Engaging Afghan Religious Leaders for Women's Rights." 
Referencing an Asia Light Foundation survey, Kakar pointed to 60 per cent of those polled who reported regularly resolving problems through traditional jirgas or shuras, which include mullahs (religious leaders), tribal elders and village heads. Eighty per cent considered them to be fair and trusted institutions. 
Kakar says that trying to change perspectives and policies through international human rights frameworks has not always been successful in Afghanistan, as often these ideas are rejected as externally imposed. Instead, "that process begins with recognising that Afghanistan remains a deeply traditional society." 
Although women's rights advocates have been hesitant to engage religious leaders so far, based on the perception that they may be opposed to progressive change, Kakar argues that many, particularly at the local level, are interested to provide support.
"Their support can result in more people accepting the importance of women's rights and in more enduring changes in behaviour. That can yield greater gains in terms of the impact, sustainability and reach of a project."
It's time for real engagement and dialogue
Ahmadi says she doesn't need to convince the international community that the inclusion of civil society groups contributes to the success and sustainability of peace agreements. A growing body of research shows that the engagement of women's groups and religious organizations reduces the risk of failed peace agreements by 64 per cent. 
"What's troubling, is that most of the time, even those who refer to this research in their rosy statements, when it comes time to advocating for women's participation in all aspects of the peace process, they fail to walk the talk," she continued. "These same leaders too often turn a blind eye and fail to take concrete actions to protect and promote women's rights." 
As political transitions take place, Kakar believes engagement and dialogue on the part of the international community is urgently needed, especially where partnerships with religious leaders are concerned. 
"It is critical to prevent an erosion of gains made over the last decade in Afghans' increased rights, roles and freedoms," she wrote. "This period of transition offers a critical opportunity to strengthen and expand the network of influential actors who can address issues such as corruption, tolerance and the defense of basic human and women's rights."
According to Ahmadi, a failure here could have devastating consequences for women's rights and the future of peace processes around the world. 
"If we fail to raise our voices to protect the gains of the past 20 years in Afghanistan, we will fail to protect women in all other countries," Ahmadi said. 
---
Read More on women's empowerment around the world
---