KAICIID-UNAOC introduce IRD online resources to international community
10 July 2018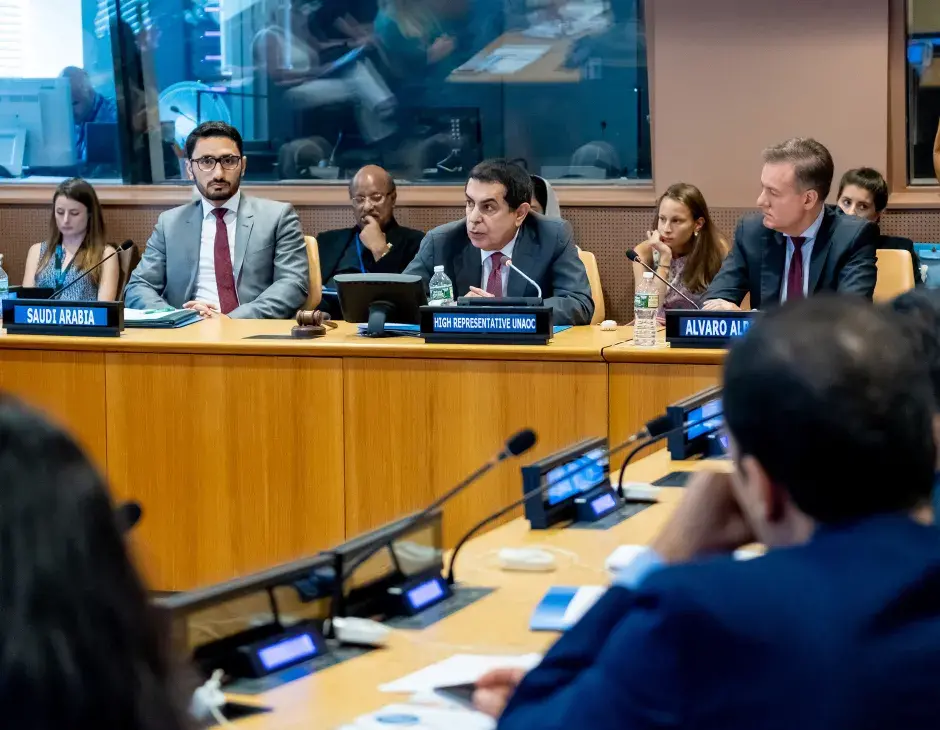 New York, 10 July 2018: The United Nations Alliance of Civilizations (UNAoC) and the International Dialogue Centre (KAICIID) presented their online tools and capacity building programmes at the United Nations headquarters in New York,  during the UN forum on "Strengthening Interreligious and Intercultural Dialogue through Knowledge Sharing: Opportunities and Challenges", held on 10 July 2018. The UN dialogue was co-organized by UNAoC and KAICIID in their implementation of the 2017 Memorandum of Understanding between the organisations to promote dialogue for peace. The event was also supported by the Permanent Missions to the UN of Austria, Saudi Arabia and Spain.
In his address to the UN forum, KAICIID Deputy Secretary General Alvaro Albacete encouraged increased cooperation among people and organizations working in the field of intercultural and interreligious dialogue to better amplify the combined benefit they achieve. "We are convinced that our work can be more powerful, reach many corners of the world, and ultimately change lives not only if we join forces with others, but also if we share knowledge with those who are also committed to peace", he said.
The DSG emphasized the need for more capacity building in interreligious dialogue, both offline and online. He highlighted KAICIID's services in capacity building, such as its Fellows Programme, regular dialogue trainings offered to partners and platforms in the Centre's focus countries, and more recently with its accredited online course on interreligious dialogue, all together training over 4,000 people so far, including religious leaders, women, and youth. He also emphasized that KAICIID is "harnessing the power of digital communication" through KAICIID's Dialogue Knowledge Hub, a digital platform offering civil society and actors from the field opportunities to learn and exchange knowledge on interreligious and intercultural dialogue. "We launched it to share knowledge and experiences on IRD online, thus KAICIID is filling a gap and serving the field", the DSG added.
Nassir Abdulaziz Al-Nasser, High Representative for the United Nations Alliance of Civilizations, said: "We are all too aware that the absence of dialogue between and among civilizations strips everyone of the benefit of new cultural experiences. Segregated and inward-looking communities fuel mutual ignorance and prejudice. They also breed social exclusion, intolerance, and serious violations of human rights. Promoting genuine dialogue is an essential feature of inclusive societies".
The event brought together key experts in e-learning and IRD/ICD, as well as practitioners and users of virtual IRD/ICD knowledge platforms. They presented tools and good practices to share knowledge on IRD/ICD, such as the Forum of Intercultural Dialogue, the G20 Interfaith Summit, and the Post-Conflict Research Center, among others.