KAICIID Hosts Two Simultaneous Events in Lisbon for Women and Fellows
28 November 2022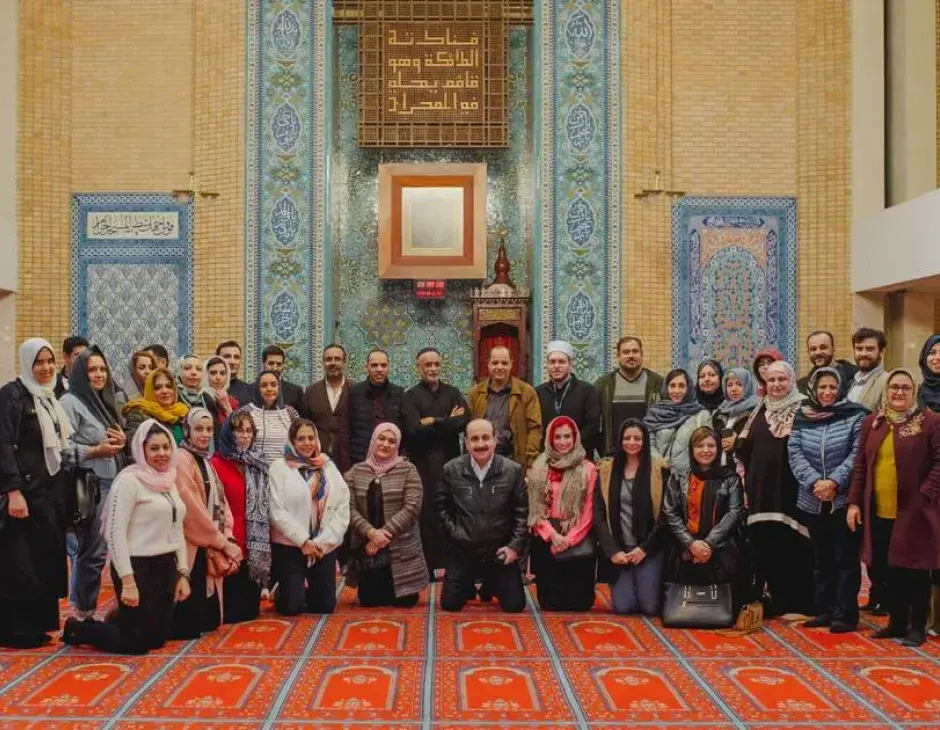 KAICIID's Arab Region Programme held two five-day training sessions in Lisbon, Portugal, between 13 and 17 November 2022. The two events in Lisbon, which included participants from She for Dialogue and the Arab Region Fellows, build on activities, training sessions and networking events that were previously held in Amman, Jordan between 25 and 29 March 2022.
Over 30 participants from 8 countries, with different ethnic, religious and ethnic backgrounds, attended the training sessions and graduation ceremony. The participants of the Fellows programme will go on to join KAICIID's Alumni Network, while the She for Dialogue participants join a new network, Women for Peace in the Arab Region, to be launched in the upcoming year. Holding networking events and training sessions stems from KAICIID's strong belief in the culture of dialogue and coexistence.
During the joint graduation ceremony, the Secretary General of KAICIID, Dr. Zuhair Alharthi said that: "the sustainability of any dialogue and peace-building process is linked to the participation of various groups in the society, especially women, youth, and religious leaders. These groups can bring about positive change to their communities. Based on this vision, KAICIID's strategy was outlined and for this goal the programmes for promoting peace, coexistence and citizenship were designed".
Image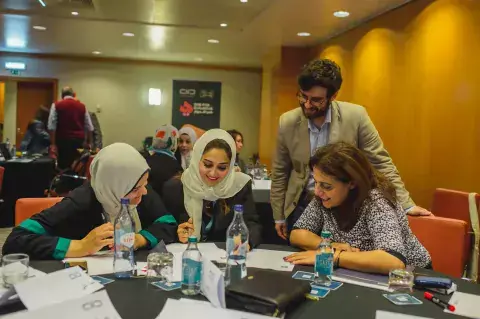 Progress of KAICIID's Arab Region Fellows
The KAICIID Fellows Programme aims to connect a network of leaders committed to fostering peace in their communities through interreligious and intercultural dialogue (IRD and ICD). Seventeen Arabic-speaking Fellows from Egypt, Iraq, Jordan, the Kingdom of Saudi Arabia, Lebanon, Morocco, Syria, and Tunisia gathered to discuss IRD, peacebuilding, conflict resolution and to evaluate and assess the outcomes of their initiatives.
During the March 2022 training session in Amman, the participants outlined their plans for 2022. In Lisbon, the third and final face-to-face training session allowed the Fellows the opportunity to present their initiatives and achievements, to share their stories, and to discuss future plans.  
Prof. Hailah Al Yousef, specialising in Theology at the Princess Nourah Bint Abdulrahman University in Saudi Arabia said that the Fellows programme allowed the participants to draw a roadmap of the best practices in IRD. As part of the programme, Al Yousef launched her initiative 'Li Natahawer li Nataaysh' [Eng: Let Us Dialogue, to Coexist].
The initiative targeted 101 university alumni to promote dialogue diversity and coexistence. Al Yousef said that people assume that there isn't much diversity in Saudi Arabia. However, the Kingdom is vast and there are often cultural differences between its regions and citizens. Al Yousef's initiative included holding regular sessions and meetings with participants from nine different Arab and non-Arab countries.
Al Yousef noted that "KAICIID's support allowed her to promote the values of coexistence and raise awareness of the diverse nature of her country."
From Lebanon, Sheikh Saeed Makarem of the Druze Community, said that the Fellows programme allowed him, in cooperation with another Fellow, from the World Student Christian Federation (WSCF), Mira Neaimeh, to launch and implement an initiative called the 'United Colours of Religions' to bring Druze, Muslims, and Christians together by visiting each other's religious and holy places and shrines. Neaimeh spoke of the initiative as "awakening a sense of brotherhood among young people, allowing them to build bridges of rapprochement and dialogue, so that each person has a brother of another religion, as, what unites us, is more than what separates us".
Women Lead the Way through "Uncharted Territory"  
The She for Dialogue project aims at empowering women to launch local and regional initiatives to promote the values of coexistence through IRD and ICD in their communities. Senior programme manager Waseem Haddad believes that "there is now a historical opportunity for women to involve themselves further, not just in IRD but also in all other causes that impact them and to be part of the solution." According to Haddad, IRD is not exclusively a domain for men, and that women have the opportunity and capacity to reach of reaching all demographics in a local community.
Haddad added that the She for Dialogue participants discussed many key topics, such as the impact of climate change, including desertification and drought, "as it directly affects women's lives and economic situation, especially in rural areas".
A participant from Iraq, Dr Amna Al Zahabi, explained that since the March training in Amman, the She for Dialogue participants from Egypt, Iraq, the Kingdom of Saudi Arabia, Lebanon, and Syria launched a regional initiative. The initiative worked on mapping organizations involved in the interreligious dialogue for women, collecting data and launching surveys to assess women's regional participation in IRD.
Al Zahabi said that "it was not a surprise to find that women's participation in IRD was low at the regional level, namely in countries such as Iraq, Syria, and Egypt". According to Al Zahabi, the challenges differed from one country to another. She noted that "in Egypt, for example, large rural areas made it difficult for participants to conduct surveys and collect data." While in Iraq and Syria, the security risks were the obstacle." However, "we are working on drafting recommendations and solutions to improve women's participation."  
Awatef Anwar from Egypt said that the She for Dialogue project allowed the Egyptian participants from different religious backgrounds to come together and initiate a dialogue among themselves. According to Anwar, this has led to the launch of an initiative called 'Min Hona Salam' [Eng: From Women There is Peace]. Part of the initiative was a workshop, bringing together about thirty Islamic clerks to discuss the status of women in IRD.
Image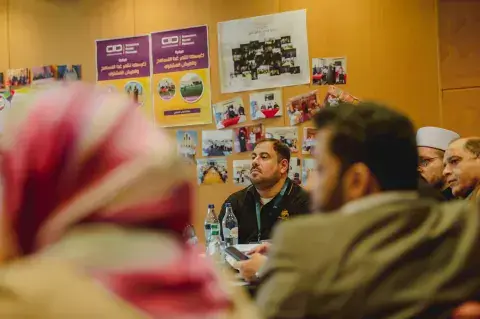 Anwar said that the resulting "recommendations stressed the need to change the cultural and social norms regarding women's participation in IRD and involving women in the decision-making process."
On the longer impact of the initiative, Amin hopes for the values of interreligious dialogue and the culture of coexistence to spread across the local communities in Egypt.
From Saudi Arabia, Alaa Mohammed Bajunaid said that "challenges are present in every community." She stressed, however, that with challenges come opportunities to take the lead in IRD spaces. Bajunaid therefore launched her initiative 'Hya As-Saudia' [Eng: She is a Saudi], which aims to further empower women's role in IRD.
Bajunaid said that KAICIID's She for Dialogue project "opened up a new space in Saudi Arabia for women's participation and allowed women to enter uncharted territory confidently".
The three interviewed She for Dialogue participants all agreed that challenging social norms and having women in what is culturally regarded as a male domain was a major challenge. To build on the success of the She for Dialogue programme, KAICIID's Arab Region is working with the programme alumni to establish a network, Women for Peace in the Arab Region. Planned for the following year, initially, the network will consist of the extensively trained participants from the She for Dialogue programme. According to Haddad, "the aim of the network is to allow grassroots female leaders from different countries, cultures and religious and ethnic backgrounds to share their experience, support and collaborate with each other in promoting peace and co-existence."