Jon Rasmussen: Saying "Yes" to the Path of Dialogue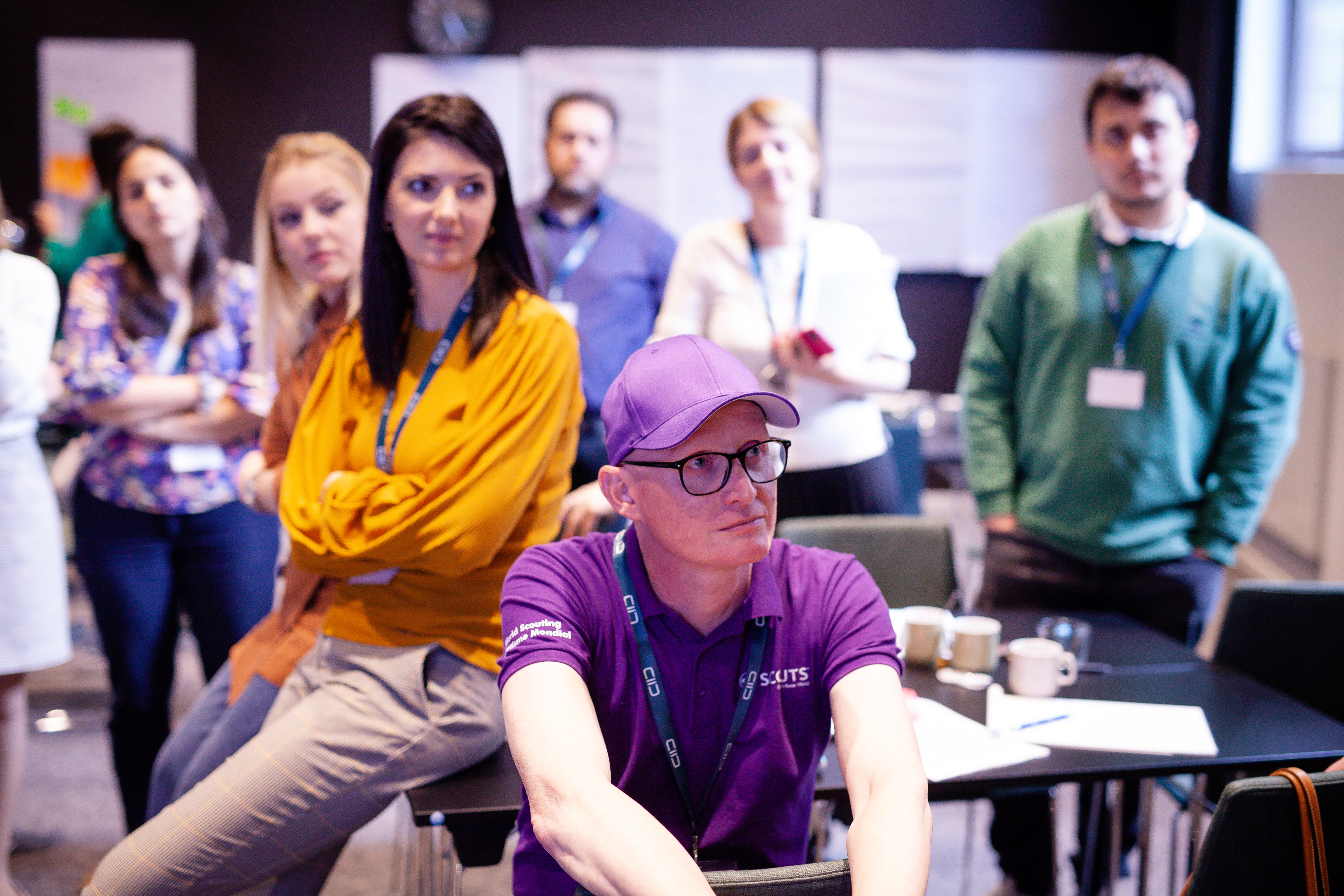 Jon Rasmussen and members of the KAICIID-supported "Network for Dialogue" meet in Sweden (Photo: Robert Gartner/KAICIID)
Having witnessed Jon Rasmussen's dialogue efforts at the World Organization of the Scout Movement (WOSM), where he  had been working since 2010, KAICIID reached out to him in early 2021, thinking he would make an excellent addition to the Network for Dialogue.
"I had previously heard of the Network and learned about the resources they had developed," said the Dane, "but it was not until I had a call from KAICIID before I sat down and got an idea about what they actually did, and how they were structured."
The Network for Dialogue is a KAICIID-supported, pan-European platform founded to bring faith and civil society actors together to promote the use of dialogue and develop more effective recommendations for social inclusion policies for migrants and refugees in Europe. Once a year, the Network and KAICIID jointly organize the "European Policy Dialogue Forum," which will be convened for the fourth time in November 2022.
Image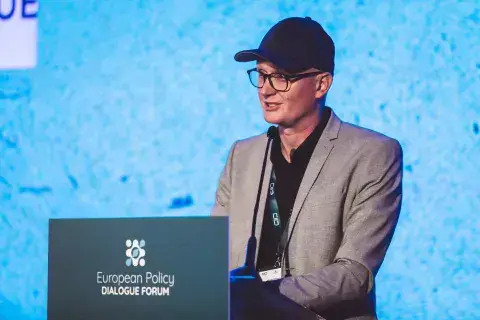 Having done his research, Rasmussen liked what he saw and accepted the invitation to join the Network.
"I said yes," he said, "because it was a space where so many different actors from the region came together with this common goal, of creating positive change in the social inclusion of refugees and migrants -- a path that felt very right to me.
"In the Network, I can learn many extraordinary things from scholars, doctors, journalists, politicians, and people like me that work on the grassroots level," said Rasmussen.
Upholding rights, creating more peaceful communities
From Denmark, Rasmussen started to work as a facilitator for the Dialogue for Peace (DfP) Programme in 2017.
Created for, and with the help of, young people by KAICIID and WOSM, the programme aims to institutionalise dialogue as part of WOSM and create opportunities for Scouts and young people across the world to design their own local intercultural and interreligious dialogue sessions and approach.
Building on his experiences with the DfP programme, Rasmussen has also been working as a Diversity and Inclusion Consultant at WOSM since 2019. He is also a team member of the Regional Dialogue for Peace Team and a "Listening Ear" at WOSM, where he ensures that the organization's code of conduct and basic human rights are upheld at all events.
In his role as a Regional DfP Team member, Rasmussen helps WOSM develop ways to provide Scouts and non-Scouts with tools to dialogue in the context of everyday life.
Through this work, he said, WOSM "gives children and young adults an opportunity to create a more peaceful community with an emphasis on our shared humanity, respect for our differences, and always with learning about that we do not understand in mind."
As one of the programme's accredited dialogue trainers and facilitators, Rasmussen keeps a vigilant eye on the programme and how it reflects the cultural and religious diversity of the contexts within which WOSM operates.
That is a constant process of learning and re-learning, Rasmussen said, "but one that teaches me to be open and humble to what — and whom — I meet on my path."
A combination of curiosity and humility
Rasmussen brings that same humility — and curiosity — to his work with the Network for Dialogue.
"Dialogue shapes all aspects of my work," Rasmussen continued, "so that whenever I enter a room — physical as well as virtual — I do so with openness and respect toward those I meet, and with an eye toward how best to engage with them to build a better relationship.
"I believe people I work with, and have worked with, if having to reflect on it, would say that they truly felt welcomed, and seen for whom they were — completely," he said.
Being that kind of dialogue practitioner has given Rasmussen a different perspective on humanity itself. Rasmussen sees humanity as inherently interconnected. Through the Network, Rasmussen has been able to sense even deeper how humans are linked politically, pragmatically, and spiritually.
"I believe we are all linked together," he said, "and what I've learned about that in the Network I now bring to my wider work with WOSM."
While he has learned much as a member of the Network, Rasmussen has also contributed with his own skillset, enabling his colleagues to be more "dialogical" in more ways than they perhaps had thought of — or put into practice — before.
KAICIID Senior Advisor Patrice Brodeur said, "Jon has been one of those people who caught the 'dialogue bug' from the get-go through the collaboration between WOSM and KAICIID.
Image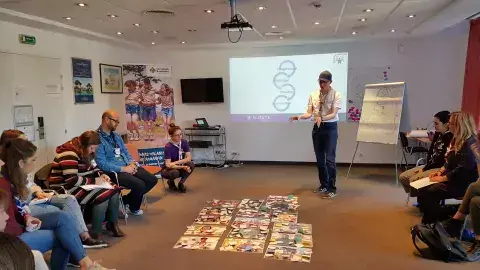 "He is an excellent listener," said Brodeur, "he grasps the essential skills of facilitating dialogue in small scouting groups, definitely increasing the communication quality within Denmark and European scouting in general, making the work more meaningful and impactful in the long term."
Dialogue as a path to serving humanity
Having benefitted much as a member in the Network for Dialogue, Rasmussen has now applied to be a KAICIID Fellow.
The KAICIID Fellows Programme is a one-year training module that aims to equip, inspire, and empower emerging leaders and educators, including faith community members and interreligious dialogue experts. Since 2015, KAICIID has trained over 400 Fellows from a total of 85 different countries.
Rasmussen wants to be a part of the next training cohort because he believes that if selected, it would bring more richness and depth to the dialogue work he already does with WOSM and the Network for Dialogue.
"My idea as a Scout is always to understand and to build bridges between people, but my current work with Dialogue for Peace is mainly focused on intercultural and inter-worldview dialogue, and less on interreligious dialogue," he said, "I wanted to add a more in depth skill to my dialogue practice, in order better to support Scouts that want to move in that direction."
Thus far, Rasmussen said his involvement in the Network for Dialogue with KAICIID's support has been phenomenal. "The world of dialogue has transformed my life, so to say," he said.
As a KAICIID Fellow, he hopes to further give himself to the service of humanity.
Rasmussen said, "I truly feel that Scouting is my home, but Dialogue for Peace has changed my practice of dialogue, and only underlined that belonging even more."