KAICIID INTERNATIONAL FELLOWS PROGRAMME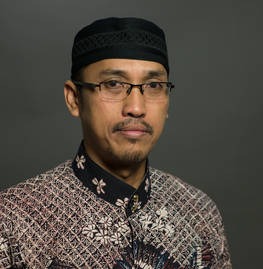 Country:
Indonesia
Language:
English, Arabic, Bahasi, Italian
Organizations:
Myskatul Anwar Sufi Centre Thaha
Expertise:
Islamic Studies, Theology, Ethics
Focus area:
Religious
Religious affiliation:
Islam
Religious Educator, Myskatul Anwar Sufi Centre Thaha
Yusuf Daud earned his first scholarship for a Master of Science from the University of Indonesia in the International Affairs Middle East and Islamic Department in 2005 and his second for a Master of Philosophy and Islamic Mysticism from ICAS London in 2006. He has published four books on religion, including Unveiling the Taste of Hidden Things, on the meeting point of Islam and Christianity and Membenahi Sikap Beragama kita (A bridge across spiritually and religion).
Yusuf has taught at various Universities and Catholic Seminaries in Jakarta, Surabaya, Bandung, Banten and is a visiting Lecturer on Islamic Mysticism, interreligious dialogue, spiritual and emotional marketing and business ethics. In 2008, he became the first Muslim Scholar from Southeast Asia to win the Nostra Aetate Pontifical Council of Interfaith Dialogue Scholarship from the Vatican to study world religious traditions at three prestigious universities in Rome. Yusuf is a leading expert on Islamic Mysticism, Islamic Thought, Interfaith Dialogue, and Comparative Mysticism. Professionally affiliated with Ibn Arabi Society, ICRP (Indonesian Conference on Religion and Peace), and an Activist of Interfaith dialogue nationally and internationally, his popular workshops combine his expertise in interreligious understanding with his Sufi training.He lives in Surabaya, the second largest city in Indonesia, with his beloved wife and three children. Yusuf has a deep commitment to interfaith dialogue and believes that in today's diverse world, it is essential to understand and work with religions beyond one's own.
Fellows Project: Training Workshops in Surabaya and Tulungagung
To KAICIID Fellow Yusuf Daud, interreligious and intercultural dialogue is intrinsically connected to education and peace, and he believes that there is no world peace if there is no peace among religions. He believes that interreligious dialogue is important to reveal the narrow mindsets that hinder relationships. These mindsets can easily trigger misunderstandings. Misunderstanding
can lead to prejudice, which is counterproductive to the interreligious relationship itself.
While the desire to safeguard religious harmony exists in many parts of Indonesia, Yusuf concentrated his project's resources on the city of Surabaya, as well as in Tulungagung, where the training was hosted by Faculty of Ushuluddin, Letters, and Dakwah State Institute for Islamic Studies. The workshops focused on empowering these communities to work together towards promoting pluralism in every aspect of daily life and building peace through interreligious and intercultural dialogue.