The Advisory Forum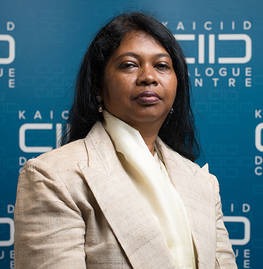 Social Worker and Advocate for Women and Indigenous Peoples
Kaushalya Munda is a freelance social worker and an advocate for women and indigenous peoples in India. As a member of the Munda tribe, an Indian indigenous community, she led a UN mission to save indigenous peoples and the underprivileged by assisting them with life skill development and safeguarding their rights under the Universal Declaration of Human Rights. She has also led several UNICEF projects on preventing and controlling anemia in girls and children.
Ms. Munda has worked as an educator lecturing and promoting nutrition, prenatal care and reproductive health. She has also worked as a research and monitoring officer of a project on adolescent health and their holistic development, including career counselling and life skill development at the Tata Steel Rural Development Society.  
Many legal issues related to false charges inflicted on indigenous communities or persons have been raised by Ms. Munda at the administrative level. To date, all cases raised by Ms. Munda have had positive responses and have been addressed with significant judgement. She also sponsored two vulnerable indigenous community students in completing their technical education and established a linkage and scope for students of a vulnerable community in adopting technical education.
Ms. Munda is currently the President of the All India SC/ST Confederation for Affirmative Action committee; an advisor in the managing committee of the Adibasi Jan Kalyan Samity School; a member of the Adibasi Budhijivi Manch, Jharkhand; the treasurer of Bharat Munda Samaj, Jharkhand; advisor of Adim Jan Jati Sangh and a member of the Divine Mercy Prayer Trust in Kadma, Jharkhand. She is also a member of the International Work Group for Indigenous Affairs, Copenhagen. Ms. Munda has an M.A. in sociology from Ranchi University and has also been invited to take part in numerous trainings focusing on rights and conflict resolution among indigenous peoples around the world.