The Advisory Forum
His Holiness Pujya Swami Chidanand Saraswatij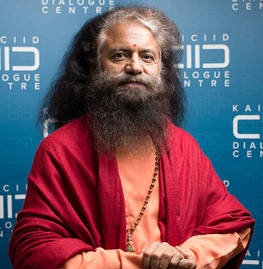 Country:
India
Language:
English, Hindi
Organizations:
Parmarth Niketan Ashram
Focus area:
Religious, Religious Institution, Civil Society
Religious affiliation:
Hinduism
President of Parmarth Niketan Ashram, Rishikesh, India
Swami Chidanand Saraswati's motto in life is, "In the Service of God and humanity." He left his home for the Himalayan jungles and forests in early childhood, in order to live a life devoted to God and in the service of humanity.  He spent his youth in silence, meditation, yoga and austerity. Today, he is world renowned as a spiritual leader, visionary and divine guide.
Swami is President of Parmarth Niketan Ashram, Rishikesh, India, one of the largest interfaith spiritual institutions in India. He is co-founder/co-chairman of the Global Interfaith WASH Alliance (GIWA), an international alliance of interfaith leaders working for water, sanitation and hygiene launched at UNICEF headquarters in New York.  GIWA has been catalyzing awareness and action toward improved WASH through harnessing and re-channeling the strength and impact of faith leaders.
Swami is also Founder of Ganga Action Parivar which is leading the way in the massive Clean Ganga Movement, and is founder of Divine Shakti Foundation and India Heritage Research Foundation (IHRF),international, non-profit, foundations dedicated to education, women's upliftment, health care, rural development and other humanitarian projects including the compilation and publication of the historic, monumental 11-volume Encyclopedia of Hinduism as well as ashrams/rest-houses in the sacred land of Mansarovar and Mt. Kailash in Tibet.
Swami's religion is unity, and he is a leader and featured speaker in numerous international, inter-faith summits and parliaments including the United Nations, Parliament of Religions, World Bank, World Economic Forum, Religions for Peace, and more.