The Board of Directors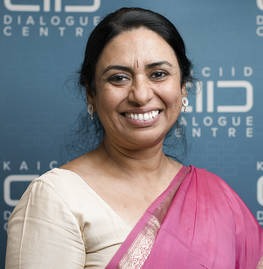 Country:
India
Language:
English, Hindi
Organizations:
Shanti Ashram
Expertise:
Education, Childhood, Public Health
Focus area:
Civil Society
Religious affiliation:
Hinduism
President, Shanti Ashram
Dr. Aram has been part of interfaith dialogue efforts for the past twenty years. She has led critical child development initiatives globally and across rural India. Together with Shanti Ashram's partnership platform encompassing 215 partners she is deeply committed to integrated human development initiatives. She founded the International Center of Child and public health in 2016 and through it multiple public health initiatives are currently being implemented for vulnerable children. Deeply committed to the Gandhian spirit, she has received several awards for her work and authored a variety of publications.
 Career Summary:
Co-moderator and Executive Committee Member of Religions for Peace-International
 Chairperson of the International Ethics Education Council for Children at Arigato International
Member, Task force, International initiative to end child poverty
Member of the Governing Council, National Foundation for Communal Harmony, Union Ministry of Home Affairs, Government of India
 Trustee, M.S.Swaminathan Research Foundation
Distinguished Member, Board of Management of the Gandhigram Rural University
  Founding Member of Namadhu Pangu, a social service outreach of Kumaraguru College of Technology
Alumnus and Visiting Professor of the Harvard School of Public Health & PSG Institute of Medical Sciences and Research