The Advisory Forum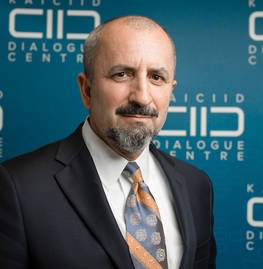 International Academic Dialogue with Judaism on behalf of the Ecumenical Patriarchate, Advisor to Metropolitan Emmanuel of France
Dr. John Georgopoulos Participates in the International Academic Dialogue with Judaism on behalf of the Ecumenical Patriarchate. He is an advisor to Metropolitan Emmanuel of France in his role as a member of the Board of Directors at KAICIID and represents the Greek Orthodox Metropolis of New Jersey to the Pastoral Ministry of the Ecumenical Patriarchate.
Dr. John Georgopoulos is a clinical psychotherapist in private practice in McLean, Virginia with 25 years of experience in the mental health field, including 10 years managing a community mental health clinic for the Community Services Board in the City of Alexandria, Virginia. He has been an advocate for the establishment of community-based mental health services promoting human rights for persons with mental disorders.
Dr. Georgopoulos has implemented wellness programs for the Armed Forces of the United States, including the Pentagon, Ft. McNair, Ft. Mead, the Naval Yard, and Ft. Meyer, and serves as a consultant to Greek Orthodox Clergy on mental health issues. He also Conducts training and development on Orthodox Clergy leadership wellness.
Dr. Georgopoulos completed his undergraduate studies at the University of South Carolina; graduate studies at Holy Cross Greek Orthodox School of Theology; post graduate clinical studies at Virginia Tech and John Hopkins University; and doctoral studies and research at the Catholic University of America.
An appointed member to the Alumni Board at Hellenic College Holy Cross, he is a founding member of ΔΕΣΜΟΣ , the association focused on transforming and building relationships with compatriots that have roots in Skopos, and Easter Thrace; and a member of ΕΜΕΙΣ, the association dedicated to the research and promotion of the history of Serras, Greece.
Currently, he is producer and presenter of the cultural program "Islam" broadcast on the French public channel France 2. He is also a consultant to several French and foreign media on issues concerning Islam in Europe.