The Advisory Forum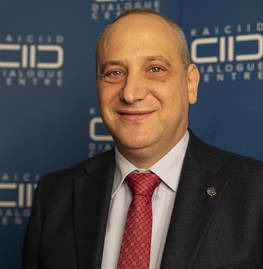 Country:
Lebanon
Language:
Arabic, French, Italian, English
Focus area:
NGO
Religious affiliation:
Christianity
Special Advisor on Ecumenical and Interreligious Partnership, Caritas Internationalis
Davide Bernocchi is Caritas Internationalis' Special Advisor on Ecumenical and Interreligious Partnership. Headquartered in the Vatican City, Caritas Internationalis is a confederation of 165 Catholic relief, development and social service organizations operating in over 200 countries and territories worldwide.
While working to serve the poorest and most vulnerable throughout the world, Caritas members seek to advance intercultural and interfaith collaboration and promote respect for cultural and religious diversity. Inspired by the Gospel of Jesus Christ and in adherence with international aid work standards, Caritas helps people based on their needs, without discrimination. In doing so, Caritas embraces a culture of interfaith collaboration with other Christian and non-Christian faith-based organizations and institutions. Among the approximately three million employees and volunteers globally working with Caritas, many are not Catholic who share the confederation's fundamental values and principles.
Mr. Bernocchi has served for the past 20 years in different leadership, director and advisory level positions with international and national Caritas member organizations in Europe, Africa and the Middle East. He has lived and worked in countries facing some of the world's largest and most complex humanitarian crises. Mr. Bernocchi specializes in interreligious dialogue, promoting social cohesion, and building the capacity of local faith-based partners to provide quality assistance to individuals, families and communities affected by conflict and poverty.
Mr. Bernocchi is from Milan, Italy and currently lives and works in Beirut, Lebanon.