KAICIID INTERNATIONAL FELLOWS PROGRAMME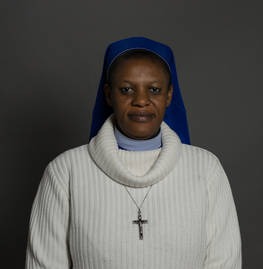 Country:
Nigeria
Language:
English
Organizations:
Catholic Archdiocese of Abuja - Co-Chair of the Women of Faith Peacebuilding Network
Expertise:
Peacebuilding, Youth, Gender
Focus area:
Religious
Religious affiliation:
Christianity
Chair, International Women's Coordinating Committee; Nun of the Daughters of Mother Mary of Mercy; Co-Chair Nigerian & African Women of Faith Network; Executive Director Cardinal Onaiyekan Foundation for Peace (COFP)
Rev. Sr. Agatha Ogochukwu Chikelue is a Nigerian Catholic nun from the Congregation of Daughters of Mary Mother of Mercy (DMMM). She is the secretary of the interreligious dialogue office of the Catholic Archdiocese of Abuja and Co-Chair of the Women of Faith Peacebuilding Network (WOFPN). Sr. Agatha holds a B.Sc. in public administration and M.Sc. in international affairs and diplomacy. Her interest in peacebuilding and interreligious dialogue began some years ago as a result of the incessant ethno-religious violence in her home country of Nigeria. Her hunger for peace at this period manifested in efforts to bridge divides across religious and ethnic lines in the country. Sr. Agatha's passion for peaceful coexistence in Nigeria motivated her to build a network of Christian and Muslim women united against violence and working for peace in Nigeria. Her years of experiences peacebuilding in Nigeria has brought about an understanding that peacebuilding and development are linked but cannot be achieved without justice, forgiveness and reconciliation. She has also learned that gender plays an important role in disputes, negotiating and resolving differences. She believes in a non-violent approach to conflict through dialogue and through actively involving women in peace processes. 
Fellows Project : Developing Dialogue Skills Among Women and Youth in Nigeria
This project is inspired by an interreligious perspective of mutual respect and harmonious living among people of different cultural and religious backgrounds. Through a participative approach to the study of religion – lectures by scholars, discourses by believers, visits to places of religious importance, shared meals, observation of rituals and participation in festivals – the Fellowship
in Religious Experience in Bangalore (FIRE) calls upon religious values in order to educate, organise and mobilise participants on issues that will improve understanding of commonalities, differences and specificities among their traditions. The project stresses the reciprocal interactions and influences between religions and spiritual traditions and the need to promote understanding between them in order to challenge ignorance.