KAICIID INTERNATIONAL FELLOWS PROGRAMME
Shamir Shimshon Galsurkar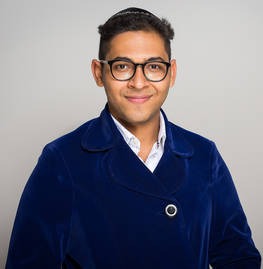 Country:
India
Religious affiliation:
Judaism
Youth Leader and Entrepreneur
Shamir Shimshon Galsurkar is a Jewish leader and an entrepreneur in Mumbai who is associated with many local and international Jewish organizations. A qualified civil engineer and a builder, he currently runs a construction firm in Mumbai, India. He is actively involved with many programs related to community development, leadership, spirituality, Torah studies, social work, psychology, science and collective consciousness. He is associated with Jewish Youth Pioneers as the Head of Logistics and is a Hebrew reader for the congregation of Magen Hassidim Synagogue. He is actively involved with the American Jewish University, American Jewish Joint Distribution Committee and World ORT (Association for the Promotion of Skilled Trades). He is studying Torah and spirituality from an international Torah organization and institute called Bnei Baruch, which deals with spirituality, humanity, unity of people, integral society and human development.
He is very passionate about studying Jewish spirituality and believes that an age of integral societies is approaching where humans will be able to live in harmony, love and oneness with the Creator. His motto is: "Love others as yourself, unity and love for others is true Spirituality."