The Fellows
Rev. Ellie Ngwanjie Patience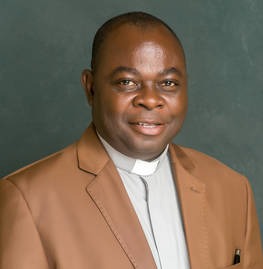 Country:
Central African Republic
Religious affiliation:
Christianity
Rev. Ellie Ngwanjie Patience is the Vicar of the International Cathedral of Alandao, Central African Republic. He has served as Rector of Sanchal Mobuye Parish and Vicar of Christ the King Cathedral in Kadongo, Zangibu. He is an ordained deacon and elder. He holds a bachelor's degree in theology, specializing in philosophy from the Seminary of St Mark in Bangui, Central African Republic. He has undertaken further religious studies in Kenya, Cameroon and Rwanda with the order of the Brothers of Marist. He speaks his native Sango, French and English. He is a teacher and lecturer on sacraments, the bible and religious studies. His home institute promotes interreligious dialogue trainings and they have hosted advocacy events, calling for IRD and ICD.