Heroes of Dialogue: Classroom Edition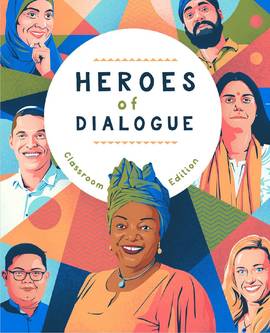 The first edition of this book, which was published in 2019, was met with an overwhelmingly positive response and requests flooded in for additional resources that could be used with young people or in classroom settings. KAICIID has added these resources, as well as tips and guidelines, to help individuals design their own community dialogue projects. These resources are meant for all ages – young, old, experienced, new to dialogue, from all religions and from every country and continent.
At the end of the book, educators will find helpful discussion questions to start meaningful dialogues in their classrooms. Additionally, the Centre has outlined the basic principles of dialogue and facilitation to help ensure a safe and inclusive space.