Heroes of Dialogue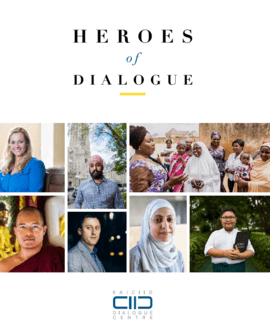 In 2020 we are placing the spotlight on 20 "Heroes of Dialogue" – individual agents of hope and change who have committed themselves to fostering peaceful coexistence in the world around them. We received hundreds of nominations from our partners and friends, through social media and word of mouth. We were delighted by the difficulty in choosing the final candidates and encouraged that there are so many people who have devoted their lives to making a difference.
The final heroes selected for this book are young men and women of inspirational leadership who are dedicated to building safe, inclusive communities through interreligious dialogue and cooperation. They represent six religions - Buddhism, Christianity, Hinduism, Islam, Judaism and Sikhism – and fourteen countries. Their backgrounds are diverse and the impact of their efforts is far reaching.
Through their stories, we see that there truly is no contribution to peace which is too small or too insignificant. Whether each of us reaches out to "the Other" by showing kindness, leading a community-wide movement, or helping to heal the wounds of deep conflict, we help promote a culture of peace and inclusivity. We hope these stories inspire and encourage you to become an advocate for peace in your own community.