Fellows Yearbook 2016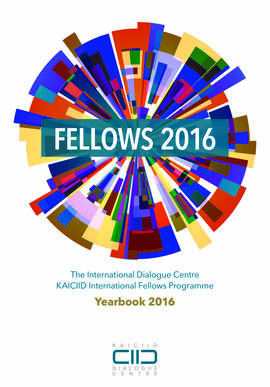 At the International Dialogue Centre (KAICIID), we work to strengthen social cohesion and build solutions in conflict situations around the world. And while we have programmes addressing the needs of communities that have been divided along religious lines, we also work to prevent such division, by building capacity for dialogue.
Over the course of one year, through the KAICIID International Fellows Programme, we provide training and support to educators and community leaders, so that they can be leaders, multipliers and advocates for interreligious dialogue in their communities and institutions. KAICIID Fellows understand the important role that religion and religious leaders can play in promoting peaceful coexistence, and they are already sharing these views and values with their students.
The fruits of this programme are clearly visible. In many cases, KAICIID Fellows have been personally transformed through their interactions and learning from each other. At the same time, the programme has equipped them with the skills and support to implement interreligious dialogue initiatives with their students or communities, a total of 43 in 2016.
This Yearbook tells the stories of these 43 individuals. It shows their work before and after the Fellows programme. They are, without doubt, dialogue ambassadors and peacebuilders that will train the next generation of religious leaders. In aworld that needs dialogue and peace more than ever before, their work, and the work of other believers in dialogue, is our best hope for a united future