EPDF Policy Brief Nr. 1 - Religious Actors and Countering Hate Speech in Europe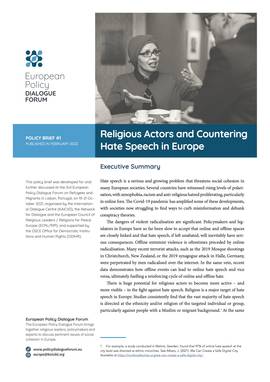 This policy brief titled "Religious Actors and Countering Hate Speech" was developed for and further discussed at the 3rd European Policy Dialogue Forum on Refugees and Migrants in Lisbon, Portugal, on 19-21 October 2021, organised by the International Dialogue Centre (KAICIID), the Network for Dialogue and the European Council of Religious Leaders/Religions for Peace Europe (ECRL/RfP), and supported by the OSCE Office for Democratic Institutions and Human Rights (ODIHR).
The policy brief reflects on the experiences and promising practices of religious actors work­ing in several countries in Europe on various aspects of preventing and counter­ing hate speech.