2020 Brochure: European Policy Dialogue Forum on Refugees and Migrants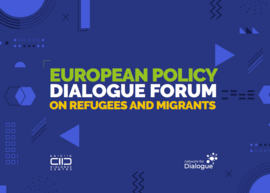 The European Policy Dialogue Forum on Refugees and Migrants represents an annual platform that brings together key stakeholders working on the social inclusion of refugees and migrants in Europe. Acting as a convener in discussing the growing diversity and complexity of migration flows and migration dynamics, the Forum gathers diverse participants in interactive discussions that combine different perspectives and build bridges between various actors working with refugees and migrants around Europe. The Forum also supports new directions towards dialogue in migration policies and calls attention to the mission and experiences of grassroots organizations to contribute to the work of policymakers. The active inclusion of religious actors and faith-based organizations in this format also allows for deeper conversations.
This brochure summarizes the European Policy Dialogue Forum's approach and the focus at the 2020 Forum taking place in Bonn, Germany, from 2 to 4 October 2020.