Bridging the Divide: Nigeria's Interfaith Code of Conduct Ushers in a New Era of Religious Harmony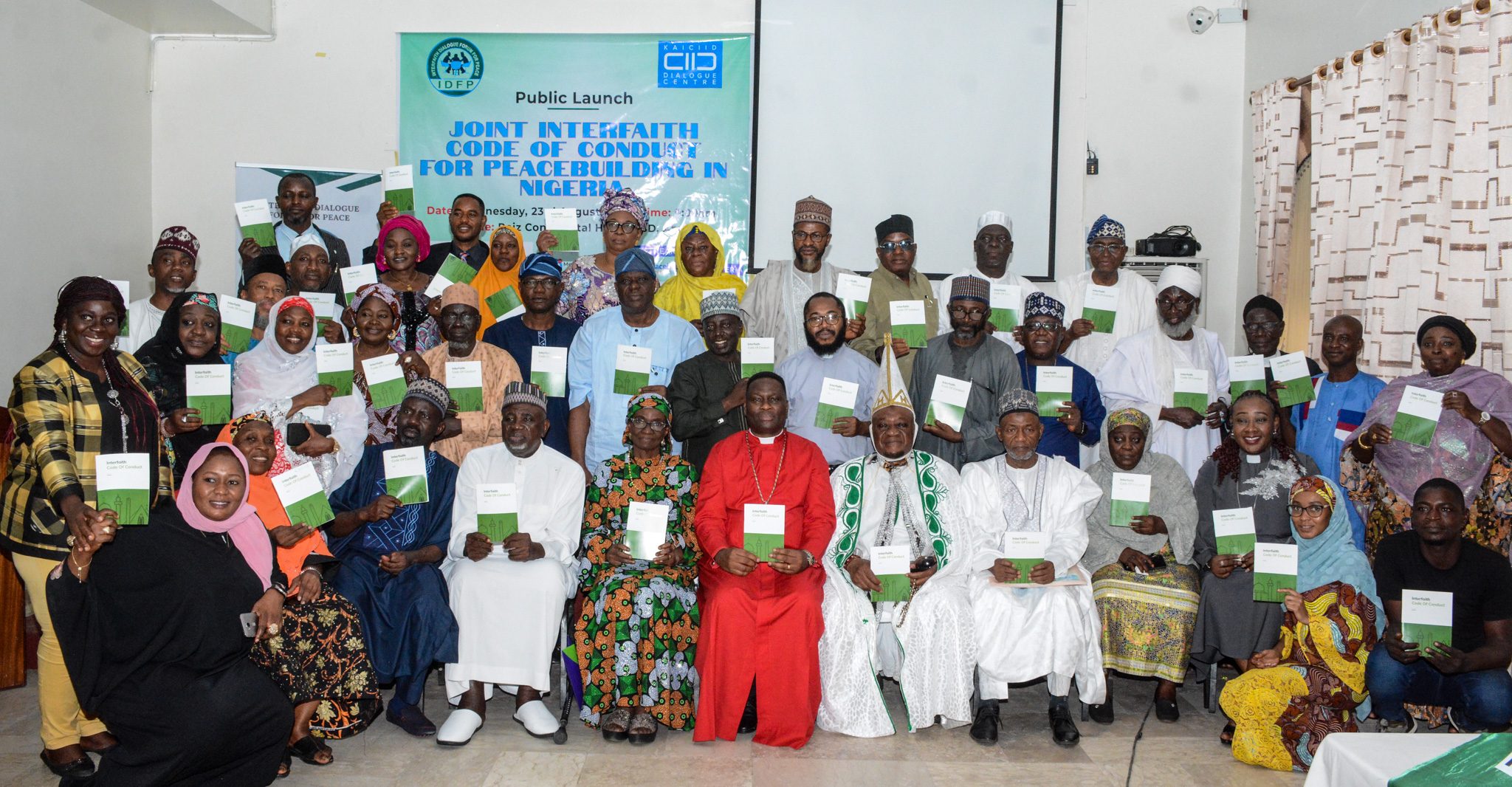 Interfaith Code of Conduct for Peace Building launch in Abuja, Nigeria.
In a nation like Nigeria, where the Christian and Muslim communities are nearly equal in population, faith forms the bedrock of cultural and spiritual life. Yet, this rich diversity, which could be the nation's strength, has sometimes become its vulnerability. Today's Nigeria grapples with significant religious, ethnic, political, and economic challenges. In the midst of these challenges, the Nigerian interfaith community, in a landmark move, has presented the "Interfaith Code of Conduct (ICoC)" - a blueprint for religious leaders and members, guiding them towards peace, justice, and reconciliation.
Faith at the Forefront of Conduct and Peace
It's not news that religious debates, inflamed by underlying political and territorial disputes, can escalate into full-blown conflicts. Such disputes not only tarnish the image of religion but also imprint a deep symbolic dimension to conflicts. Religion, which should ideally be a beacon of peace, becomes associated with violence.
However, the newly formulated Interfaith Code of Conduct promises to turn the tables. A collaborative effort of the Christian Association of Nigeria (CAN), the Nigerian Supreme Council for Islamic Affairs (NSCIA) and facilitated by the Interfaith Dialogue for Peace (IDFP), the ICoC is a testament to Nigeria's dedication to interfaith dialogue. It's driven by core values including mutual love and respect, human rights and dignity, ethical standards, truthfulness, and transparency.
The main intention of the IDFP is to achieve peace in Nigeria. The purpose of dialogue is to dispel stereotypes, ethnic and religious profiling, mitigate violence, create understanding and enable cooperation and peaceful coexistence, whilst maintaining mutual respect. Sincerity is therefore at the heart of their activities.
The IDFP was established in February 2016, funded and facilitated by the International Dialogue Centre - KAICIID, in partnership and collaboration with the Interfaith Mediation Centre (IMC), the Institute for Peace and Conflict Resolution (IPCR) and the Kukah Centre (TKC).
Why Nigeria Needs the ICoC Now
Nigeria's interfaith challenges are vast, encompassing religious, ethnic, political, and economic aspects. The harm to religious leaders, groups, and sacred places adds a profound symbolic dimension to conflicts, reinforcing community trauma.
With the ever-increasing hate speech, negative rhetoric, and religious tensions, the ICoC serves as a timely beacon. It aims to be a cornerstone for cooperation between religious leaders in Nigeria, focusing on dispelling stereotypes and improving interfaith relations. The overarching goal? Unity and peaceful co-existence.
In a country where religious leaders play a crucial role in shaping public opinion, the ICoC sets the tone for their preaching, public utterances, and media interactions. This isn't just a document; it's a commitment to mutual respect, understanding, and a harmonious coexistence.
Religious leaders are encouraged to be guided by this code in their daily interactions and promote it across Nigeria. This includes local communities, schools, worship centers, and media organizations.
Unity through Core Values
The ICoC is grounded in several core values:
Mutual Love and Respect: The foundation of any society must be built on mutual love, sincerity, and respect for each other's faiths.

Human Right and Dignity: Every individual, regardless of their faith, is entitled to their fundamental rights, including freedom of thought and belief.

Hate Speech and Blasphemy: Restraining from any form of hate speech and blasphemous comments against other faiths.

Conflict Resolution: Equipping religious leaders with the skills to address and prevent potential violent interreligious tensions.

Transparency and Accountability: All religious leaders should be transparent and accountable in their actions.
The IDFP: A Pillar of Interfaith Dialogue
The Interfaith Dialogue Forum for Peace (IDFP) is a national interfaith and intercultural dialogue forum recognized by all religions and ethnic groups in Nigeria. The IDFP focuses on interfaith activities and inter- religious awareness, dialogue and understanding for the two prominent faiths in Nigeria – Christianity and Islam. It is a forum based on discussions and dialogue, asking questions and arriving at mutual understandings about the beliefs and practices of the two faiths. IDFP remains at the heart of this initiative. Recognized by all religions and ethnic groups in Nigeria, the IDFP focuses on interfaith activities and inter-religious awareness for Christianity and Islam. Established in 2016, its main intention is peace in Nigeria, dispelling stereotypes, and enabling cooperation and peaceful coexistence.
A Step Towards Healing and Harmony
Nigeria's Interfaith Code of Conduct is more than just a document; it's a commitment to a future where love triumphs over hatred, understanding over ignorance, and unity over division. It is a testament to what can be achieved when faith communities come together, guided by a shared vision of peace. The ICoC is a message to the world that in Nigeria, religion can indeed be a force for harmony, a source of healing, and a symbol of hope.
As Nigeria continues to navigate its multifaceted challenges, the ICoC stands as a vital resource for interfaith peacebuilding and social cohesion. It's not just a step forward; it's a leap towards a future where faith unites rather than divides.
In the words of the Code itself, "Together, listening and responding with openness and respect, we can move forward to work in ways that acknowledge and respect genuine differences, building on shared hopes and values." May this vision guide Nigeria's path towards a more peaceful and united nation.
Looking Ahead: Launch Event and Further Reading
The International Dialogue Centre - KAICIID stands at the forefront in promoting interreligious and intercultural dialogue. In collaboration with Nigeria's national platform, IDFP, KAICIID's Nigeria programme has successfully developed the Interfaith Code of Conduct (ICoC). This resource is designed to provide guidance for all members of the interfaith community, including Muslim and Christian leaders and their followers.
The Interfaith Code of Conduct is grounded in core values supported by key principles and teachings drawn from Biblical and Quranic quotes.
The official launch event for the Interfaith Code of Conduct took place on the  23rd  of August, in Abuja, Nigeria. The event gathered a diverse audience, including religious leaders, policymakers, and representatives from civil society organizations.
In today's world, where divisions seem more pronounced than ever, Nigeria's commitment to interfaith dialogue through the ICoC stands as a beacon of hope. This isn't just a Code of Conduct; it's a commitment to a harmonious future.
link to the publication: https://www.kaiciid.org/resources/publications/interfaith-code-conduct-icoc-nigeria