Youth Forum to Promote Peaceful Coexistence and Dialogue in the Arab Region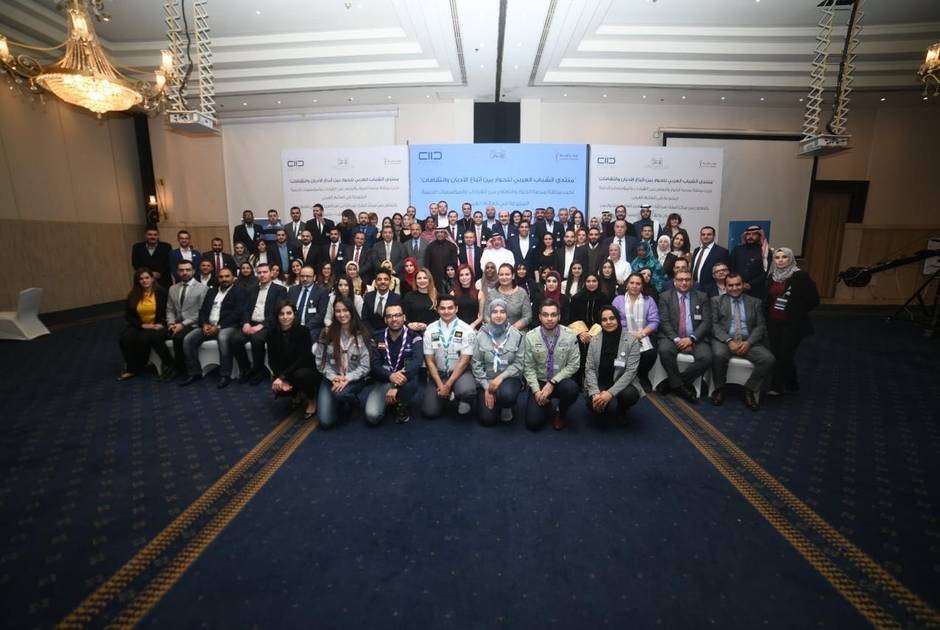 Amman – The Arab Youth Forum for Interreligious and Intercultural Dialogue was launched last weekend in Amman, Jordan with 90 young people from 15 countries in the region pledging to work together towards common citizenship, peaceful coexistence and countering hate speech in their home countries.
The Forum, held from 20 to 22 December 2019, was organized by the International Dialogue Centre (KAICIID) and Al Hayat Centre for Social Development. Participants included representatives of youth organisations, religious leaders, policymakers, media and NGOs, who exchanged experiences and explored ways to cooperate more effectively.
The Forum's foundational document includes its vision, goals and activities to be implemented, such as steering committee meetings, the creation of an e-platform and youth e-forum, and the establishment of teams to enable networking and advocacy. Another planned activity is a social media campaign focused on the importance of youth in building cohesive societies that respect each other and accept diverse opinions and cultures.
The Interreligious Platform for Dialogue and Cooperation in the Arab World, a KAICIID-supported platform, is overseeing the Youth Forum with the aim of fostering the role of youth and young women in the Arab region.
"Youth from the Arab region are half of the present and all of the future. They have enormous power and energy, but are facing many challenges. It had become imperative to mobilize all traditional and modern means and tools to promote the values of acceptance, pluralism, and respect for diversity among the youth," said KAICIID Secretary General Faisal bin Muaammar.
"Successful institutions and networks are built on a clear vision and on the volunteers that believe in this vision and are willing to invest time for the advancement of the cause," Joe Kayrouz, an expert in Political Science and International Relations, added.
The Forum is aligned with KAICIID's Regional Strategy 2019-2021 and with the Sustainable Development Goals (SDGs), in particular SDGs #4 and #5, which focus on the culture of peace, gender equality, and human rights, as well as SDG #16 on peace, justice, and strong intuitions. KAICIID Senior Advisor Professor Mohammed Abu-Nimer hopes that the Forum will address many of the key challenges facing youth in the Arab region.
H.E. the Jordanian Minister of Youth Dr Fares Buraizat said: "The Arab Youth Forum for Interreligious and Intercultural Dialogue is a youth window that will promote dialogue between followers of religions and cultures, and it is effective, active, and capable of countering hate speech and creating strong youth societies that reinforce the values of citizenship and coexistence".
tags: