WOSM and KAICIID collaboration in IRD trainings expands to Interamerica Region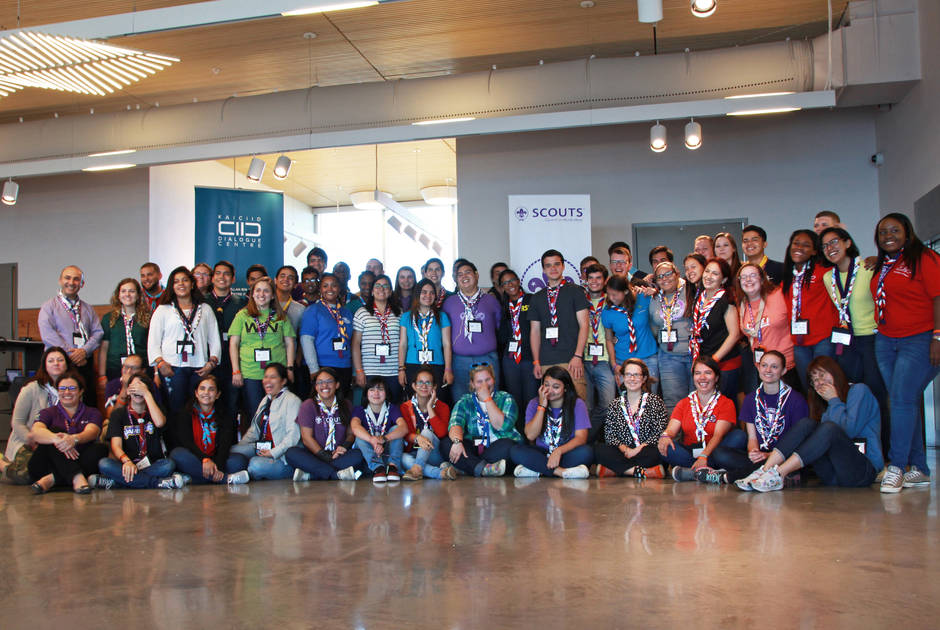 More than 80 Scouts from the Interamerican region were trained in intercultural and interreligious dialogue (IRD) by experts from the International Dialogue Centre (KAICIID) and facilitators from the World Organization of the Scout Movement (WOSM) at the Interamerican Scouts Youth Forum in Galveston, Texas, from 22 to 23 October. Scouts from more than 20 countries participated in the two-day training, which was the third in a series of regional trainings taking place globally as part of the Dialogue for Peace Programme, a joint effort between WOSM and KAICIID.
The Dialogue for Peace Programme is a programme that promotes dialogue in all dimensions within the Scout Movement through trainings and workshops on the international, regional and national levels to increase the awareness of dialogue principles as a way of life among scouts and their communities.
The training included an introduction of the DIALOGOS dialogue game to promote interreligious dialogue as a learning and peace-building tool, which will help regional and national leaders promote common understanding and a culture of peace in their regions.
"The dialogue training generated a lot of ideas pertinent to effective communication amongst young people. The specific activities used during the training stimulated constructive conversations related to issues affecting the Interamerica region and around the world. The session also taught us young leaders how to create a safe space for dialogue and how to get young people to speak about the various issues affecting them and future generations," said Damian Clarke, a participant from Trinidad and Tobago.
The scouts who participated in the training will bring the tools and skills they learned back to their own communities instilled in their own personal life and as dialogue facilitators, contributing to spreading dialogue throughout the Scout Movement. Scouts in the Africa and Asia-Pacific regions have already been trained by KAICIID and are currently working as dialogue facilitators in their own communities.
Through providing the opportunity and resources to learn about dialogue, WOSM and KAICIID are supporting young people in their development as active peacemakers who can affect positive change in their communities. To date, several communities in Africa and Asia-Pacific countries have become beneficiaries of scout- driven activities aimed at promoting the adoption of dialogue principles in life.
The Dialogue for Peace Programme
The Dialogue for Peace Programme is a result of a two-year collaboration developed by WOSM and KAICIID that provides dialogue training to leaders within the Scout Movement, who will then bring this knowledge back to their communities to spread dialogue practices on a wider scale. The first regional trainings were held in Korea and Uganda in 2015, in the Interamerican region in 2016, and we look forward to three more trainings in the European, Eurasia and Arab regions. Following the training of facilitators, other formats of dialogue training and awareness are planned to be a part of larger Scouting events and will be conducted by the Dialogue for Peace Programme team within the Scout Movement.