In wake of increasing attacks against religious communities, KAICIID and UNAOC work together on building peace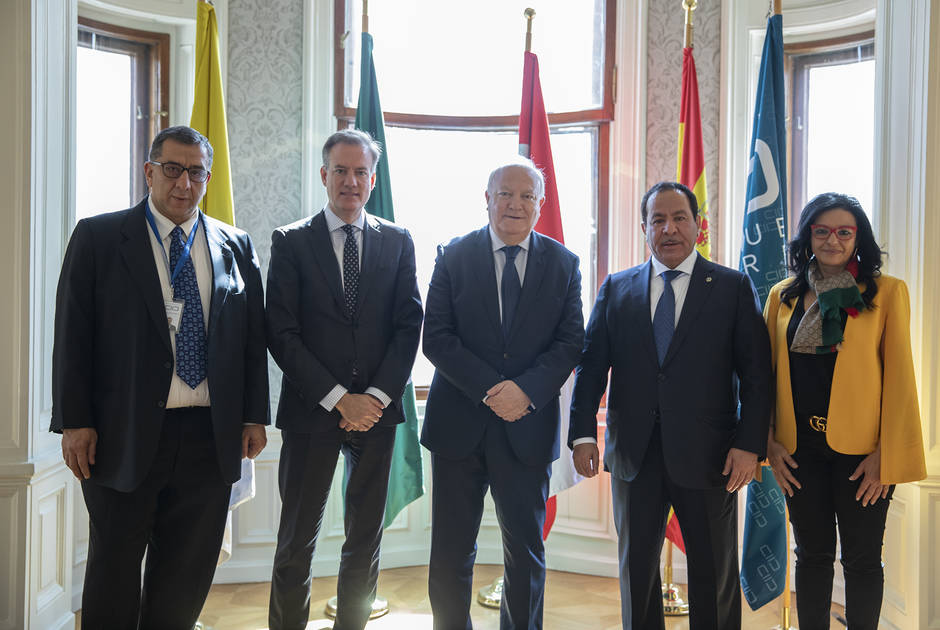 VIENNA, 21 March 2019 – In the aftermath of the terrorist attacks on Muslim worshippers in two mosques in Christchurch (New Zealand) last Friday, and following the killing of Jews at a synagogue in Pittsburgh (United States),  as well as terrorist attacks targeting Coptic Christian worshippers in Egypt, the International Dialogue Centre (KAICIID) and the United Nations Alliance of Civilizations (UNAOC) have reiterated their mutual commitment to work together towards more peaceful societies through intercultural and interreligious dialogue.
H.E. Mr. Miguel Ángel Moratinos, the High Representative for UNAOC visited KAICIID's headquarters during his stop in Vienna. During a meeting with KAICIID Secretary General, H.E. Faisal Bin Muaammar, Mr. Moratinos stressed that he will continue to be a supporter of KAICIID and commended the Secretary General and the Centre's staff for the work that has been accomplished. He emphasised the need to work closely together to serve the common goals both organizations share. Mr Moratinos noted the Centre has done a significant work in the field of interreligious dialogue: "The work of the Centre is impressive and symbolic in these challenging times of the 21st Century."
The High Representative for UNAOC explained that he is keen on to reinforcing the collaboration between KAICIID and UNAOC through common synergies and partnership, as they will allow both organizations to achieve their common objectives.
Among the joint projects discussed, KAICIID and UNAOC are developing a training programme that will focus on interreligious dialogue and peacebuilding.
"My visit to KAICIID premises in Vienna aims to consolidate our collaboration in implementing result-oriented and impactful projects. Despite being a young intergovernmental organization, KAICIID's work in the area of strengthening interfaith dialogue in Africa, the Arab regions and elsewhere is significant. We should not work in silos. It is only natural that UNAOC and KAICIID join forces to build stronger bridges of understanding," the High Representative for UNAOC said.
"Sadly, we are witnessing how hate speech and violence in the name of Religion are spreading and increasing around the world. But the actions of those spreading violence should not discourage us. These events are only showing that further joint efforts are needed to halt the rise of violence. Over the last six years, at KAICIID we have been bringing together religious communities and policymakers to bring positive change. By partnering with UNAOC, an organization that, like us, has dialogue at its centre, we are aiming to reach more people and increase the number of global dialogue ambassadors," KAICIID Secretary General, H.E. Faisal Bin Muaammar said.
KAICIID and UNAOC have been collaborating since 2015 and officially joined forces in May 2017, when they signed a Memorandum of Understanding to develop initiatives that improve relations among peoples of different cultures and religions, while increasing the effectiveness of each organization's work in fostering a culture of peace. In July 2018, they brought together at the New York UN Headquarters key experts in e-learning and interreligious and intercultural dialogue to present tools and good practices used to share knowledge in this field. 
About KAICIID
The International Dialogue Centre (KAICIID) is an intergovernmental organization that promotes dialogue to build peace in conflict areas. It does this by enhancing understanding and cooperation between people of different cultures and followers of different religions. The Centre was founded by Austria, Saudi Arabia and Spain. The Holy See is the Founding Observer. Its Board of Directors comprises prominent representatives from five major world religions (Buddhism, Christianity, Hinduism, Islam, and Judaism). The Board designs and supervises the Centre's programmes.
About UNAOC
Guided by the principles of the UN Charter, the report of its High-Level Group, and the priorities of the Secretary-General, the UN Alliance of Civilizations works toward a more peaceful, more socially inclusive world, by building mutual respect among peoples of different cultural and religious identities, and highlighting the will of the world's majority to reject extremism and embrace diversity. As a soft power political tool UNAOC supports the UN Secretary General agenda of conflict prevention and conflict resolution.