Voices of Dialogue: Co-Founders of Nigeria's Interfaith Mediation Centre Share their Story from Conflict and Violence to Reconciliation and Dialogue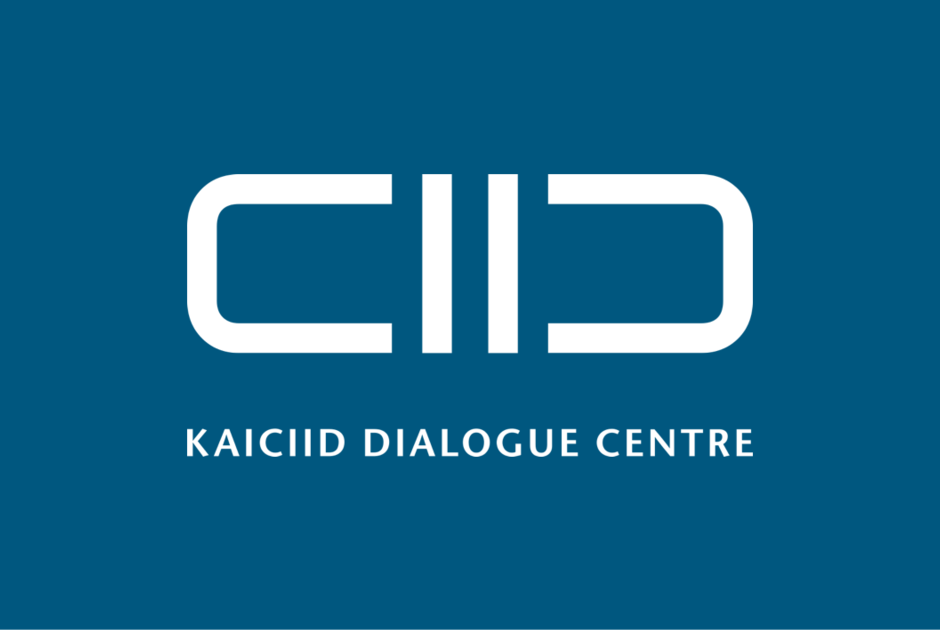 In the first of a planned Dialogue series, KAICIID welcomed to its headquarters in Vienna, Austria, Imam Dr. Muhammad Nurayn Ashafa and Pastor Dr. James Movel Wuye. The Imam and the Pastor, as they have become known, spoke to a select audience about their journey to dialogue, which they began as leaders of warring militias in northern Nigeria.
The discussion took place on Thursday, 13 March at 18.30, and was moderated by KAICIID Senior Advisor Professor Mohammed Abu-Nimer.
The Pastor and the Imam began their journey to dialogue as leaders of opposing militias involved in violent religious conflict in Northern Nigeria. Following great personal losses on both sides, they met through a mutual friend, and began their work together. Nineteen years later, they are pioneers in interfaith mediation in Northern Nigeria, working to bring peace to this troubled part of the world.
The Interfaith Mediation Centre, which they jointly run, works to enhance and deepen peaceful coexistence among different faiths, to build trust and relationships among divided communities, and strengthen early warning systems for conflict prevention. The Pastor and the Imam have used dialogue and dialogical methods to mediate community conflicts and initiate economic development projects. They have also mediated a peace agreement between fighting groups in the Nigerian state of Kaduna, which has lessened religious conflict in this volatile region over the last nine years.
Speaking of the challenges of encouraging dialogue in conflict areas, Imam Ashafa said, "If you live in a conflict area, your brain has been washed to view 'the Other' as an enemy. 'The Other' is not to be trusted."
"Dialogue is all about talking to the person 'across the red line'", said Pastor Wuye. "Talking, talking, and talking some more."
In response to a question from the audience, the panellists also spoke of the importance of respect for one's own and Others' religions. Imam Ashafa explained the shared values of peace in religions around the world: "I must respect him, because my scripture tells me to do so. It tells me to respect every human being."
At the same time, they also said that respect for other religions is not the same as amalgamation of other religious beliefs into one's own. "Come together, respect one another, but keep your boundaries", said Pastor Wuye.
KAICIID Secretary General, Faisal Bin Muaammar: "Here at KAICIID, our mission is to facilitate dialogue as a path to peace. There is no better demonstration of the power of dialogue than the story of Imam Ashafa and Pastor Wuye. They have taken great risks to reach across the divides that separated them -- of history, of culture, of religion -- and break through to their common goals of peace and coexistence. We are honoured that they will join us in our Hall of Dialogue to share their unique story of risk and reconciliation."
 
About the Pastor and the Imam
Imam Dr. Muhammad Nurayn Ashafa and Pastor Dr. James Movel Wuye are a Muslim cleric and a Christian pastor working together to end violent clashes between Christians and Muslims in Nigeria through the Interfaith Mediation Centre which they jointly run.
Born into a conservative Islamic family, the son of an Islamic scholar from a long line of Muslim clerics dating back thirteen generations, Muhammad Nurayn Ashafa became the leader of a militant Islamic group and also Secretary General of the Muslim Youth Councils.
Born in Kaduna State, Pastor James Movel Wuye is the son of a soldier who served in the Biafran War. In the 1980s and 1990s he was involved in militant Christian activities and served as Secretary General of the Kaduna State chapter of the Youth Christian Association of Nigeria, an umbrella organisation for all Christian groups in Nigeria, for eight years. He recounts that his "hatred for the Muslims had no limits".
In the 1990s, Pastor James Wuye and Imam Muhammad Ashafa led opposing, armed militias, dedicated to defending their respective communities as violence broke out in Kaduna, northern Nigeria. In pitched battles, Pastor James lost his hand and Imam Ashafa's spiritual mentor, as well as two close relatives, were killed.
However, a chance meeting in 1995 brought the two clerics together. Their goal now is to achieve peaceful coexistence through inter-faith cooperation and community education. They have together designed an early-warning mechanism that helps communities identify potentially volatile situations and provides the means to reduce tensions. Their work has spread beyond Nigeria to Burundi, Northern Ghana, and Kenya. They were also featured in a film called An African Answer which depicts their dramatic bid to bring reconciliation in Kenya's Rift Valley, following communal killings in the post-election violence of early 2008.
The Imam and the Pastor have both received numerous awards, including the first Fondation Chirac Conflict Resolution Prize; the Hessian Peace Prize, granted by the Albert Osswald Foundation; and the Interfaith Cooperation Award by Search for Common Ground.
 
The "KACIID Voices of Dialogue" Series
What role does dialogue play in creating reconciliation among individuals and communities across religious and cultural lines? KAICIID asks this crucial question of leaders in dialogue who have taken great risks to overcome stereotypes, heal divisions and transform relationships. Speakers in this series will share stories of their work and the risks and challenges they face. Each session will provide time for dialogue.
For more information on this event please contact [email protected]
Related Content