Statement by H.E. Ambassador Hussam al Husseini at the World Interfaith Harmony Week Celebration, KAICIID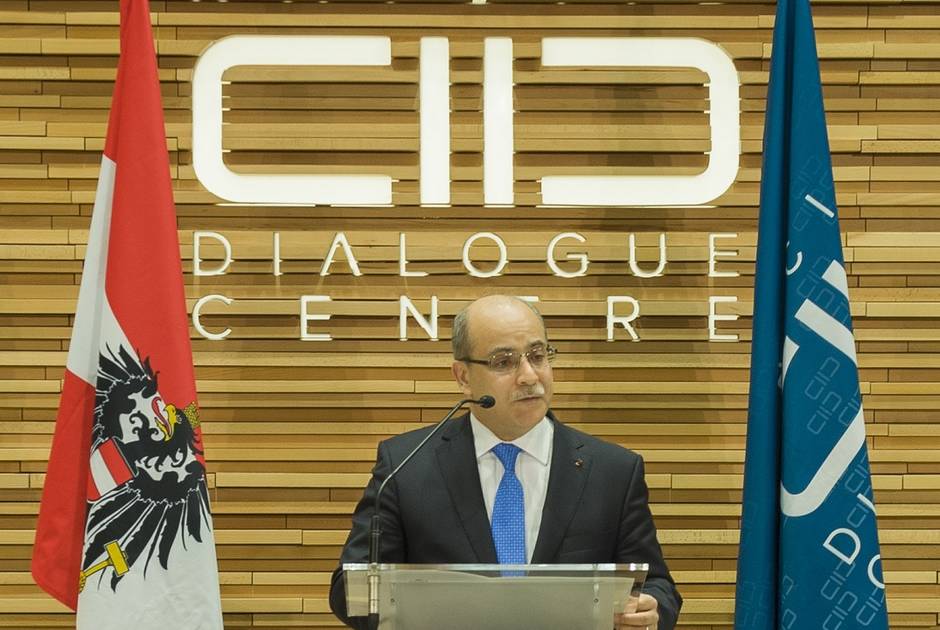 Your Excellency Federal President Dr. Heinz Fischer
Mr. Secretary General of King Abdullah bin Abdul Aziz International Center for Interfaith and Intercultural Dialogue
Your Eminence, Cardinal Schönborn
Excellences, and Distinguished guests
Ladies and Gentlemen
Allow me at the outset Mr. President to convey to your excellency the warm regards and greetings of His Majesty King Abdullah II, and his appreciation for your support to the Interfaith Harmony Week Initiative,
the support from your Excellency's high seat is not only valuable but also comes at a time when people in many parts of the world, are looking for guidance and leadership. your wisdom and message today are very much important and very much needed.
His majesty's greetings are also to KAICIID and to the distinguished guests gathered here tonight and to all of those who believe in the shared values that can bring us together, and in the importance of dialogue to overcome our differences.
It is out of this conviction that His Majesty launched in 2004 the Amman Message on the shared and uniting principles among the different Islamic sects, as he always believed in responsibility to put own house in order before reaching to others, and then in 2007 His Majesty launched the "Common Word Initiative" a message on the shared values that can bring Muslims and Christians together and closer, the most important of which are: " the love of God and love of neighbor", it was signed and endorsed by hundreds of Imams, Church leaders, and scholars across the glob including His Holiness the Pope, and leaders from other religions.
And then in 2010 His Majesty launched the World Interfaith Harmony week initiative, he took it to the United Nations, because he believes that the common human values are enshrined in all the religions, and that it is the duty of every one to defend those values, promote understanding, and contribute to make the world better and safer.
In his address to the United Nations General Assembly in 2010, to introduce this Initiative, His Majesty King Abdullah II said, and I quote:
"It is also essential to resist forces of division that spread misunderstanding and mistrust especially among peoples of different religions,
The fact is, humanity everywhere is bound together, not only by mutual interests, but by shared commandments: to love God and neighbour; to love the good and neighbour...,
What we are proposing is a special week, during which the world's people, in their own places of worship, could express the teachings of their own faith about tolerance, respect for the other, and peace". end of quote.
I would like to thank KAIICID for embracing this initiative and hosting this event today, it is the right place to promote such a call for understanding and dialogue, and I would like to thank the Austrian Federal Ministry for Europe, Integration and Foreign Affairs for their support to the Harmony Week Initiative, a manifestation of an exemplary role that a Foreign Ministry can play to promote world peace and cultural understanding.
Mr. President
Distinguished guests,
What we are facing today is an attack on our principles, and on our values,
we are facing an attack on our humanity,
The radicals, extremists and terrorists, the evils of our time, have left no religion untarnished, and spared no efforts to make our humanity disgraced.
with each terrorist emerges, an orphan is being born, a widow turns to grief, and a refugee flees his home.
It is the duty of each and every one of us to face them and face them we will, with resolve and faith that our shared values are stronger than theirs, as they don't have values at all.
Mr. President
Distinguished guests,
Let it be, that this day a message is sent from this important Centre, in this very peaceful city of Vienna, that we are all united in the love of God against all of those who spread hatred, mistrust and violence.
Thank you
Statement delivered at the International Dialogue Centre (KAICIID), on 2 February 2016, on the occasion of World Interfaith Harmony Week.
tags: