"Shared Histories for a Europe without Dividing Lines" at KAICIID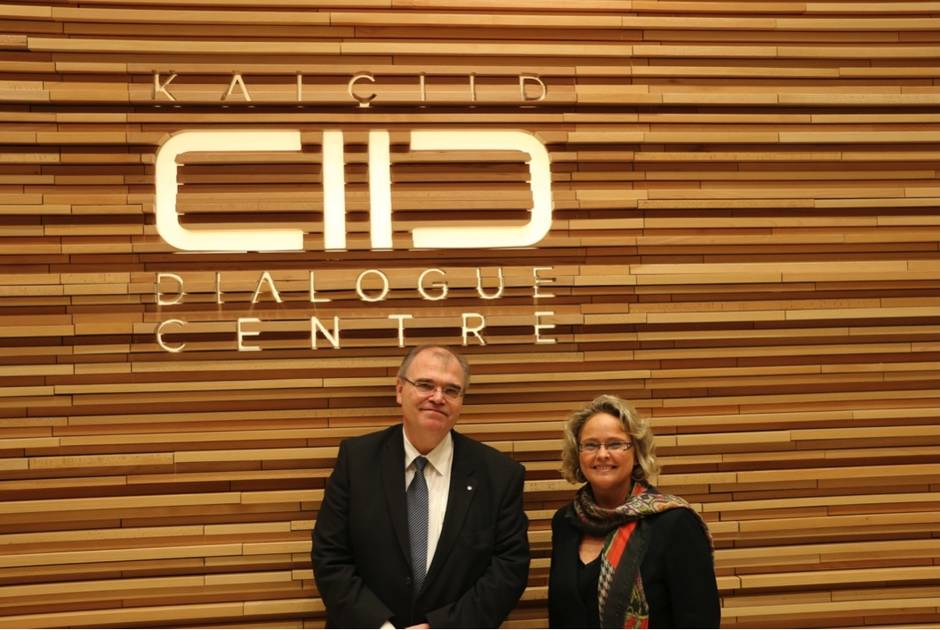 Key participants in the conference "Shared Histories for a Europe Without Dividing Lines", jointly organised by the Council of Europe (CoE) and the University of Vienna on 9 and 10 April, supplemented their busy programme with a visit to the King Abdullah Bin Abdulaziz International Centre for Interreligious and Intercultural Dialogue (KAICIID) on Wednesday, 9 April.
Among the conference participants, representatives from the Education Programme of the Council of Europe, along with experts in Education and Culture from Portugal, Spain, and Austria, met with members of the Dialogue Centre's senior staff to identify and discuss areas of mutual interest.
Villano Qiriazi, Head of the Council's Education Policy Division; Tatiana Minkina-Milko, Head of the History Education Unit; Christianne Yiannakis, Coordination Officer, History Education Unit; Luísa de Bivar Black, a Council Expert and Trainer from Portugal; Cristina del Moral, Spanish Agency for International Development Cooperation; and Prof. Mag. Dr Alois Ecker, Department for Didactics of History, Social Studies and Civic Education, University of Vienna, were received by Deputy Secretary General Claudia Bandion-Ortner at the KAICIID Headquarters.  
The Dialogue Centre's Director of Programmes, Dr. Hillary Wiesner, briefed participants on the Centre's programmes, studies, plans and achievements since its inception in November 2012.  Evoking KAICIID's Policy Network on Interreligious and Intercultural Education and "The Image of the Other" programme, Dr. Wiesner praised the Council's longstanding work in this field and noted areas of potential cooperation on projects of mutual interest. 
Mr. Qiriazi gave the KAICIID representatives an overview of the CoE's experience, projects and programmes. He particularly highlighted the projects on the religious dimensions of intercultural education, which CoE developed in 2006-2008 along with a reference book for teachers. The project introduced religion as an important element in education policy debate of the CoE's Committee of Ministers through the adoption of a policy Recommendation CM/ Rec (2008) 12 on "Dimension of Religions and Non-Religious Convictions Within Intercultural Education".
Mrs. Bandion-Ortner declared that KAICIID and the CoE could both benefit by sharing expertise and focusing on areas of convergence in intercultural and interreligious education capacity-building in different regions.
Mr Qiriazi and Ms. Milko affirmed that the CoE's expertise in history, intercultural education and initiatives for peace and reconciliation are the main areas of mutual interest and potential cooperation between the two organisations. 
 
Background
"Shared Histories for a Europe without Dividing Lines" is an on-going project first organised and launched by the Council of Europe in Oslo, June 2010, with support from the Ministry of Education of Norway and in cooperation with the European Wergeland Center.
tags: